On January 7th Petróleo Brasileiro S.A, AKA Petrobras (NYSE:PBR) issued a press release stating that its refining park in Brazil processed an average of 2,034,000 barrels of oil per day between January and November 2013. That's an increase of 8% from the 1,897,000 barrels per day registered in the same period of 2012. You can read more by clicking here.
Petrobras refining versus major US oil companies?

The establishment of the Reference Feedstock at a refining facility is the result of a series of studies such as those related to process engineering, atmospheric emissions and hydric effluents, as well as the economics of the refinery. Reference Feedstock of all refineries are approved and authorized by state environmental agencies and by the ANP (Brazil's National Petroleum, Natural Gas and Biofuels Agency), which check and confirm compliance with equipment design limits and safety, environmental and product quality requirements.
Note that, under certain circumstances, authorization is obtained from the ANP and the same environmental agencies to conduct operational tests for a pre-established period (45 days to 8 months), with the objective of evaluating the feasibility of increasing the Reference Feedstock. This volume authorized provisionally for tests period, added to the Reference Feedstock, is referred to as the Authorized Feedstock, and is the maximum limit of operation for each refining unit in this period.
Both the Reference and Authorized Feedstock are approved by the ANP and by the state environmental agencies.
Given that the processed feedstock was 2,034,000 barrels per day from January to November 2013, and the Reference feedstock is 2,102,000 barrels per day, the Refining Park FUT was 97.4% in this period. If the Authorized feedstock is considered, the utilization level was 91.9%, given that the Authorized feedstock is 2,228,000 barrels per day.
The utilization level of the refineries (91.9%) is comparable to that achieved by the best performing US refineries (1st quartile), which was 92.2% between 2011 and 2012, according to the data of Solomon Associates; an international consultancy specialized in the refining sector.
One can see that Petrobras is clearly performing at the upper end of the range in refining. The question remains, why the sell-off? What is going on with this company?
Pricing of Global Notes
Rio de Janeiro, January 7th, 2014 - Petróleo Brasileiro S.A. - Petrobras announces the pricing of 4, 7 and 11-year Global Notes denominated in euros (€) and 20-year Global Notes denominated in Pounds Sterling ("£") issued by its wholly-owned subsidiary Petrobras Global Finance B.V. ("PGF") and unconditionally and irrevocably guaranteed by Petrobras in an SEC-registered offering. Closing is expected to occur on January 14, 2014.
Could this be the reason for such weakness? Is this sell-off overdone? Let's take a look at the attractive rates that Petrobras is borrowing money.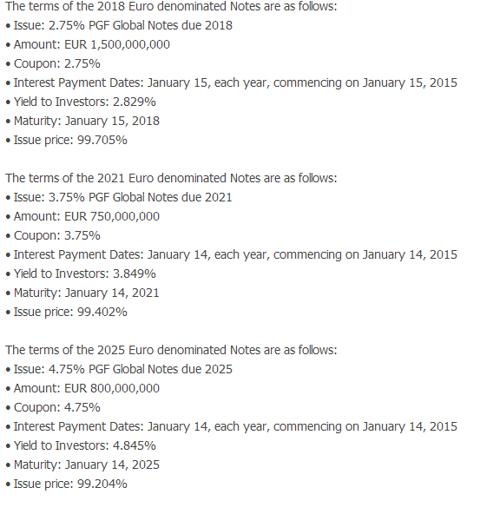 Is Petrobras paying too high a rate?
Does this seem like a company that is desperate to raise cash? No, a question for the investor: does Exxon Mobil Corporation (NYSE:XOM), and General Electric Company (NYSE:GE), sell bonds? In July 2010 Exxon Mobile was trading at $56, currently $99, General Electric was trading at $13.90, today it trades around $27. History seems to repeat itself over and over again.
Here is why I think Petrobras is very near a long term bottom, offering investors with a little patience, an excellent buying opportunity.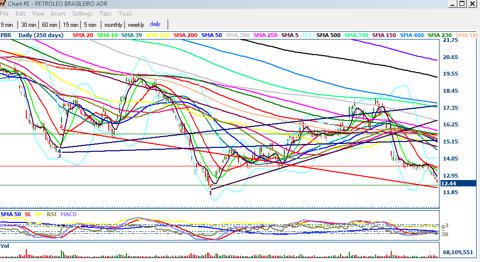 To some this may look like a bad dream, to others it looks like a golden opportunity. Keep in mind, this is a company trading around 6.5X earnings. One can see a sharp sell-off on this 250 day chart. The share price is approaching the June 2013 low as this is being written. It gets very interesting at this level, panic and despair is setting in for those that bought in the $20 range, and the high teens. Is this the time to take a position? Do you sell? Do you as an investor wait to see if the low is broken? I know from experience that it's almost impossible to pick an exact bottom. In the end, every investor must decide for themselves.
For more perspective, examine this 162 month chart below.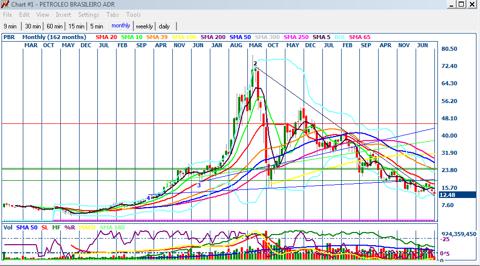 I like Petrobras right here, right now. I love it even more at $12 or $10. Mr. Market is pushing the panic button, at this point and time it's important to stick with the knowable facts. Petrobras is raising money at what I feel are very attractive rates. Negative sentiment is at an all- time high. Investors and money managers that bought in at higher prices are feeling trapped, and the chart shows massive pain. Can it go lower? Yes, that is what makes a market.
Conclusion
Petrobras is increasing their refining capacity, up 8% y-o-y, competing with big oil in the US. The company is able to issue bonds at very attractive prices. They have vast reserves, increased profit expectations, and the company is trading near decade lows. The economy is improving, earnings are approaching, and negative sentiment in regards to Petrobras is at an all- time high. In my view, this is a very compelling area in which to take a position for long term gains. As always, do your own research, make unemotional decisions, remain flexible and always have an exit strategy in place.
Disclosure: I am long PBR. I wrote this article myself, and it expresses my own opinions. I am not receiving compensation for it (other than from Seeking Alpha). I have no business relationship with any company whose stock is mentioned in this article.