Over the past three months, Exxon Mobil (NYSE:XOM) has been the most widely talked about major oil company thanks to Warren Buffett's high profile $4 billion investment in it. While XOM has been getting investors' attention of late, I believe investors would do far better in a name that cost Buffett billions due to poorly timed purchases: ConocoPhillips (NYSE:COP). In fact, I believe COP is one of the best stocks for investors who are interested in income and dividend growth.

Like most major oil companies, Conoco was an underperformer in 2013, though 16% share appreciation is nothing to sneeze at. Shares have also fallen about 6.5% from their fall highs as crude oil prices have softened. Below $70 though, I think Conoco is an excellent value proposition that offers significant return potential for long-term investors. Unlike Exxon and Chevron (NYSE:CVX), Conoco is a pure play on energy exploration and production as the company spun off its refining and downstream businesses into Phillips 66 (NYSE:PSX). Management can focus solely on growing production to deliver stronger returns for investors thanks to the spin-off.
The major oil companies have worked tirelessly to grow production for years, and on this count, ConocoPhillips is without a doubt best in class. For five years, Exxon has seen declining output before reporting mild growth in the most recent quarter. Given their weak past performance, it is not guaranteed that the production growth is the new trend or really an aberration from the long term decline. With some projects coming on line though, Exxon could grow production by 1-1.5% in 2014. Chevron has expended billions to grow production with massive projects in Australia and in off-shore wells. That company is starting to see the benefits of its capital plan and should grow by 1-3% annually over the next five years.
On the other hand, ConocoPhillips should be able to grow production by an annual 3-5% over five years. Conoco has been investing heavily in the oil sands and major U.S. formations like Eagle Ford, the Permian Basin and Bakken, which will drive production growth for years. 2014 should also represent the peak year of capital-expenditures as COP brings wells online. As a consequence, as volume grows beyond 2014, cap-ex will decline, which leaves the company with a significant amount of free cash flow with which to pay dividends and repurchase stock. Over the past three years, the company has been running around the flat line for free cash flow due to expansion projects. As these capital needs decline, I expect annual free cash flow to pass $7 billion in 2016. Here is a breakdown of what will drive production growth over the next four years: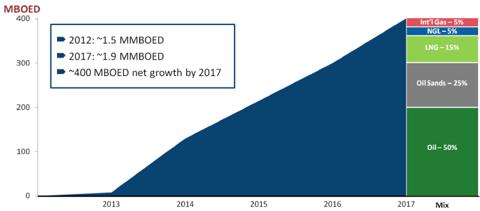 Conoco has made a concentrated bet on the U.S. energy boom that I expect to pay off handsomely. Now because of the company's major expansion activities, it carries more debt than its peers with debt to equity of 41%, compared to Exxon's 7% and Chevron's 12.5%. While it is a more levered play on energy, I am not concerned about Conoco's debt load. With $15 billion in operating cash flow, the company has plenty of capacity to handle its $21 billion debt load. Conoco's increased leverage allowed it to expand so aggressively when U.S. properties were comparatively cheap and was a shrewd action given interest rates. Conoco provides a levered play on energy production without carrying so much debt as to cause solvency concerns.
Conoco also pays a solid $0.69 quarterly dividend (a 4% yield at current level). Management is committed to maintaining and growing the dividend, going so far as to call the dividend the number one priority in the annual capital budget. Over the past five years, Conoco has grown its payout by 10% annually and maintains a payout ratio of only 42%. As capital expenditure needs lessen after 2014, the company will have the flexibility to grow the dividend payout ratio closer to 50-60%. In 2014, I am expecting a more modest increase in the 4-5% range as it is the peak year in the cap-ex cycle with accelerating growth in 2015 and 2016.
With a 4% yield, low payout ratio, and free cash flow about to explode higher, investors can expect substantial dividend hikes over the next five years. This makes Conoco an excellent investment choice for dividend oriented investors. Equally importantly, ConocoPhillips trades at a very reasonable valuation. I expect COP to earn $6.20-$6.50 this year for a multiple of 11x. The company has announced the beginning of 2014 will be slightly weaker due to cold weather domestically and political issues in Libya. However, these issues are purely transitory and delay rather than deny growth. With an attractive dividend, growing production, manageable debt, and reasonable valuation, COP is a great addition to value and dividend portfolios. I believe fair value is closer to 13x earnings or $80 and would be a buyer until then.
Disclosure: I have no positions in any stocks mentioned, and no plans to initiate any positions within the next 72 hours. I wrote this article myself, and it expresses my own opinions. I am not receiving compensation for it (other than from Seeking Alpha). I have no business relationship with any company whose stock is mentioned in this article.