Looking for steady monthly dividend income? Like the stock in last week's article, this week's focus stock is primarily a landlord REIT in the Healthcare industry, and is also listed in the Healthcare section of our High Dividend Stocks By Sector Tables.
PROFILE: LTC Properties, Inc. (NYSE:LTC) is a self-administered REIT that invests primarily in the long-term care sector of the healthcare industry through the origination of first mortgage loans and acquisition of properties that are leased to numerous long-term care providers.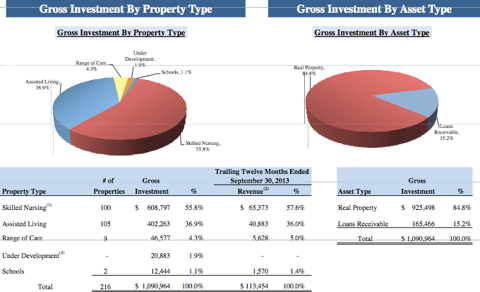 LTC enjoys good diversification in its operator-lessees and it has primarily long-term leases - only 12% of its leases expire before 2017. Its initial leases are generally 10-15 years, and the weighted average remaining lease term is eight years.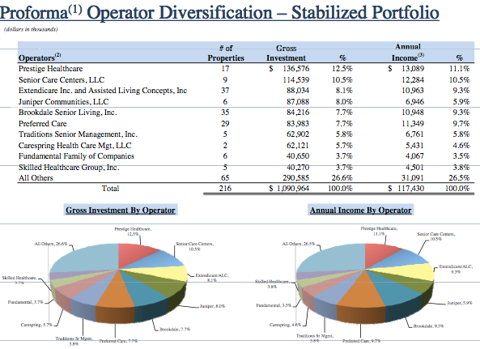 Its properties are spread throughout the US, with around 50% being located in Texas, Michigan, Ohio and Florida: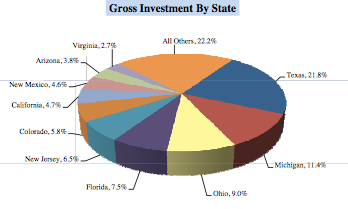 Dividends: LTC increased its monthly dividend by 9.7%, to $.17, from $.155 in October 2013. Since Q1 2003, LTC has grown its annual dividend from $0.65, up to $1.905 in 2013.
The company has already announced the payouts and dates for its next 3 dividends:

Options: We didn't add LTC to our Covered Calls Table yet, since its "at the money" call yields aren't that attractive.
However, LTC does have an attractive $35.00 put which expires in August 2014. This put pays nearly 2 times LTC's next 8 dividends, and offers you a breakeven entry point of $32.30, which is 6% below LTC's 52-week low of $34.40:

You can see more details for this and over 30 other put trades in our Cash Secured Puts Table.
Earnings: LTC is certainly not a growth stock, but it has steady dividend coverage.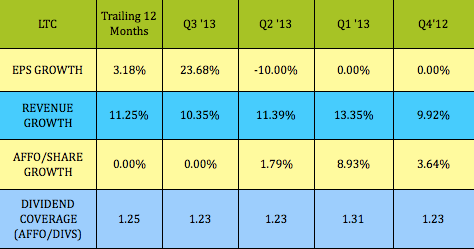 Like many REITs, LTC got beaten down, starting in May 2013, due to Fed "taper talk," and investor concerns of rising interest rates diminishing its attractiveness as an investment. It has been oversold for approximately the past month: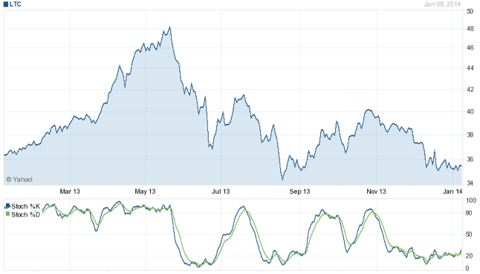 Think Long Term: As its name implies, LTC is in the long-term care industry, an industry that will be increasingly in demand, due to the "graying of America" - "The population 75 and over is expected to increase by 77% by 2030 vs. 2010, and is expected to increase from 6% to 9% of the total US population." (Source: LTC website)
More Valuations: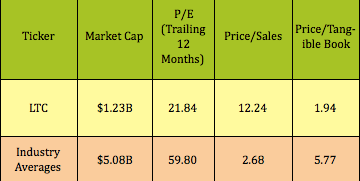 Financials: LTC has relied more on share issues than debt, in financing its operations, hence it has a lower than average Debt/Equity ratio, and a lower than average ROE ratio also:

Disclosure: Author was long LTC at the time of this writing.
Disclaimer: This article was written for informational purposes only.
Disclosure: I am long LTC. I wrote this article myself, and it expresses my own opinions. I am not receiving compensation for it (other than from Seeking Alpha). I have no business relationship with any company whose stock is mentioned in this article.