General Electric (NYSE:GE) is one of these old tried and true companies that produced steady shareholder returns for decades. All that changed around the turn of the century and shareholders were devastated during the financial crisis.
Since the financial crisis, the company has tried to re-weight its revenue streams away from GE Capital and toward the more traditional industrial side. This hampered growth for a number of years but the important question for investors going forward is whether or not future years will bring more hardship or a return to growth in both earnings and dividends.
Fundamentals
As is clearly seen on the chart below, the financial crisis hit GE hard both on revenue and earnings. The company's revenue actually declined from $182,515 billion in 2008 to a level of $147 billion in 2011 and 2012. Net income fell from $17.4 billion in 2008 to $13.6 billion in 2012.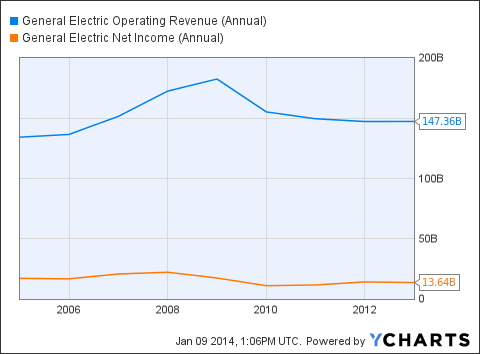 GE Operating Revenue (Annual) data by YCharts
So we all know the past number of years have not been that impressive but let's dig a little deeper into what GE has done to return the company to its traditional growth path. The company is concentrating on five choices that drive the future:
1. The first is a focus on making GE into an infrastructure leader with a smaller financial services division. Given that the global infrastructure market is growing and the financial services division was at the heart of the company's woes in 2008-2009, this seems like a prudent move.
2. They are committed to returning capital in a balanced and disciplined way with a clear priority for dividend growth. In addition, they will repurchase and retire shares.
3. They have significantly increased investment in organic growth, focusing on R&D and global expansion. This is to make sure that they remain a technology leader in their industries in addition to capitalize on growth in emerging markets.
4. GE has built deeper customer relationships based on an outcomes-oriented model. As a part of this, their service revenue has increased steadily from $21 billion to $43 billion over the past decade.
5. Lastly, they have positioned themselves to lead in the big productivity drivers of our era. This is an essential part of their effort to grow their margins and keeping their customers competitive.
These strategic moves make sense and is an opportunity for GE to grow again after years of licking wounds after the financial crisis. Nonetheless, getting from a good idea to concrete results can prove difficult and their strategy has yet to show up in the accounts so I remain a bit skeptical regarding future growth potential.
Risk factors
Being a company of GE's size entails several advantages such as being less dependent on any one country's macroeconomic outlook or currency movements. On the other hand, it means GE is very dependent on the overall outlook for economic growth in the world. In addition, if the world economy were to worsen, it is not inconceivable that countries might be more protectionist of domestic industries, thereby hurting GE revenue.
Valuation
Finding a direct peer group to General Electric is not straightforward since it operates in such a wide variety of industries. The closest competitors I could find was Honeywell (NYSE:HON) and Germany's Siemens (SI). A look at how GE is priced on some key metrics compared to these competitors is in order.
| | | | |
| --- | --- | --- | --- |
| | General Electric | Honeywell | Siemens |
| Price/Sales | 1.9x | 1.9x | 1.1x |
| Price/Earnings | 19.5x | 22.3x | 20.5x |
| Yield | 2.9% | 1.9% | 2.2% |
Source: Morningstar
We can see that except for Price/Sales, General Electric is more conservatively priced than its peers. It has both the lowest P/E ratio and the highest dividend yield. But I would caution that all of these companies trade above their 5-year average P/Es and above the S&P 500's P/E of 18.6x.
Compared to the overall market, none of these look like a steal but if you consider buying shares in a big international conglomerate, GE looks more enticing than its competitors.
The Dividend
Though the dividend was drastically cut in 2009 from $0.31 per share per quarter to $0.10 per share, the company started increasing its dividend again as soon as back in 2010.
Over time, the dividend can only grow if earnings grow and growing earnings has not been associated with GE over the last couple of years. I remain somewhat skeptical of GE's ability to generate earnings growth and I therefore believe the growth in dividend will be quite limited in the years to come.
The average analyst is expecting an annual EPS growth over the next five years of 9%. If their, in my opinion, optimistic forecast prove correct and given the same multiple on GE's earnings five years from now, shareholders can expect a total annual shareholder return, as represented by EPS growth and the dividend, of 11.9%.
Conclusion
If you believe the estimates of the analysts, GE should be a decent long-term performer at current levels. However, given that they have not yet managed to transform their strategy into a growing bottom-line I would hold off any purchase at the current time and consider alternatives instead.
Disclosure: I have no positions in any stocks mentioned, and no plans to initiate any positions within the next 72 hours. I wrote this article myself, and it expresses my own opinions. I am not receiving compensation for it (other than from Seeking Alpha). I have no business relationship with any company whose stock is mentioned in this article.