USA Technologies Incorporated (NASDAQ:USAT) is a provider of technology-enabled solutions that facilitate electronic payment transactions, and value-added services, primarily within the unattended Point of Sale, or "POS", market. The company provides end-to-end, or machine-to-machine, telemetry solutions for the small ticket, largely unattended, retail market. These segments of the consumer landscape include, but are not limited to, vending machines, kiosks, commercial washers and dryers, and any other traditionally coin or cash operated market instruments.
At first glance, this business model may appear underwhelming. However, in consideration of two specific truths, one can easily see the value in such a business:
(1) The addressable market worldwide for "coin-operated" or "cash only" systems, such as amusement, laundry, and vending, generate an estimated 120 billion dollars annually. In fact, the vending machine segment on its own, in only domestic U.S. markets, generates 7 billion dollars per year. It is, for lack of a better phrase, a considerable sector of global commerce.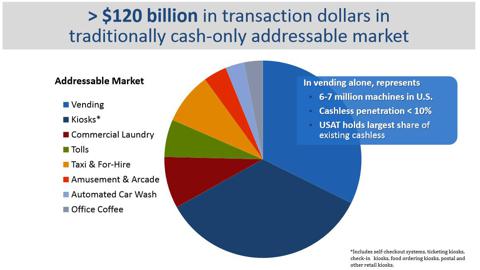 (2) Cash is no longer king. At least, not in method of payment. The vast majority of people, whether it be a result of anxiety, security, or convenience, prefer to carry as little cash as possible. In the United Kingdom for example, a recent survey indicated that nearly 3 out of 4 people are dissatisfied with having to use or carry cash for the purposes of paying for goods and services.
The fact of the matter is, people are becoming more and more infatuated with minimalist payment methods, and the markets are only just beginning to catch up with consumer preference. This gap between buyer partiality, and service provider accommodation, opens up sizeable opportunities for companies operating in that sector. USAT is one of those companies.
What Makes USAT Different
USAT has developed, marketed, and provided clients with, considerable proprietary solutions to improve revenues and accommodate consumers. In fact, the company is in possession of considerable intellectual property, and just recently added to its technology portfolio with its 87th patent. These continued innovations and advancements have led to USAT procuring, and successfully maintaining, multiple client relationships, and/or business partnerships, with highly visible entities. This list of corporate cohorts includes the likes of Aramark (NYSE:ARMK), Starbucks (NASDAQ:SBUX), Coca-Cola (NYSE:KO), Verizon (NYSE:VZ) and Visa (NYSE:V).
The company's principal line of goods and services is their ePort product line. Through ePort, USAT provides wireless networking, cashless transactions, asset monitoring, and other value-added services. The ePort technology can be easily installed and/or embedded into everyday devices such as vending machines, kiosks, amusement devices, or commercial washers and dryers. This technology allows vendors to accept credit cards, debit cards, contactless payment technology, and NFC equipped mobile phones that allow consumers to make purchases with their cell phones. All system activity can be monitored, protected, and tracked remotely.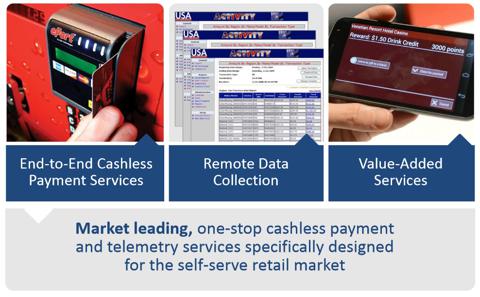 This comprehensive, one-stop service provided by ePort technology, and ePort branded devices, has been the key differentiator for USAT among its peers.
Room to Run
Since 2010 the growth at USAT has been both steady and substantial. Not only has the number of connections to the ePort services grown from 82,000 to 214,000, but the company has recently upgraded the technology further, and anticipates adding as many as 150,000 more connections within the next year.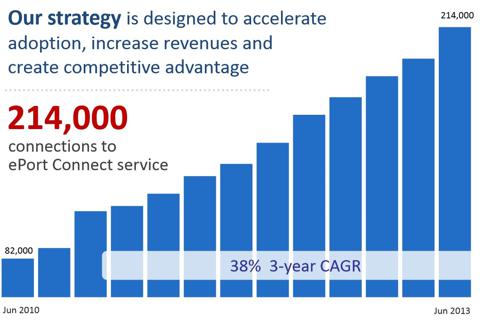 Moreover, USAT believes that it has barely begun to scratch the surface of its potential in reaching customers. As of June of last year, the company had been servicing 5,050 total customers with its ePort technology. That number represents less than 1% of the total addressable customer base as is forecasted by USAT. As the continued adoption of the technology is received in the marketplace, there are over 2 million potential connection portals for the company to service.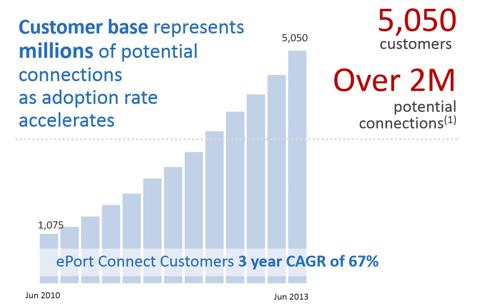 Undervaluation and Expectations
USAT currently trades at a multiple EBITDA which is considerably lower than its peers. In fact, according to a recent open letter from shareholders, citing the latest research report on the company, the average electronic processing entity trades at a 13.1 X EBITDA. Analysts currently estimate USAT will generate 9.4 million dollars of EBITDA in calendar year 2014. Using that multiple, the authors pointed out, the company's core business would be valued at over $3.00 per share on its own.
As a result of these emerging details, shareholders have called for USAT "to immediately commence a process to explore and evaluate all potential strategic alternatives." Not the least of these recommendations was to explore the prospect of being purchased by a better capitalized entity with more competent management. In the aforementioned letter, shareholders cited the following;
"USAT has substantial asset value in the form of its net operating loss carry forwards and other deferred tax assets ("NOLs") approximating 200 million. We believe that, with the proper tax planning and structuring of a transaction, the company's sizable NOLs would hold significant value for an acquiring company, whereas they are currently a wasting asset losing value each year.
Given USAT's inherent value that we believe could be unlocked by a better capitalized entity with an enhanced management team, we strongly believe that a sale of the company could produce immediate and certain value for USAT's shareholders in the range of 4.00-6.00 per share."
While a buyout, based on a more accurate evaluation, and at a marketable premium, would most certainly be advantageous for shareholders, equitable patience could also pay off. Net income for the quarter ended in September of 2013 grew by a factor of 7.5 over the previous year. Total revenues grew by 21%, gross profit grew by 14%, total liabilities decreased by 3%, and new customers for the ePort Connect Technology grew by 29%. Furthermore, earnings are projected to grow by a factor of as much as 4 in the upcoming year.
Comparatively, USAT is also attractive as a growth entity on many levels. Its price to sales ratio is 2.14 compared to the industry average of 2.74. Its price to book ratio is 3.81 compared to the industry average of 7.80. The company's price to free cash flow is 16.0 as opposed to the industry average of 24.0. Additionally, the company's five year growth rate has been measured at 22.4, whereas the industry average has been reported to be -1.90. By various accounts, USAT is undervalued, underappreciated, and is poised to grow at a rate considerably greater than its peers.
Taking into account the company's considerable addressable market, implemented plans for customer growth and acquisition, earnings expectations, run rate, growing intellectual property, and evolving marketability, a fair evaluation of the company currently is 2.90 per share, and a 12 month price target of 3.20 is conservative.
Insider and Institutional Support
At USAT there has been noteworthy recent activity among investors. In only the last few days nearly 350,000 shares were purchased at an average price per of $2.2689. At the time of this article being written, the price per share is $2.28. Nearly 20% of shares are held by institutions. Among these institutional investors are some notable names. Those names include, but are not limited to; The Vanguard Group, UBS, Millennium Management, LLC, and Wells Fargo. As it pertains to insiders, they currently hold 9% of all outstanding shares. Thus, 29% of all shares are collectively held by insiders and institutions. This fact, to some degree, aligns retail shareholder interests with those of insiders and institutions.
Risks
Undoubtedly, the assumption of a position into USAT would come with moderate risks. First and foremost, while the company has substantial partnerships and relations with credible and reliable entities, those relationships are based largely on availability and price. As the need for Point of Sale systems in the small ticket retail market grows, so will the number of competitors operating within it. Additional contention for market share always brings with it reassessments of price and product. In the event that a more saturated market drove down prices among competing entities, this would adversely affect the already delicate margins at USAT, and could potentially lay to waste earnings forecasts and growth projections. Secondly, the fact that shareholders called for USAT "to immediately commence a process to explore and evaluate all potential strategic alternatives" must be considered, at the very least, to be a disheartening action. Whether a result of impatience, genuine concern, or uniform anxiety, a collective shareholder effort designed to see the company sold at a premium, or to reconsider its operational approach, is never a sign of faith in current management. As shareholders traditionally have their hands on the pulse of a company, this action should be evaluated accordingly. Lastly, the company has, according to multiple web-based platforms, a P/E in excess of 400. While P/E is rather ambiguous, to the extent that it can be considered either a sign of a company being overpriced, or an indicator of significant growth ahead, to not mention a P/E of 400 would be irresponsible. It must be acknowledged. Therefore, prospective investors would be tasked with deciding for themselves how to evaluate such a sizeable ratio.
Conclusion
Niche markets are often underappreciated. The average investor wants to be part of something big, loud, and exciting. They want to be able to say that they are invested in breakthrough technology, the next blockbuster drug, or the next energy revolution. People like to be part of the "next big thing." That is all understandable, but it is also misguided. What investors should look for is growth, revenue, downside protection, and potential return on investment. Even if that opportunity comes from a Malvern, Pennsylvania based company providing Point of Sale solutions for vending machines, laundry facilities, and carousels outside grocery stores designed to amuse young children for 90 seconds. In truth, that is an over-simplified condensing of USAT's business, but it makes the point nonetheless. An investment should be evaluated for its potential to provide returns, not for its "sex appeal."
USAT is a company operating in a multi-billion dollar market, with a meager 80 million dollar market cap. The company is undervalued, underestimated, and slowly moving towards sustainable and emerging profits. Its underutilized assets, and underrated intellectual property, make it a potential buyout candidate in 2014. Its commitment to growth, target oriented plans for new customer acquisition, and continued improvements of its proprietary technology, make it a potential long term growth story. Therefore, investors, and prospective investors alike, have dual paths to sizeable returns. Consider this; if USAT were able to capture even 0.5% of its 120 billion dollar total addressable market, its market cap, and price per share, would likely grow by a factor of 7. Given the company's unique market focus, is that really so far-fetched? Given the fact that trends in consumer spending are evolving, but services and products for consumer amusement and procurement are remaining, would a price per share of 12-14 dollars in a couple years' time really appear so implausible? It is, at the very least, worth considering.
As an investment, USAT offers many attractive qualities. The company has noteworthy insider and institutional support, is a potential buyout candidate, and is in possession of considerable growth potential. If nothing else, the company is worthy of further consideration and inquiry by prospective investors.
Disclosure: I have no positions in any stocks mentioned, and no plans to initiate any positions within the next 72 hours. I wrote this article myself, and it expresses my own opinions. I am not receiving compensation for it (other than from Seeking Alpha). I have no business relationship with any company whose stock is mentioned in this article.
Additional disclosure: It is advised that all prospective investors complete their own relevant due diligence prior to initiating an investment into any company detailed herein, or on any other web based platform.