The purpose of this series is to highlight stocks with long-term potential, which are undervalued, profitable, underperformed the market, and have a favorable technical outlook. The stock that I will be covering for my undervalued series this week is Navigant Consulting (NYSE:NCI). NCI stock has fallen 4.61% in the last month compared to the S&P 500 (NYSEARCA:SPY), which has gained 1.98% in the last month. I believe Navigant Consulting is a solid undervalued long-term choice to gain exposure to the growing trend in the United States of increased regulations in a variety of businesses, and the for businesses to understand how those regulations will affect them. A recent article showed that there are 40,000 new laws that will start to be enforced for 2014, and with this massive increase of new laws and regulations, there will be a need for businesses to be able to understand and comply with these new laws. It is known that government bills and regulations are almost like a foreign language, and there is a need for someone to decipher them, and this is where Navigant comes in to help businesses.
Value
To value NCI I will be using a DCF calculator, with data for earnings and growth coming from Zacks.com, benchmark data from longrundata.com, and CPI data from the BLS. The DCF table below shows shares of NCI are undervalued by 24.24%, which represents a good opportunity for price appreciation for shares of NCI.
EPS [ttm]: $1.14
Long-term Growth Rate: 10%
Earnings grow for next: 5 years
Level off: to 1% after
Benchmark return: 10-yr annualized SPY return of 7.23%+1.20% inflation = 8.43% benchmark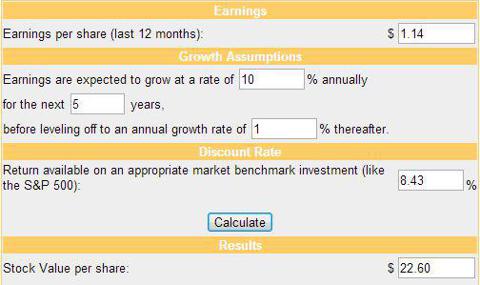 Technical Outlook
The chart below shows that shares of NCI have been steadily at the end of 2013 and the first couple of trading days of 2014. Shares of NCI have closed down nine days in a row, and are heading towards an upward trending level of support [Red Line]. The upward trend line is important because this level has been tested three times, and the trend was intact after each test. It has been nearly 3 months since this support level has been tested, and with the recent bearish action of the stock, NCI will once again test this support level. In addition, NCI has a short-term level of support [Blue Line] at just under $18.00, which is the level where shares broke out above in mid November, and semi-tested that level twice during December. Going forward if the share price continues to hold both levels of support I believe shares will rebound off and move toward my fair value of $22.60.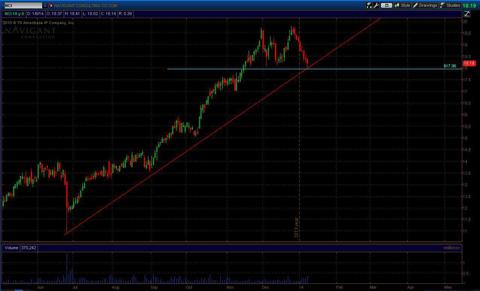 Catalyst
The biggest catalyst for Navigant Consulting going forward is increased regulations in a variety of major industries including healthcare, energy, and finance. With the massive amount of new regulations being implemented, Navigant stands to benefit significantly.
The chart below is constructed from four charts below which I compiled from the investor presentation, which shows each segment of the business, and you can visually see how each segment is growing. The chart clearly shows that Healthcare, Energy, and Finance are the strongest growers, while the other business of disputes, investigations & economics have been slowly declining. The growth in healthcare revenue can be attributed to the affordable care act [ACA], which for better or worse has 906 pages worth of new regulations that many businesses will need consulting on how to interpret and comply with those new regulations, and is not going anywhere anytime soon. The second fastest growing segment of business for Navigant is its Finance segment, which stands to benefit from the increased regulations brought on by the Dodd-Frank Act. With these new financial regulations, companies will need to know how to comply, and there will be an emphasis on consumer protection, which fits well with Navigant and its forensic accounting and investigative services. Finally, the energy segment of Navigant is growing but at a much slower rate than healthcare and finance, but this is one area where I believe Navigant has some good potential going forward because of the push towards green energy. With new regulations for coal power plants just going into effect, utilities looking to build a new power plant are going to be more likely to choose a renewable source than a coal plant because of the regulations, and if they choose a renewable source, Navigant can provide consulting and research for those utilities.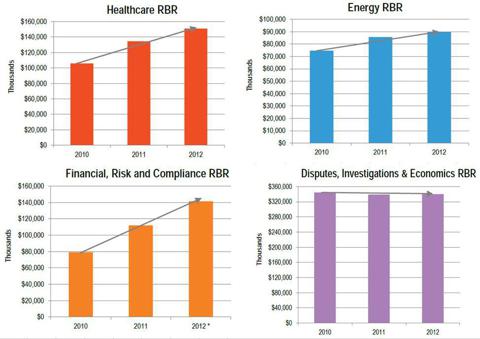 Risks
The biggest risk to Navigant Consulting going forward is government investigation risk. In June, a report about questionable billing practices for the Long Island Power Authority was released and shares dropped 7.50% that day. Since then the federal government found that Navigant did nothing wrong, and shares have since performed very well. However, going forward if another investigation for some other reason is brought on, then shares could once again fall.
Closing thought
I believe shares of NCI are poised to move higher from current levels, because the stock is undervalued, the stock is near two levels of strong support, and the company is well positioned to take advantage of the increasing government regulations in healthcare, finance, and energy. Another positive for NCI is that they have been generating a large amount of free cash flow, which is being used to pay down long-term debt, and for a small share buyback program. Over the last five years, NCI has reduced its long-term debt by nearly 42%, and I believe cash flow growth will accelerate with the overall growth by Navigant, which could lead to Navigant being completely debt free in the next 2-3 years. Based on all these factors, I believe going forward shares of Navigant Consulting in the long term will move higher to my fair value estimate of $22.60
Disclosure: I have no positions in any stocks mentioned, and no plans to initiate any positions within the next 72 hours. I wrote this article myself, and it expresses my own opinions. I am not receiving compensation for it (other than from Seeking Alpha). I have no business relationship with any company whose stock is mentioned in this article.