Within the universe of institutionally owned public stocks, Veeva Systems (NYSE:VEEV) is one of the most overvalued stocks in the world and arguably the most overvalued. What about Twitter (NYSE:TWTR), you say?
Unless you've been living under a rock, you must know that TWTR is the latest poster child for what many believe is a massive Internet bubble in the U.S. TWTR regularly makes headlines due to its "stratospheric" valuation, even making skeptics out of analysts highly bullish on the U.S. Internet such as Jim Cramer, who has been known to pitch stocks with double-digit forward multiples but now calls TWTR a "cult stock" overvalued by "every metric."
Here's a chart that shows why "analysts are freaked out by Twitter":
Click to enlarge images.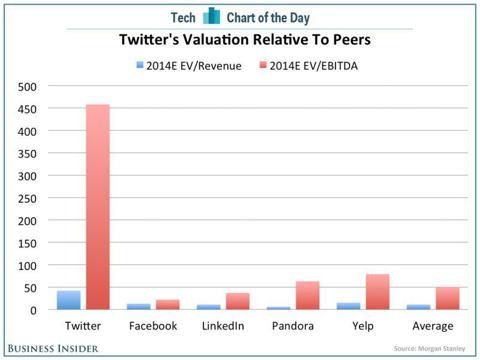 VEEV More Expensive Than TWTR
To provide some context as to how overvalued VEEV really is, even relative to TWTR, here is a simple back-of-the-envelope analysis of VEEV's valuation relative to TWTR's using forward sales multiples, the preferred financial ratio of supporters of bubbly stocks. To be as favorable as possible to VEEV, I use Morgan Stanley's latest projections for TWTR in their recent report that rates TWTR Underweight, the equivalent of Sell for Morgan Stanley. Morgan Stanley has TWTR growing 82% in 2014, 48% in 2015, and forecasts CAGR from today to 2018 at 38%. Again, these are projections from the latest bear, and most analysts who have the stock rated Buy or at least Hold would express a more bullish view of TWTR's future.
Unlike TWTR, whose growth prospects and enormous addressable market are not disputed by anyone, VEEV is a controversial stock precisely because its growth prospects are uncertain. As noted by this series of articles from Suhail Capital that argues that VEEV simply has run out of addressable market to drive meaningful future growth, there is a solid argument for substantial revenue deceleration going forward. TWTR may be overvalued, but at least its growth is unquestioned. According to Bloomberg's consensus estimates (see below), TWTR trades at a 2015 18.7 2015 EV/sales multiple.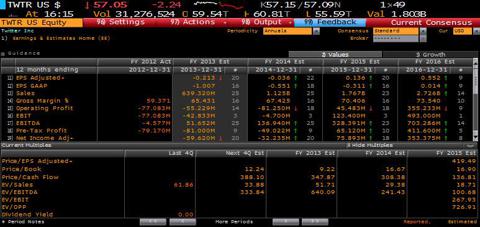 As you can see below, VEEV's 2015 EV/sales is "only" 15.4, but the key difference is that even among the highly bullish sell-side analyst community, growth in 2015 is projected to fall to 27% from 58% in 2014, or a 53% deceleration in sales.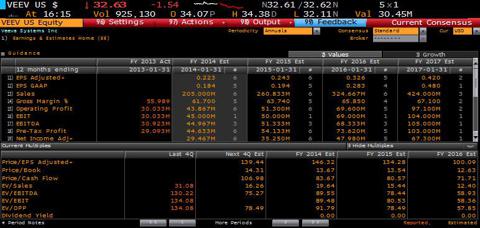 At that rate, while TWTR is projected to grow at 38% for five more years even by bearish Morgan Stanley, VEEV may hit single digit growth just three or four years from now and stall completely within five. And that's if you believe the bullish sell-side research and estimation of addressable market, which is the key area of skepticism behind the prevalent short thesis on VEEV.
If TWTR is overvalued, what is VEEV? Now that TWTR has begun correcting, when will VEEV's 15.4 2015 sales multiple, off of much slower growth, take a nosedive?
VEEV Highly Overvalued, Even Within SaaS
VEEV's overvaluation is so excessive that it is an outlier even within the SaaS universe. Aside from two other SaaS stocks that trade at 2014 sales multiples of over 20 -- Workday (NYSE:WDAY) and Splunk (NASDAQ:SPLK) -- one must look within the world of microcap companies that often trade on rumors alone to find similarly overvalued companies.
Below is a list of 2013-15 growth projections and trading multiples for every pure-play SaaS company listed on a U.S. stock exchange that I could find. To compile the list, I ran screens on Bloomberg and read over a dozen sell-side broker research reports on SaaS companies. I only included companies that derive the majority of their revenue from SaaS, which means I excluded many companies such as Solar Winds (NYSE:SWI) that have some SaaS revenue (but more non-SaaS revenue than SaaS revenue). The inclusion of any company with any SaaS revenue to my analysis below would make VEEV's overvaluation even more extreme than it already is, so the list below of pure-play SaaS companies is actually the most favorable set of comps for VEEV since SaaS companies are as a group by far the most overvalued stocks of any sector.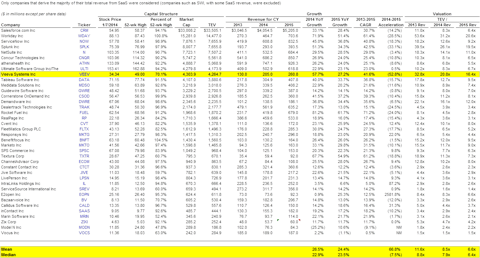 To show the outliers from that table, I charted consensus estimates from Bloomberg for 2015 EV/sales against 2015 annual revenue growth.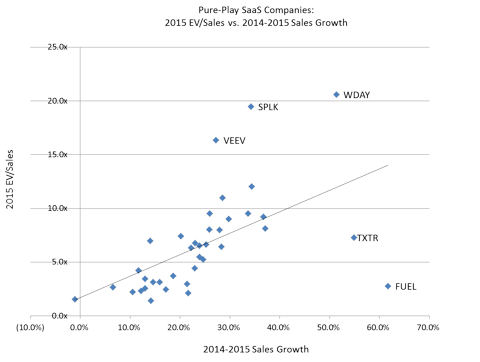 As you can see, there are literally a handful of outliers on an otherwise highly consistent trend that converges neatly into a trendline. On the relatively undervalued side, you have Textura Corp. (NYSE:TXTR) and Rocket Fuel (NASDAQ:FUEL), who show the most growth for the least sales multiples. I am not saying these stocks are cheap in any way, just that they are outliers on a relative basis adjusted for growth.
Similarly, on the overvalued side, you have WDAY, SPLK, and VEEV, who trade at the highest forward sales multiples relative to their SaaS comps. Again, these three are significant outliers. From this short list of three highly overvalued stocks, there are a few notable facts about VEEV that make it unique:
As shown in the comps table, VEEV is projected to decelerate the most out of its entire comp set, slowing by 53% from 2014 to 2015.
But VEEV is only an average growth stock, projected to grow 27% against a comp set that projects 24% growth on average.
Despite these two facts, VEEV's sales multiples are ridiculous. Relative to its comps, VEEV trades at 2013, 2014 and 2015 EV/sales premiums of 183%, 145%, and 148% (the numbers for these calculations were pulled from the comp chart above).
VEEV Is a Short Even if the Sell Side Is Right
Even if the series of articles that Suhail Capital wrote to bring attention to VEEV is entirely incorrect, and moreover, even if the bullish sell-side analysts condemnded in those articles who are pitching VEEV as a buy are right, VEEV is still massively overvalued.
For fundamental investors who use valuation as their primary decision-making tool, VEEV's overvaluation provides a rare directional shorting opportunity with at least 60% downside just to revert to the mean of its comp set. For market-neutral investors, VEEV is a perfect short to pair with any SaaS long, even the other two overvalued outliers from the chart above, WDAY and SPLK. For trend followers, VEEV's chart below (from stockcharts.com) shows a steady grind downward within a comp set that has generally been trading up and to the right (see WDAY, SPLK, etc.):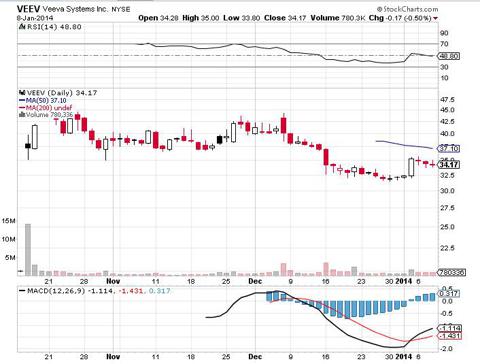 Disclosure: I have no positions in any stocks mentioned, and no plans to initiate any positions within the next 72 hours. I wrote this article myself, and it expresses my own opinions. I am not receiving compensation for it (other than from Seeking Alpha). I have no business relationship with any company whose stock is mentioned in this article.