Intel (NASDAQ:INTC) announced a rebranding of its McAfee security until at the Consumers Electronics Show ("CES") calling the unit Intel Security. Perhaps more importantly than the long overdue branding change was Intel's announcement that Internet Security would be part of certain devices "hardened" with Intel Device Protection Technology making them more or less immune to certain viruses and types of malware. This is the holy grail of the McAfee acquisition, that is, to make security a part of the device rather than an expensive add-on seen by many as much as a virus as an anti-virus by its constant pop-up messages and drain on computer resources.
An important part of the announcement was that the technology would be incorporated in "mobile devices" which I took to mean more than personal computers or laptops but perhaps tablets and smartphones. The announcement specifically mentioned Android and indicated that more information would be coming at the Mobile World Congress in February 2014.
Intel "hardened" devices might well steal the show from Qualcomm (NASDAQ:QCOM) or Nvidia (NASDAQ:NVDA) powered devices using ARM Holdings (NASDAQ:ARMH) technology, which would remain vulnerable to the growing number of viruses attacking Android.
The inclusion of effective anti-virus and anti-malware technology as an inherent component of the device would have a negative effect on Symantec (NASDAQ:SYMC) as well if it succeeded in any volume. I have always tried to avoid using Norton products from Symantec not because of any complaint with their effectiveness but because of their intrusiveness. The security software I want would be invisible and rarely if ever inform me of its existence unless asked. It would just keep my computer and mobile devices safe from hackers.
Virus and malware security should not be confused with communication security (that is, encryption of messages and files) provided by a number of companies but best known as the defining value of BlackBerry (NASDAQ:BBRY) devices. Nonetheless, it is a crucial part of safe use of the Internet and this initiative from Intel shows promise.
I will be waiting patiently for the next Intel announcement on this subject. What seems to unfolding is a very disruptive Intel that could shake up the mobile world based on the following:
1. A more powerful 64-bit processor than anything that exists or is contemplated but which consumes less battery power providing very long battery life: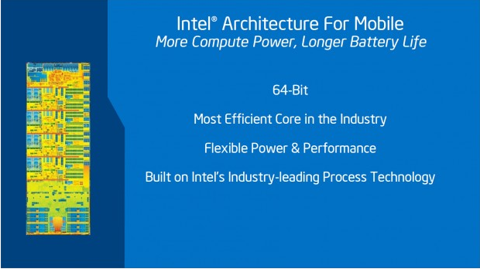 2. Advancing process technology to 10nm to facilitate a processor size so small that devices can be incredibly thin and elegantly designed: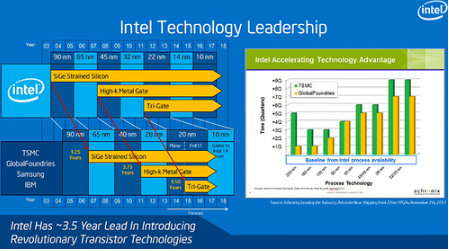 3. Integrated LTE as part of the SoC: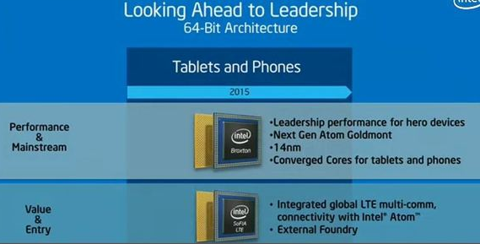 4. Built in virus and malware protection described by Intel as: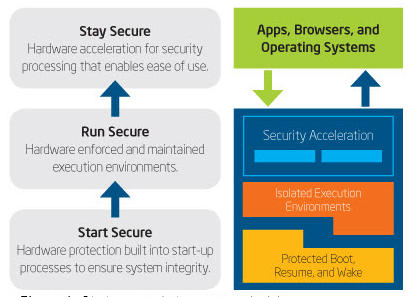 And; finally,
5. Native support for both 64-bit Windows and 64-bit Android OS.
A lot of industry watchers and SA authors have expressed frustration that Intel's pace of development has not been faster. I disagree. Intel has moved with extraordinary speed in my view, pushing the envelope on the key process advances to ensure it has the highest transistor density and lowest power consumption possible and targeting its advances first at its core markets in PCs and servers. Haswell is a major advance. Anyone who has purchased a Haswell based laptop knows what I mean. Powerful with a long battery life and running cooler than anything I imagined, my Haswell device is a treat to use.
Intel has laid out its road map for its mobile strategy and it is both challenging and competitive. In 2014, Intel is targeting tablets and determined to make inroads in that key market. That is the right target. Until it has a truly competitive LTE solution integrated into the SoC, an assault on the smartphone market would fail, in my view. But a competitive LTE solution is a necessary but not sufficient condition for Intel to succeed in smartphones.
Tie it together with 64-bit processing power, a die size competitors cannot match, extremely long battery life and integrated virus and malware protection and offer it with the capability of running 64-bit Android or Windows OS and maybe it is a horse of a different color.
I think the integrated security is the dark horse in this race. It would certainly persuade me to choose a device with "Intel Security Inside."
I am long Intel.
Disclosure: I am long INTC. I wrote this article myself, and it expresses my own opinions. I am not receiving compensation for it (other than from Seeking Alpha). I have no business relationship with any company whose stock is mentioned in this article.