By Lara Crigger
Talk about a comeback. Since its March 2009 bottom, copper has risen more than 140 percent, with the May COMEX contract closing at $3.38/lb on Friday: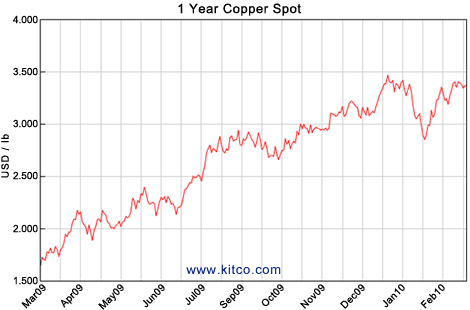 Yet for the past two months, copper has stayed stuck in a trading range, volleying back and forth between $3 and $3.50/lb without any indication of permanent gains or losses. Not even the earthquake that struck Chile last month or its subsequent aftershocks could spark a breakout. Last Thursday's 6.9 quake, for example, didn't even register in the copper market, with prices remaining flat at $3.37/lb for the day.
So can copper resume its upward climb? Or is the metal just biding its time before a major pullback?
Deflating Chinese Demand
Copper, as you may recall, is one of the world's most widely used industrial metals, particularly in construction. Builders account for 40 percent of copper usage in the U.S., which is more than any other industrial user; the metal is a key ingredient in electrical wiring and modern plumbing. Copper's also crucial for car fabrication, which uses a surprising amount of wiring; these days, the average luxury car contains about a mile's worth of copper. Electric and hybrid cars use even more.
After the 2008 market meltdown, we saw industrial demand for copper shift from consumers in developed markets to those in emerging ones—primarily, of course, in China, which bought loads of the stuff during its stimulus frenzy last year. In fact, GFMS reported that China's copper consumption swelled from 1.8 million tonnes in 2000 to a predicted 6.5 million tonnes in 2009—or an average annual growth rate of 15 percent. According the International Copper Study Group, China accounted for 40 percent of all world copper usage in the first 11 months of '09, which more than offset the 16 percent slump across the rest of the world (including a 20 percent decline in the U.S.).
But Chinese demand may finally be slipping. Post Chinese New Year buying has been weaker than expected, reports Reuters, and worries about inflation in the country are on the rise. In February, the Chinese Consumer Price Index rose 2.7 percent year-over-year—that's a 16-month high and above previous predictions. Rising inflation has led many analysts to suggest that China may soon rein in spending and tighten up its monetary policy (which would subsequently cut into the country's appetite for copper).
"Some are concerned growth in China as we saw it over the last month will not be sustainable," Commerzbank analyst Eugen Weinberg told Reuters. "Some expect further tightening in China soon, possibly in a question of weeks."
Support For Higher Prices
On the other hand, some support for higher copper prices does exist. Inventory levels at the London Metals Exchange, for example, have been consistently falling, dropping down to 531,200 tonnes as of Friday. That's their lowest level since January.
What's more, Chile, the world's biggest copper producer, has struggled with periodic supply interruptions over the past two weeks. Although the February earthquake and its aftershocks failed to cause any lasting damage to the mines themselves, their influence on the country's roads and power infrastructure has been devastating. On Sunday, March 13, Chile was hit with a substantial blackout that left 80-90 percent of the country without power, and it could be just the first of many, said Credit Agricole CIB analyst Robin Bhar.
"Is this going to be the only one? I doubt it," Bhar told Reuters. "There will be further supply disruptions."
Besides, even if Chinese demand does slow in the short term, many analysts agree that China and other emerging markets will continue to dominate copper demand for the long haul. For example, Brazil will certainly need a major infrastructure overhaul, considering the projects necessary to prep the nation to host the 2014 World Cup and 2016 Olympics.
In addition, Barclays Equity Research recently forecast that in five years, each of the 1.3 billion Chinese consumers would use 12 pounds of copper annually. Sure, 12 pounds might not sound like a lot, especially when you consider that according to the Copper Development Association, the average single-family home in the U.S. uses about 439 pounds. But 1.3 billion Chinese using 12 pounds each adds up to 7.076 million tonnes per year, or nearly half of the total projected mine production for 2009 (using the USGS's figures of 15.8 million tons). That's a lot of copper wires.
The New ETF
For those who believe in the continued strength of copper prices, investing in the producers themselves seems like a no-brainer, as copper miners can offer a leveraged play on the metal's prices. That's why last week, First Trust launched the market's first equity-based ETF play on copper: The First Trust ISE Global Copper Index Fund (Nasdaq: CU).
CU tracks an index of global miners, weighting them based on their copper mining revenues. So far, the fund, which holds 27 firms, seems relatively well diversified; top stocks include such big names as Xstrata (6.96 percent), BHP Billiton (6.82 percent), Antofagasta (6.71 percent), Freeport-McMoRan (6.56 percent) and Southern Copper (6.24 percent). These firms are all relatively well off, with major projects in some of the top-producing nations like Chile, Peru and the U.S.
Canadian miners make up the largest proportion of CU's holdings (42.33 percent), followed by U.K. miners (27.07 percent) and U.S. firms (12.95 percent). (Don't be misled by the apparent lack of Chilean miners—most of Chile's biggest producers are still private.)
CU joins the iPath Dow Jones UBS Copper ETN (NYSEARCA:JJC) as the only pure-play copper exchange-traded products on the market (although copper does make up 40 percent of the futures-based PowerShares DB Base Metals (NYSEARCA:DBB)). Plus, as an ETF, CU avoids the credit risks inherent in ETNs that still make many investors nervous.
However, since CU just launched last week, we still have no idea yet how the fund will trade. But should copper prices continue their rise, CU just could be the right ETF at the right time.
Disclosure: No positions