Samsung (OTC:SSNLF) has been Apple's biggest nightmare in smartphones and LG Electronics has been an annoying pest in the high end of that market. Samsung and LG have even larger ambitions in the Home Appliance market and Whirlpool (NYSE:WHR) may be among their next victims as the Korean giants flex their muscles in the appliance market.
Samsung has set a goal to be the world's number one appliance supplier by 2015. Samsung's plans take advantage of its massive share of the smartphone and tablet market as the home becomes another competitive arena in the Internet of Things ("IoT").
An example is Samsung's concept of a vacuum cleaner that operates as a robot controlled by your Samsung smartphone.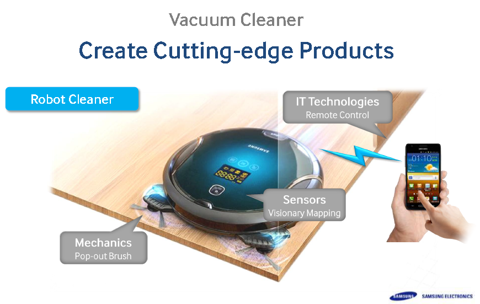 In refrigerators, Samsung will collaborate with others to embed certain technologies, for example SodaStream.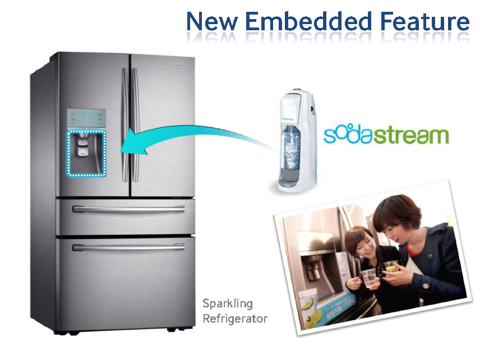 Samsung' vision is to have consumers experience the Samsung brand everywhere in their home.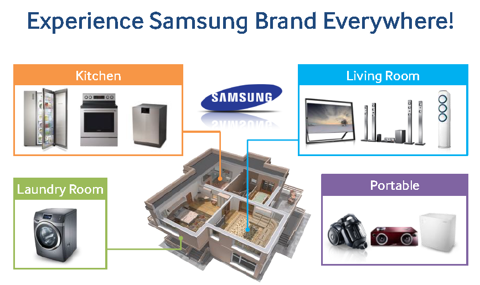 IoT is in its infancy. Many innovations will emerge in the near future. Examples could include washing machine that alerts you if it is stalled or when it has finished its cycle and it's time to put clothes in the dryer; a dryer that tells you if the lint filter should be cleaned; a refrigerator that remembers how long certain foods have been present and advises you when they should be consumed or tossed into the trash disposal; and, a television that pauses the show you are watching while you take a phone call or empty the dryer and restarts the program where it left off when you return. There is no limit to the creativity that will alter your home to capitalize on the IoT explosion.
Samsung is in the forefront of the emerging technologies. Whirlpool is more traditional and will need third party support to meet challenge Samsung presents. It is not well equipped for the war that is just beginning.
Like Samsung, LG has a powerful understanding of IoT technologies based on its smartphone and tablet presence. Like Samsung, it is targeting home appliances for share gains. And, like Samsung it is succeeding in the United States with its broad range of appliances and innovative designs.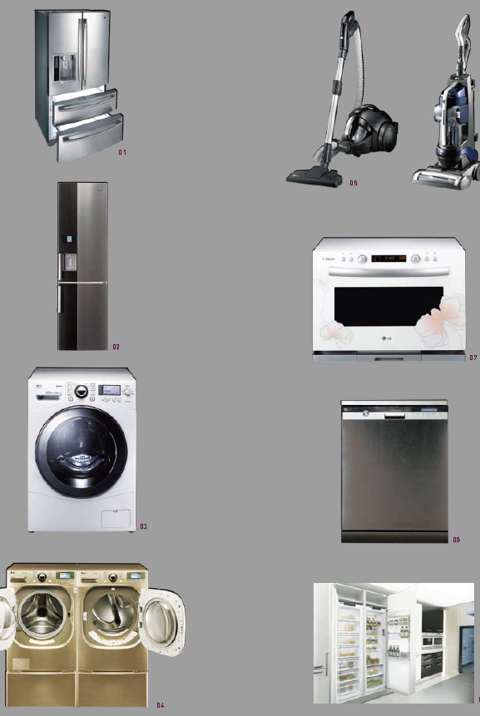 Today, Samsung has about $12 billion in appliance revenues while Whirlpool is at about $18 billion. If Samsung reaches the number one spot by 2015 as it plans to, it is likely to continue to displace Whirlpool and GE in the market place as both it and LG press ahead with their share gains. Samsung is already well along in building its U.S. market share, having more than doubled its U.S. market share since 2008 and LG has grown its share by about half in the same timeframe, while Whirlpool, GE and Electrolux have given ground.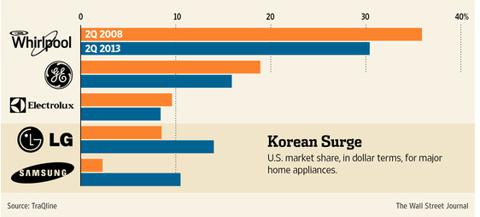 I expect this trend to accelerate with the innovations I see as likely as the IoT gains momentum. Whirlpool is the most likely casualty since it is a pure play on appliances and lacks the internal Research and Development capability I see as needed to keep pace with electronics giants like Samsung and LG who will use the IoT as an arena to extend their enormous strengths in electronics innovation.
If Samsung picks up another $6 billion in revenue by 2015 and half of it comes from Whirlpool, the impact on Whirlpool earnings will be significant. A drop of even $1 billion in sales would reduce Whirlpool's operating income by $250 million or about $3.00 a share and losing $3 billion in revenue would just about wipe out Whirlpool's earnings altogether.
Whirlpool is a great brand and will not yield without a fight. But a fight in the appliance industry generally means lower prices, and with Samsung's balance sheet it can afford to suffer losses to get the market share it targets. Whirlpool doesn't have that luxury.
In the short term, Whirlpool should continue to benefit from stronger housing markets, low interest rates and a generally stronger economy in most countries. The end of Fed Quantitative Easing will no doubt presage somewhat higher rates; those higher rates will cool off the housing market in all likelihood; and, while the economy shows no signs of a slowdown, the prospect of a highly focused and well-financed Samsung making it a corporate objective to increase its appliance sales by 50% over 2 years should not be ignored by investors.
I am short Whirlpool.
Disclosure: I am short WHR, . I wrote this article myself, and it expresses my own opinions. I am not receiving compensation for it (other than from Seeking Alpha). I have no business relationship with any company whose stock is mentioned in this article.
Additional disclosure: I am short 6,000 shares of Whirlpool