After the bell on Thursday, Chevron (NYSE:CVX) reported interim results for the fourth quarter that were mildly disappointing (the press release can be accessed here). Overall, the company expects earnings to be similar to those reported in the third quarter when EPS was $2.57. Chevron does expect downstream results to be better thanks to stronger refining margins as the Brent-WTI spread has widened out. On the other hand, upstream results will be sequentially lower. Let's first look at downstream results:

Overall, U.S. refinery input was up mildly sequentially while International was down mildly. The big driver was strong per barrel margins. During the first three quarters of 2013, we had been seeing tightening of spreads, which then blew back out in the fourth. As a consequence with the exception of Asia-Pacific, we saw margins increase by about $1 per barrel, which is a significant boon to refining profitability. The U.S. is inundated with oil and gas, which is keeping WTI prices low, so I would expect decent refining margins in 2014. However, there is some pressure for the U.S. to begin permitting oil exports, which would allow U.S. crude oil to fetch a higher price on the global market.
If congress were to lift the ban, I would expect the Brent-WTI spread to tighten significantly, eliminating the key competitive advantage for U.S. refineries, which would impair Chevron's U.S. downstream profitability. However, it is important to recognize that Chevron is an integrated oil company, so its U.S. upstream operations would benefit from a better selling price. While downstream operations would soften, upstream operations improve, making such an action a non-event or slightly positive action.
However given the state of dysfunction in Washington, I would not expect our government to lift the export ban. While some notable Republican senators, like Lisa Murkowski, do support such a measure, Democratic appetite appears limited, especially as lifting the ban could be unpopular if prices rise at the pump subsequently. While investors should follow any developments, I would not expect the export ban to be lifted in 2014. Even if it is, it would not be a negative catalyst for the integrated companies, though it could pressure stand-alone refiners.
While downstream results were strong, I was underwhelmed by Chevron's upstream figures: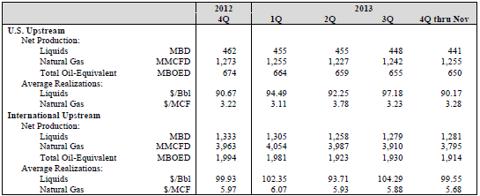 As you can see, on the whole, Chevron is reporting both a sequential and annual drop in production. Most notably, U.S. liquid production was disappointing at 441 MBD, and I was hoping for a figure closer to 450. Even though natural gas was up sequentially, it could not outweigh the drop in liquids, so U.S. production fell 0.76% on an oil-equivalent basis from the previous quarter and 3.56% on an annual basis. Internationally, the picture was not better. Liquid production was flat sequentially, but natural gas was down over two percent. Sequentially on an oil equivalent basis, production was down 0.83%, and the drop was a steep 4% year over year.
Chevron had been showing some decent production growth in previous quarter, so why the sudden reversal of fortune? Management blamed the drop on planned downtime in the Gulf of Mexico, Angola, and Australia. These factors do mitigate much of the weakness, but I would have preferred Chevron to be sequentially flat, considering its growth projects that are gradually coming online. While not a disaster given temporary shutdowns, a production decline is weak given the company's massive cap-ex budget of $42 billion in 2013 and $40 billion planned for this year. I continue to believe that the company should be able to grow production in the 1-3% range annually over five years, but if Chevron reports several more weak quarters, I would consider downgrading my assessment of the company's growth prospects.
Importantly, Chevron also saw a weaker end market with liquid prices down 4% and natural gas prices down 1.7%. It is important to recognize that the fates of the major oil companies like Chevron, Exxon Mobil (NYSE:XOM), and BP (NYSE:BP) are tied to commodity prices. Crude prices have softened quite a bit over the past two months with WTI breaching $93. If WTI prices stay below $100, these firms will struggle to grow upstream earnings. We have seen a nice rally in U.S. natural gas prices in December thanks to cold weather, but we remain well supplied, and a return of mild weather could push prices back down into the low $3 range.
All in all, Chevron's downstream operations benefited from a wider spread, but production was disappointing even with some asset shutdowns. I had been hoping to see production closer to the flat-line sequentially, and hopefully, the company performs better next quarter. This quarter also serves as a reminder that if energy prices continue to remain under pressure, these companies will face some pressure to their profitability. The bull thesis for Chevron does remain in tact thanks to a strong and growing 3.25% dividend. Moreover with cap-ex needs declining, I expect meaningful free cash flow generation in 2015 and 2016.
At $123, Chevron is trading at about 10-11x 2014 earnings, so the stock is certainly not expensive. However after this quarter, there is no reason to rush to buy the stock above $120. After these production results, Chevron is in a "show me" period where management has to prove in coming quarters that this was an aberration like they said it was. Until then, I would hold Chevron shares, but I would be hesitant to add aggressively unless shares fall below $115, especially because crude oil prices are under pressure.
Disclosure: I have no positions in any stocks mentioned, and no plans to initiate any positions within the next 72 hours. I wrote this article myself, and it expresses my own opinions. I am not receiving compensation for it (other than from Seeking Alpha). I have no business relationship with any company whose stock is mentioned in this article.