BlackBerry's (NASDAQ:BBRY) long-term plan is very simple to understand. The company aims to be a niche player in the regulated world of communications, meaning banks, governments, armed forces and enterprise customers highly protective of their data.
And why is the company able to take advantage of such a niche? Because it is the only smartphone device maker that is able to provide the U.S. Government, the German government, armed forces around the world and companies who value security, a safe device to talk and communicate with.
That's about it folks. That's all there is. In fact, that's all there ever really was, because the company never really made any money (if at all) in the retail space, once Apple's (NASDAQ:AAPL) iOS and Google's (NASDAQ:GOOG) Android platform came out.
Now I have said many times in the past that's all BlackBerry really needs. Yes, it would be nice if they could conquer the smartphone world, but in the event they didn't, being a niche player is enough to reward shareholders, provided of course they stay focused on the enterprise and on safe communications and learn how to charge for it.
And that's exactly what the new CEO, John Chen is determined to do as he has said again and again ever since he took over.
And since BlackBerry is not going out of business -- as I have said many times -- then the only other thing investors need to focus on is what the business might be worth in the future, provided of course BlackBerry delivers and is able to make money again. Because if you ask me, at today's valuation, it is still valued as scrap.
But since BlackBerry is not profitable today, we cannot take P/E as a metric. We have to use something else. We will use P/E as a metric in the future, if and when the company is profitable again and can be compared to other profitable companies. But for now we can only use a metric that does not have after tax profits in it, since it has none.
So let's assume that at some point in time in the future BlackBerry becomes profitable. What would shareholders make if BlackBerry would be valued by Apple's valuations metrics?
Like I said, since BlackBerry has no profits, we have to use some other metric. Yea I know you don't think much of it, but my favorite metric when companies have few or no profits -- but that have the potential for future profits -- is the Price/Sales ratio.
Apple's Price/Sales ratio is currently 2.8, while BlackBerry's Price/Sales ratio today is about 0.5. What this means is (even assuming BlackBerry does not see any revenue growth going forward) that BlackBerry's stock has to go up about fivefold from current levels to match Apple's comparable valuation.
Of course for this to happen BlackBerry has to produce the goods, meaning after tax profits. But if one believes it has the potential for profitability (as I do), then if you do the math, that comes out to about $40 a share.
Now I am not telling you that BlackBerry will go there overnight, just that it has the potential to go there, if and when it turns around and produces some healthy after tax profits.
So if someone believes in the company and feels assured that the new CEO knows what he is doing, and you also assume that at some point in time BlackBerry will be profitable, then the forward market thinking thing to do is buy today and enjoy the ride the next 2-3 years.
And on a pure technical note, I want to show you a chart of BlackBerry's stock.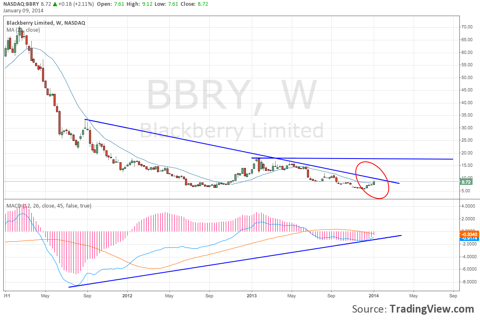 If you want my interpretation of this chart, I see that the MACD on a weekly time scale is about to give a very long-term buy signal. I also see the short-term trend, as identified by the 21 week average (one of my personal trend benchmarks) is now bullish. Also if and when the MACD will become bullish on a weekly scale, I can expect a whole lot more technical players jumping onto the stock, for no reason whatsoever outside of the fact that the long term technical trend is looking better.
Also notice the resistance line in blue. The mark is around $18. So for this year, assuming that the technical picture of BlackBerry continues to improve, I expect the stock to reach this level, assuming management stays focused and continues to communicate to the street their enterprise focus.
And this gentlemen, is the long-term picture of BlackBerry as I see it.
Disclosure: I have no positions in any stocks mentioned, and no plans to initiate any positions within the next 72 hours. I wrote this article myself, and it expresses my own opinions. I am not receiving compensation for it (other than from Seeking Alpha). I have no business relationship with any company whose stock is mentioned in this article.