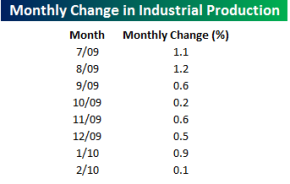 Today's release of February's Industrial Production showed a 0.1% monthly increase, even as the multiple blizzards on the East Coast during the month were expected to have had a negative impact. Just as the market has risen by 70% off the March 2009 lows and there are still some who refuse to call it a bull market, Industrial Production has now risen for eight straight months and many still contend that the economy is stuck in the 'Great Recession'.
The Federal Reserve's measure of Industrial Production dates back to 1919, and since that time there have only been sixteen other periods where the indicator had eight or more consecutive monthly increases. The last time the indicator rose for more than eight straight months was back in February 1998.
While the rebound in Industrial Production has been consistent, the economy still has a bit of a hole to dig itself out of. Even after the 5% increase in the indicator, it remains over 10% below its December 2007 peak.