Over a career of a CEO it might be possible to judge performance based on the value created for shareholders of the companies involved. Over the short term, this is most likely not a very reliable proxy. If you can judge the ability of CEOs more accurately and early in their respective careers, you might be able to gain an edge on the market. Currently I'm intrigued by the possibilities. With the help of an excellent chapter in The Manual of Ideas, called Jockey Stocks: Making Money alongside Great Managers, I constructed a spreadsheet to evaluate CEO performance.
In this article I'll share my research on Michael Corbat with you. Corbat started as CEO of Citigroup Inc. (NYSE:C) in October 2012. Unfortunately that's only a very short period to assess performance. However since identifying strong CEOs early is also the most valuable time, let's start early.
Profile:
Corbat has worked at Citi or its predecessor companies for his entire career, starting with Salomon Brothers. He has served as Head of Citi's Global Corporate Bank and Global Commercial Bank and CEO of Citi's Global Wealth Management (consisting of Smith Barney and the Citi Private Bank). As CEO of Citi Holdings, he was responsible for and led the divestiture of a portfolio of non-core business and assets following the financial crisis of 2008 and Citi's participation in the Troubled Asset Relief Program. In 2011, he was named CEO of Europe, Middle East and Africa (EMEA) where he oversaw all Citi operations in the region. In October 2012, Mike Corbat was appointed CEO of Citi. Source: Wikipedia
Performance Michael Corbat Citigroup vs Jamie Dimon
One thing that jumps at me from the data, is the improvement in the margin profile. Operating margins are clearly moving in the right direction. In addition, there is the positive development of book value per share, arguably one of the better proxies for the performance of bank managers.
| | | | | | | |
| --- | --- | --- | --- | --- | --- | --- |
| Michael Corbat Citigroup | return on capital | return on equity | book value (per share) | margin profile | asset turnover | capital expenditure trends |
| 2012 | -2,51 | 4,14 | 61,57 | 11,3 | 0,04 | - |
| 2013 | -0,02 | 6,5 | 64,49 | 22,3 | 0,04 | - |
To put the numbers in perspective, I've also put the numbers of a major competitor, JP Morgan Chase & Co. (NYSE:JPM), into a spreadsheet. Perhaps a direct comparison will reveal a few things about his performance.
| | | | | | | |
| --- | --- | --- | --- | --- | --- | --- |
| CEO Jamie Dimon JP Morgan Chase & Co | return on capital | return on equity | book value (per share) | margin profile | asset turnover | capital expenditure trends |
| 2012 | 2,31 | 10,72 | 51,27 | 29,8 | 0,04 | - |
| 2013 | 1,92 | 8,79 | 52,01 | 26,1 | 0,04 | - |
Both return on capital and return on equity are much better under JP Morgan Chase & Co Jamie Dimon's leadership. Book value progressed at a slower pace at JPMorgan Chase and its margin profile deteriorated, although it was much better to begin with. The sample size is too small to draw any harsh conclusions. Perhaps some Citigroup investors will sleep a little better, knowing there is room for improvement on important metrics like ROIC, RoE and Operating margin.
Performance Michael Corbat Citigroup vs. Vikram Pandit
Before Michael Corbat, the CEO of Citigroup used to be Vikram Pandit. Mr. Pandit was unfortunate to start his tenure in December 2007. Obviously his performance is heavily influenced by the financial crisis that struck in 2008. However, there still might be some value in examining the years just before Corbat took over.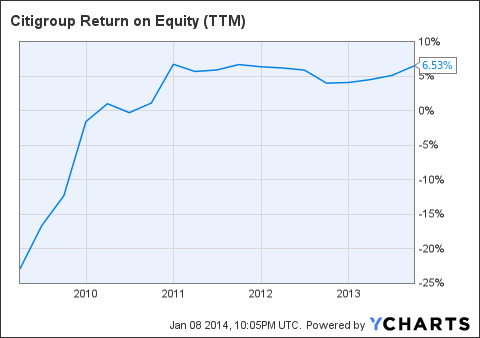 C Return on Equity (TTM) data by YCharts
The graph clearly shows Pandit and Citigroup struggling for survival and bring return on equity back into the green. Pandit did manage a positive number for the first time in 2010. Corbat is currently close to matching his peak numbers. Obviously more time has passed since the financial crisis.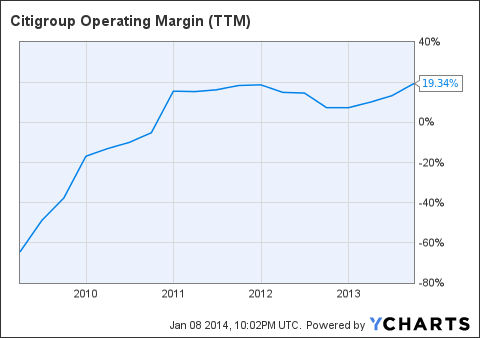 C Operating Margin (TTM) data by YCharts
Margins deteriorated a little bit right after Corbat took over but were quickly restored to the same levels Pandit managed to achieve near the end of his tenure.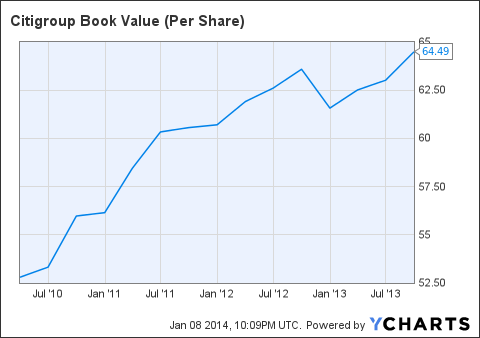 C Book Value (Per Share) data by YCharts
Finally the way book value is developing since the crisis is also fairly interesting. I excluded the period right after the financial crisis where Citigroup's book value dropped tremendously. The reason I excluded it is because it flattens the graph too much.
All the graphs give me the impression Corbat used his first year to clean up. Numbers deteriorated slightly, a typical effect when a new CEO takes over. Afterwards they start improving at a faster pace than before. This trend is also visible in book value although it may be a coincidence.
Performance vs. Broader Industry
Finally let's compare the accomplishments of the new CEO against the broader market and a basket of industry peers.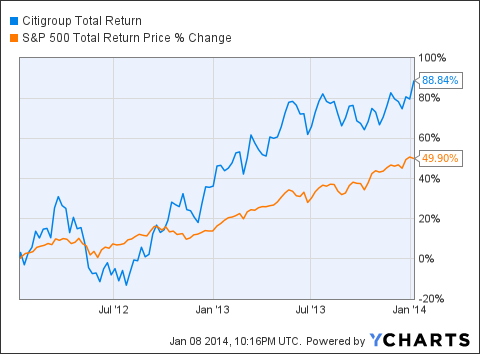 C Total Return Price data by YCharts
Over his tenure Corbat has clearly outperformed the S&P 500. This comparison suffers from an insufficient sample size. We really need years of a CEO at the helm to draw any meaningful conclusions.
However in Dutch we have a saying: "Een goed begin is het halve werk." Which roughly translates as: "A good start and the job is halfway done." It would be great for Citigroup shareholders if this is just a start.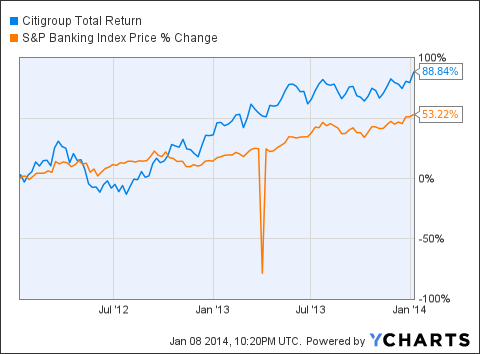 C Total Return Price data by YCharts
Although the banking index also outperformed the S&P 500, Citigroup did so by a much wider margin. The market is apparently giving the Citigroup team credit for propelling the right changes so far.
Political ties
Mr. Corbat, according to Dealbook, has somewhat cozier ties in Washington than his predecessor. He has made occasional trips to Washington, including last October when he met with Daniel K. Tarullo, the Federal Reserve board governor, and has donated to Democratic and Republican causes, including Mitt Romney's presidential campaign.
Since Dealbook specifically mentioned a contribution to Mitt Romney's campaign I derived the odds of Mr. Romney becoming the next president from the odds given at a major betting exchange. It's a good thing he donated both to republicans and democrats, because according to the market; Mr. Romney is a long shot with only 2.94% chance of winning the next Presidential election.
Ownership
Corbat holds over 300,000 shares. This puts the market value of his holdings at over $17 million. Given his salary in excess of $10 million, this is not sufficient to inspire much confidence. I'd like to see him increasing his holdings to $50 million worth of stock. At that time, his incentives will be better aligned with minority shareholders.
Conclusion
After reviewing the numbers, my conclusion is Corbat is a promising CEO for Citigroup. The company is still dealing with the aftermath of the financial crisis and he played a major role in dealing with it. After cleaning house he immediately started moving the company's numbers back in the right direction.
It's hard to tell if he's already making a difference in comparison to his predecessor Vikram Pandit. When comparing Corbat to Jamie Dimon, Dimon comes out on top. However, this is like comparing jockeys, riding different horses. Dimon, with JPMorgan Chase & Co, had a better horse to begin with. The market has taken a liking to Citigroup under Corbat and so far I agree with it.
There are some weak indications Corbat might be an above average CEO. In addition, he's still quite young at 52. I'm going to keep an eye on his performance and if the numbers become more reliable, his leadership can turn out to be a positive factor in the valuation of Citigroup. Finally I would very much like to see the CEO own a larger amount of stock compared to his salary and that would also increase my confidence the company is in the right hands.
Disclosure: I have no positions in any stocks mentioned, and no plans to initiate any positions within the next 72 hours. I wrote this article myself, and it expresses my own opinions. I am not receiving compensation for it (other than from Seeking Alpha). I have no business relationship with any company whose stock is mentioned in this article.