On Thursday, Alcoa (NYSE:AA) traditionally kicked off the new earnings season reporting its fourth quarter results after the market close.
The earnings report was full of "one-time" charges resulting in a large GAAP loss. Combined with continued pricing pressure, impacting adjusted earnings, investors were disappointed triggering a sell-off in the shares.
Fourth Quarter Highlights
Alcoa reported fourth quarter revenues of $5.58 billion, down 5.3% on the year before. The reported headline revenue numbers were severely impacted by a 7% drop in lower aluminum prices compared to a year ago. Revenues beat consensus estimates at $5.34 billion.
The company reported adjusted earnings of $40 million, or $0.04 per share. Analysts were looking for adjusted earnings of around $0.06 per share. Reported net losses came in at $2.3 billion, or $2.19 per share. In a traditional fashion, Alcoa's GAAP earnings were severely impacted by one-time items including a $1.7 billion non-cash goodwill impairment charge.
Consistent "Incidental" And "One-time" Charges
Alcoa's GAAP results were severely impacted by one-time items again. The company took a $1.73 billion goodwill impairment charge tied to Alcoa's legacy smelting operations in its Primary Metals business. These charges still relate to goodwill from the acquisitions of Alumax and the Reynolds Metals Company, dated back in 1998 and 2000, respectively. Note that this might not be the end, Alcoa still has $3.4 billion in goodwill on its balance sheet.
Note that this is just the start. Alcoa recorded a $361 million tax charge against tax assets which are uncertain to be realized, due to lower earnings in the Primary Metals business.
Other charges include the resolution with the DOJ and SEC related to the investigation about legacy contracts in Bahrain, due to the violation of the Foreign Corrupt Practices Act. This cost the company about $243 million, the fourth largest settlement under this law.
On top of this came $46 million in "regular" restructuring charges and some smaller other charges throughout the business.
Note when adjusting for all these items, Alcoa claims to earn about $40 million on an adjusted basis. Given the significant and consistent nature of one-time charges, this statement can be really doubted.
Looking At A Difficult 2013
2013 has not been a great year for Alcoa with revenues falling by 2.8% to $23.03 billion. The company made progress in boosting its small gross margins by lowering cost of goods sold by 5.9% to $19.29 billion. This boosted gross margins by 270 basis points to 16.3%.
These gains were undone by combined $2.5 billion charges related to goodwill impairment charges and "restructuring" charges, fueling a $2.2 billion loss. The vast majority of these charges were taking in the fourth quarter.
Alcoa points out that it operates with the lowest net debt position since 2006. Yet with $1.4 billion in cash available, Alcoa still operates with nearly $7 billion in net debt. This excludes $5.5 billion in pension liabilities.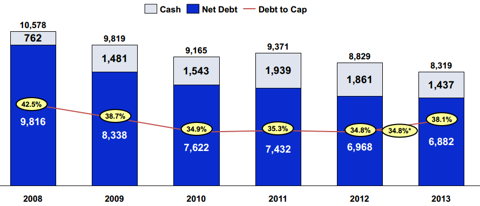 The Market Is Disappointed Again
A nearly 5% drop in after hours trading leaves shares of Alcoa trading around $10.25 per share, valuing equity in the firm at roughly $11 billion.
While headline numbers are terrible, Alcoa's non-GAAP earnings, after stripping out the one-time items, came in at $357 million which compares to earnings of $262 million a year before.
While this values equity in the firm at just 0.5 times annual revenues, it values Alcoa at 30 times non-GAAP earnings over the past year.
Despite the still challenging financial conditions, Alcoa pays a quarterly dividend of $0.03, thereby providing its investors with a 1.1% dividend yield.
Difficult Market Conditions, Yet There Are Improvements
Alcoa stresses that it managed to report adjusted earnings of $40 million during the fourth quarter, falling from $120 million in the third quarter. Lower LME prices shaved off $30 million earnings, lower volumes another $32 million, while costs increased by $38 million. This was only partially offset by a $36 million increase in productivity gains.
Full year productivity gains have been great, and resulted in the increase in adjusted earnings despite some $445 million in pricing headwinds.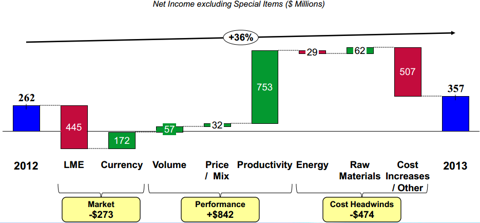 With LSE prices being at four year lows, prompting Alcoa to take 16% of global smelting capacity offline, adjusted earnings rose again in 2013. This was on the back of $1.1 billion in productivity savings for the year, while Alcoa reduced its net debt position by nearly $2 billion since 2012.
The weak pricing comes despite 7% global aluminum demand growth in 2013, expected to occur again in 2014. Growth is driven by the aerospace, automotive, and building and construction markets. With still so much capacity offline, Alcoa is able to forfeit a lot of capital investments, boosting the cash holdings and reducing the debt position of the firm. Yet of course, Alcoa remains committed to its Saudi Arabia joint venture, further lowering the cost curve.
The engineered products and solutions business continues to drive results. Even as revenues of the unit only make up roughly a quarter of firmwide revenues, the business remains the most profitable activity. The primary metals business continues to be a drag.
Takeaway For Investors
Alcoa remains a tricky case. On the one hand, legacy charges continue to impact earnings on an occasional base. While goodwill charges don't result in actual cash outflows, the high bribery payments regarding the Bahrain settlement do. This is disappointing for investors, with the payments being equivalent to roughly a year of adjusted earnings.
The positive thing is that Alcoa continues to make productivity gains, by taking expensive older lines offline. Despite the lower pricing and the fact that a sixth of capacity has been taken offline, Alcoa still manages to boost adjusted earnings for 2013. As such, Alcoa continues to boost operating leverage to an upswing in pricing and production. This could easily result in $500 million to a billion in adjusted earnings going forwards, when prices even show a very modest recovery.
This makes a valuation of $11 billion easier to justify, amidst the improving balance sheet. Yet the still sizable debt position and recurring nature of the non-recurring cost charges remain a worry and make me continue to stay on the sidelines.
Disclosure: I have no positions in any stocks mentioned, and no plans to initiate any positions within the next 72 hours. I wrote this article myself, and it expresses my own opinions. I am not receiving compensation for it (other than from Seeking Alpha). I have no business relationship with any company whose stock is mentioned in this article.