Okay, okay - I've spent the last couple of articles beating up on Intel (NASDAQ:INTC) (my largest long position), but lest I give the false impression that the company can't/doesn't do anything right, I'd like to highlight a development that, frankly, turned out to be an interesting surprise to me.
The History of Lenovo's Yoga
To give some proper context, let's rewind back to about a year ago when Microsoft (NASDAQ:MSFT) launched Windows 8/Windows RT. At the time, a company called Lenovo (OTCPK:LNVGY) - the world's leading PC vendor - released what I thought was a spectacularly cool design. It was known as the "Yoga" and it will likely go down in history as one of the first truly compelling "convertible" PCs.
Anyway, this Yoga came in two flavours. First, we had the Yoga 13. This was a 13" convertible laptop that sported an Intel "Ivy Brdige-ULT" processor (i.e. the 17W SKU/20W with PCH). The battery life wasn't all that spectacular (since "Ivy Bridge" didn't have all of the power-sipping goodness that its successor "Haswell" would bring), but it was a neat design nonetheless.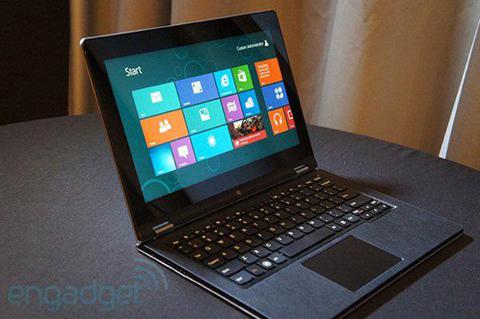 The second was actually a version that ran Windows RT and sported an NVIDIA (NASDAQ:NVDA) Tegra 3 processor. The good news was this, unlike its larger sibling, it was fanless, offered fantastic battery life, and (once the markdowns came) it was cheap. Unfortunately, since it was Windows RT, it didn't run many (if any) of the productivity applications that people wanted and, since the NVIDIA Tegra 3 was a real dog, many found it a pain to use.
Now, the 11" model sold very poorly and was quickly discontinued in lieu of an Intel-powered model known as the Lenovo Yoga 11S. This fixed the performance problems, but sine the chip inside it was a high power Ivy Bridge chip, it wasn't fanless and the battery life - you guessed it - was not particularly good. Bummer!
So, I Thought To Myself...
I remember thinking to myself that the ideal version of this system wouldn't be a "big" Haswell based one (although Haswell would solve the battery life problem), but instead one based on the next generation Intel "Bay Trail" Atom. The Atom is much cheaper than the Haswell, it's lower-power, and still offers a pretty solid amount of performance.
Unfortunately, I thought that Intel would probably not be too happy with such a system ever hitting the street. Why? The problem isn't so much concerns of "sell-down" but rather the fact that a fanless Bay Trail-M based Yoga 11 could potentially be more compelling than the Haswell based devices since it would be fanless.
Luckily for me, and for the PC market in general, it looks as though the PC vendors aren't going to try to "save" the high end, higher power chips and will instead build systems around the lower power, lower cost platforms - even if they are, in some ways, more compelling than the high end systems, as evidenced by the recent announcement of a "Lenovo Yoga 11" based on the lower power, low cost Bay Trail-M chip.
It seems that Intel, too, understands that making compelling systems with Intel based chips is more important than trying to defend against sell-down. Further, I expect that next year with "Broadwell", Intel will be able to sell higher performance parts into fanless designs with premium storage systems, screens, etc. without the need for this "compromise".
Conclusion
At Intel's investor meeting, the company was pretty clear that it expected to see a higher mix of lower cost "Bay Trail-M" products sold into the PC market, and with compelling low cost designs like this, it's no surprise that the mix will probably shift downward slightly. However, the silver lining is that the mix could very well shift down by virtue of a much more rapid rate of growth in the low end than in the high end rather than outright cannibalization.
Time will tell, of course, and these trends need to be very closely monitored. While Intel will work with the system vendors (all of whom want to upsell, by the way) to make the higher end systems based on the higher end silicon more desirable, I can't help but feel that the low end/mid-range of the PC market will finally be allowed to be exciting again thanks to these much-cheaper-to-make Atom-based "Celeron" and "Pentium" chips. Whether this will gain wallet-share back from tablets or not remains to be seen (and I wouldn't bet big on it), but if PC vendors keep making compelling designs at all price points, then there's at least hope of that happening.
Disclosure: I am long INTC, NVDA. I wrote this article myself, and it expresses my own opinions. I am not receiving compensation for it (other than from Seeking Alpha). I have no business relationship with any company whose stock is mentioned in this article.