Investing in midstream companies that are structured as master limited partnerships is a great way for income seeking investors to profit from high yields. Investing in pipeline companies allows investors to gain exposure to the booming domestic oil- and gas production landscape. Also, MLPs are often run by shareholder-friendly management with a focus on growing distributions. Comparatively high yields (often exceeding yields of real estate investment trusts) and diversification are other benefits of investing in quality MLPs.
In a low interest rate environment, high yield investments are the exception. Pipeline companies, however, offer long-term investors interesting opportunities to profit from domestic production- and distribution growth. The simultaneous increase in onshore transportation- and storage capacity benefits pipeline companies that connect the most promising shale plays in the United States.
When investing in pipeline companies investors should not only look at the current high yield, which can be 7% or higher, but should also consider the distribution record of the company. I value past distribution growth highly as it suggests distribution continuity and lends credibility to management. Three top MLP which have earned reputation for themselves are outlined below. It should be kept in mind, though, that those investments are primarily for investors who seek to build long-term wealth.
Atlas Pipeline Partners (NYSE:APL) is a strongly-growing midstream company with 11,200 miles of pipelines, 14 processing plants and 1.5 Bcf/d of processing capacity (expected to increase to 2.0 Bcf/d by the end of 2014). Atlas Pipeline Partners' diversified asset footprint gives the company access to the high-impact drilling areas in the US: The Anadarko Basin/Mississippi Lime, the Woodford Shale, the Eagle Ford Shale and the Permian Basin. All basins belong to the most promising oil- and gas reservoirs in the United States.
In 2012 the company achieved an adjusted EBITDA of $220 million and is expected to earn an adjusted EBITDA of $343 million in 2013 and $475 million in 2014. While adjusted EBITDA would increase by about 116% in just two years, Atlas Pipeline Partners' processing capacity is expected to increase 95% until 2014 to 2,135 mmcfd.
Atlas Pipeline Partners pays a quarterly distribution of $0.62 or $2.48 annually. This translates into a yearly distribution yield of 7.21% which is one of the highest yields in the sector. Moreover, Atlas Pipeline Partners has one of the best unit returns in the MLP sphere with a gain of 471% over the last five years.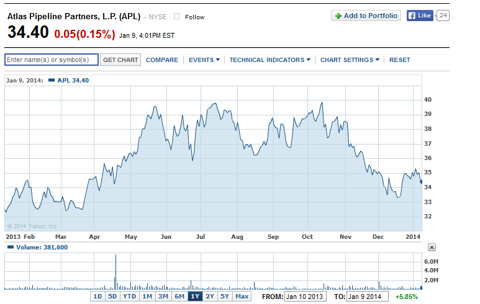 Kinder Morgan Energy Partners (NYSE:KMP) is one of my old favorites in the pipeline sector for a variety of reasons. First, the company has a market capitalization of nearly $35 billion and any serious investor who intends to build a long position in the pipeline sector will have difficulties in finding a more diversified pipeline company (Kinder Morgan Energy Partners has an interest in or operates a massive 46,000 miles of pipelines as well as 180 terminals). The company is one of the largest publicly traded master limited partnerships and provides investors with outstanding liquidity. Secondly, the pipeline company has a great distribution record stretching back to the early 1990s. In November 1992 Kinder Morgan Energy Partners paid $0.08375 per unit and its quarterly distribution has now risen to $1.35 per unit. The annualized distribution now stands at $5.40 which equates to an initial distribution yield of 6.73%. From 1996 to 2013 KMP's annual distributions have increased by a compound annual growth rate of 13% which is impressive considering the various states of the economy during this time period.
Besides a diversified asset footprint and a high distribution yield, Kinder Morgan seems to be an exceptionally well-run company with shareholder friendly management. Kinder Morgan's outstanding distribution record underlines careful capital allocation policies and growth orientation. I consider Kinder Morgan Energy Partners to be a core holding for an income-oriented portfolio which aims to deliver both income and distribution growth. Recent insider purchases by Richard Kinder, Chairman and CEO of the company, highlight the trust of Mr. Kinder in his company. Insider purchases related to Kinder Morgan Inc. (NYSE:KMI).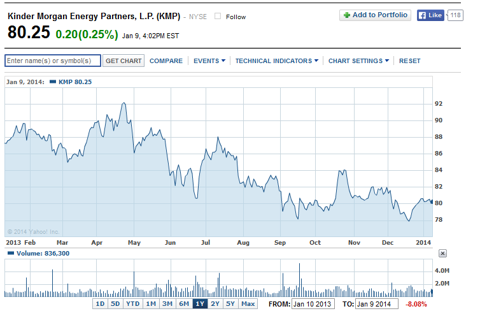 Plains All American Pipeline (NYSE:PAA) is another publicly traded master limited partnership with an extensive pipeline network connecting the in-play shale operations to storage- and refinery capacity in the US. The company is growing aggressively with a variety of growth projects coming online in 2014 contributing to distribution growth prospects.
Plains All American Pipeline currently pays investors $0.615 quarterly or $2.46 annualized which translates into a distribution yield of 4.83%. Plains All American Pipeline's distribution record is just as impressive as the one from Kinder Morgan Energy Partners: In Q1 1999 Plains All American Pipeline paid an annualized distribution of $0.90. Since then annualized distributions have increased by a whopping 173% making PAA's distribution record one of the best in the sector.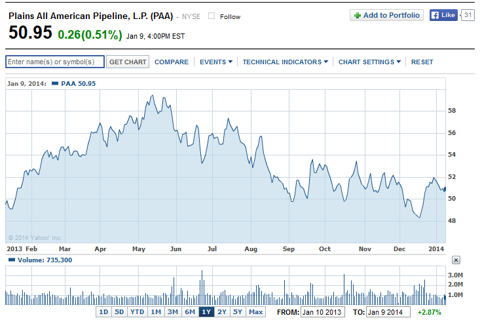 Conclusion
Atlas Pipeline Partners, Kinder Morgan Energy Partners and Plains All American Pipeline are quality MLPs with management that is committed to increase distributions. All companies should profit from increased oil- and gas production activity in the coming years and a variety of shale plays (such as Eagle Ford, Marcellus, Woodford) could present massive production upside. Pipeline companies achieve the majority of their income from fee-based schedules which makes them less exposed to commodity price swings. All three companies have great distribution records which show that the management knows how to deliver value for shareholders. Long-term BUY for investors who desire high yielders in their portfolio as well as energy exposure.
Disclosure: I am long KMP, APL. I wrote this article myself, and it expresses my own opinions. I am not receiving compensation for it (other than from Seeking Alpha). I have no business relationship with any company whose stock is mentioned in this article.