Here is the headline by Reuters: "Credit card data indicates consumer stress easing".
The lead for that headline is the reported reduction of Capital One Finance (NYSE:COF) credit card delinquency rate in February to 5.51% from 5.80% in January and decline in the annual write-off rate from 10.41% in January to 10.19% in February.
The lack of significance of this change is brought home by the following graph from Calculated Risk.
Click here for larger image.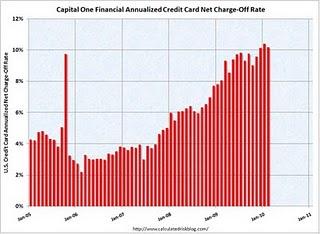 A number of other credit card reports are given in the article, summarized in the two tables below: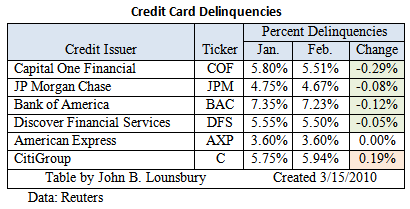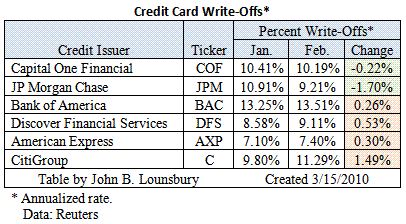 Green boxes draw your attention to movement in a good direction and red to boxes that are moving the wrong way. Five of the seven biggest numbers are in the red boxes. It is hard to rationalize that credit card data indicates consumer stress is easing. Perhaps the argument is that things are going in the wrong direction less rapidly, but I would debate that means easing. After all, if you go to zero quickly or slowly, you still go to zero.
Consumer stress will be easing when both delinquencies and write-offs are diminishing across the board.
Disclosure: No positions.