The Focused Stock Trader 2013 Scorecard and 2 Stocks for 2014
Adept Technology (NASDAQ:ADEP) ($16.53) and Himax Technologies (NASDAQ:HIMX) ($14.20) are two of The Focused Stock Trader's top recommendations for 2014. These two stocks were also among The Focused Stock Trader's top ten recommendations of 2013.
It has been a fantastic year for The Focused Stock Trader. The majority of our recommendations are on smaller unknown companies with outstanding prospects leading to 49 recommendations in 2013 with an average high 64% above The Focused Stock Trader's recommendation price. The top trade increased 300% with all of the top ten recommendations reaching a high at least 90% above The Focused Stock Trader's recommendation price. As illustrated below, OVERALL THE TOP TEN RECOMMENDATIONS HIGH PRICE WAS 171% ABOVE THE FOCUSED STOCK TRADER'S INITIAL RECOMMENDATION PRICE.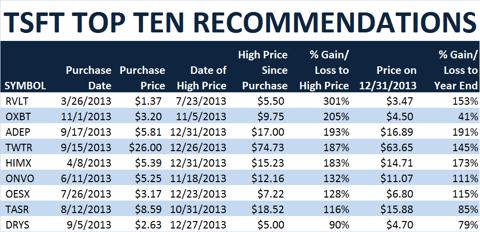 Adept Technologies
We first recommended Adept Technology on September 17, 2013 with an article here on Seeking Alpha and then again on December 30, 2013, here. Robotics/Automation is a theme The Focused Stock Trader continues to like and we believe Adept is a major beneficiary. Companies continue to see automation as a way to increasing labor productivity, decrease errors, reducing wage costs, increasing profit margins and also filling labor shortages. Amazon (NASDAQ:AMZN) purchased Kiva Systems in 2012 for $775 million in cash to improve margins through automation. Google (GOOG) made 8 acquisitions of robotics companies over the last 6 months. These acquisitions confirm the potential for these markets. Adept is a global, leading provider of intelligent vision-guided robotics systems and services. Adept systems provide unmatched performance and economic value throughout the production life cycle, enabling customers to achieve precision, quality and productivity in their assembly, handling and packaging processes. Adept customer are some of the largest manufacturers in the world across many sectors including: Procter & Gamble (NYSE:PG), Johnson & Johnson (NYSE:JNJ), Seagate (NASDAQ:STX), Nortel (OTCPK:ARTM), Corning (NYSE:GLW), Siemens (SI), Motorola (NYSE:MMI), Nokia (NYSE:NOK), IBM (NYSE:IBM), Samsung (OTC:SSNLF), Honeywell (NYSE:HON), Hewlett-Packard (NYSE:HPQ), Xerox (NYSE:XRX), Boeing (NYSE:BA), Ford (NYSE:F), Chrysler, General Motors (NYSE:GM), and over 1000 other companies around the world. Adept has no debt and trailing twelve month (TTM) revenues of $49 million. FQ1 2014 revenues increased by 19.3% yoy and EBITDA increased from -$2.3 million to break even. Adept has significant operating leverage as total operating costs remained flat yoy in FQ1 2014 while revenues grew at 19.3%. Given the strength of Adept Technology's outlook, Adept seems undervalued.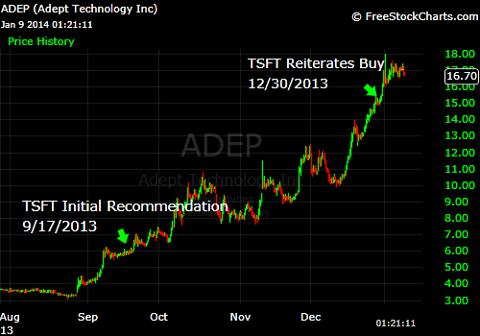 Himax Technologies
We first recommended Himax Technologies on April 8, 2013 with an article here on Seeking Alpha. We recommended Himax again on September 9, 2013, with another article here. Himax share price appreciated by 173% since the initial recommendation. Along with Robotics, wearable computing is one of The Focused Stock Trader's favorite themes. The story is still intact and there is significant upside to the stock as the personal demand for instant access to information increases, major companies attempting to stay atop the technology market are innovating at an ever increasing pace to claim a significant position in a market projected to include 70 million potential users by 2017. We speculated on a possible partnership with Google, which came to fruition. On July 22, 2013, Google purchased 6.3% in a Himax subsidiary, via preferred shares, Himax Display Inc. This validated Himax's technology and created a partnership with the leader in wearable computing. Google has an option to purchase an additional 8.5% interest at the same price within one year. This is a significant catalyst for Himax. The company's growth outlook remains on track. Insiders own 31.7% of Himax ensuring management will act in the best interest of minority shareholders. There is further potential for dividend increases and share buybacks acting as further catalysts. With the stock trading on forward PE of 22.82x and the growth runway over the next few years, Himax has significant upside.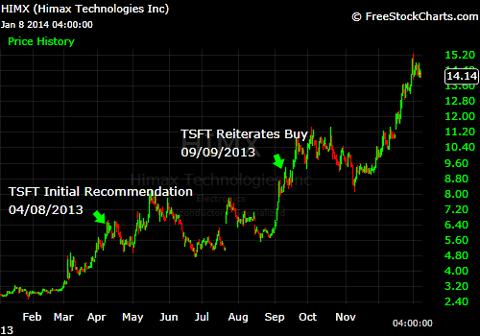 The Focused Stock Trader had a great year in 2013 uncovering small cap stocks and other attractive investment opportunities using fundamental and technical analysis. We continue to identify attractive uncovered investment opportunities similar to two of our top picks for 2014, presented above.
Disclosure: I am long ADEP, HIMX, . I wrote this article myself, and it expresses my own opinions. I am not receiving compensation for it. I have no business relationship with any company whose stock is mentioned in this article. I was assisted in creating this article by my associate Marc Melendez.