(Editors' Note: This article covers a micro-cap stock. Please be aware of the risks associated with these stocks.)
GRNH Highlights:
Investors should not classify GreenGro Technologies, Inc. (OTCPK:GRNH) as a marijuana stock.
GRNH is trading with a market cap of $59 million but has only $5,000 in cash.
The company is on track to lose more than $1 million in 2013, with a retained deficit more than $3 million.
Fairhills Capital, one of GRNH's financiers, was charged by the SEC for a penny-stock scheme.
Introduction:
Shares of GRNH recently rose over a five-day stretch from $.04 to a high of $1.20 due to GRNH being hyped as the next hot marijuana stock. After reaching $1.20 per share, the stock came crashing down to close the day on Jan. 9 at $.39. 3D Analytics has completed a thorough review of GRNH and determined that the stock still is significantly overvalued and likely to fall by 95 percent. FINRA has warned investors of these potential stock scams associated with marijuana-related stocks, and we believe investors should sell GRNH before it's too late. We hereby assign a SELL rating on the stock, with a price target of $.01.
Background:
GreenGro Technologies designs, manufactures and markets vertical-cultivation systems. GRNH does not grow or sell marijuana. However, the company has been classified as a marijuana stock, and shares have rocked from $.04 to a high of $1.20 per share. The address given for the company's headquarters and manufacturing facilities is 1100 E. Orangefair Lane, Suite I, Anaheim, Calif., 92801. Here is a picture of its laughable building.

On March 1, 2013, GRNH acquired a 33-percent interest in Vertical Hydrogardens, Inc. Vertical Hydrogardens manufactures and sells vertical-gardening equipment and supplies, which is how GRNH generates most of its nominal revenues.
Its other source of revenues comes from its 51-percent ownership in BP Gardens, which builds greenhouses and is located on 4 1/2 acres in Buena Park, Calif.
GRNH is no more a marijuana company than your local gardening-supply store.
Insane Market Cap:
As of Sept. 30, 2013, GRNH has 150,965,723 shares issued and outstanding. Currently, the stock is trading with a market cap of $59 million, which is insane for a company with only $4,981 cash in the bank. GRNH also constantly dilutes shareholders. Its annual history of issuing shares:
2013: 20,250,000
2012: 9,300,000
2011: 24,450,000
Terrible Financials:
As stated in the 10-Q filed on Nov. 19, 2013, GRNH has a laughable $4,981 cash in the bank and a huge retained deficit of $3,231,931, which is proof the company continues to lose money and has no future. For the nine months ending on Sept. 30, 2013, the company lost almost $1 million, and it is on track to end 2013 with measly revenues of around $65,000.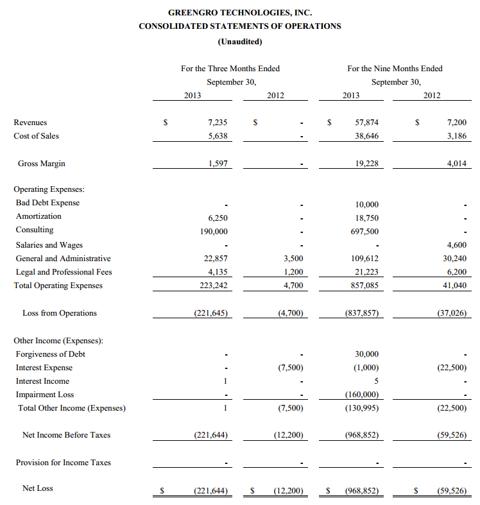 Click to enlarge
Fairhills Capital:
As stated in the 10-K filed on April 16, 2013, Fairhills Capital was issued 2.2 million shares of GRNH on June 10, 2011, and another 1.3 million shares on April 15, 2012. On Aug. 22, 2012, the SEC charged Fairhills Capital with a penny-stock scheme in which the company bought billions of stock shares from small companies and illegally resold those shares in the public market.
Conclusion:
Many investors were misled into buying GRNH under the belief it was the next hot marijuana stock. Given the company's dwindling future, investors are likely to get burned. Even after dropping to $.39, the stock still is extremely overvalued and likely will fall by 95 percent. We hereby assign a SELL rating on the stock with a price target of $.01.
Disclosure: I am short GRNH. I wrote this article myself, and it expresses my own opinions. I am not receiving compensation for it. I have no business relationship with any company whose stock is mentioned in this article.