"In the United States today, we have more than our share of the nattering nabobs of negativism. They have formed their own 4-H Club -- the 'hopeless, hysterical hypochondriacs of history'." - Spiro Agnew
I am reminded of this phrase due to some of the comments around Apple (NASDAQ:AAPL) I have seen on a variety of articles now that the stock has pulled back a bit after moving from ~$390 a share in late June to $570 a share almost in a straight line. The stock has declined a little more than 5% to ~$535 a share which has brought out the pessimists and the boo birds again.
As for me, I believe this recent movement is just a natural consolidation after a huge run in the stock over the past six months. I am hoping the stock will pull back to $525 a share, which would be slightly above the stock's 100-day moving average (See Chart), to add to my holdings. I don't know if investors will see that level, but I would consider it an early 'gift' in the New Year should it happen.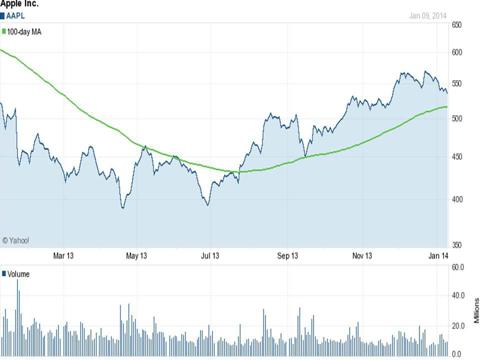 There are myriad reasons for my optimism:
Upcoming Earnings:
When the company submits earnings later this month, they should show the first quarterly Y/Y gain in over a year, which should be a positive catalyst. The consensus calls for ~$14 a share in profits for the quarter and the consensus estimate has consistently risen over the past three months.
I also believe quarterly results will show margins have stabilized which has been a major concern hovering over the stock. I will also be looking at numbers out of Japan. They should show how much of a positive catalyst the recent distribution deal with NTT DoCoMo (NYSE:DCM) and its over 60mm subscribers are for Apple's market share prospects in the Land of the Rising Sun.
This could foreshadow some of the potential gains Apple has unlocked with its recent deal with China Mobile (NYSE:CHL) and its ~750mm subscribers. Those results will not start to show up until the following quarter.
Ecosystem Undervalued:
Apple recently reported that its App Store generated $10B in revenue in 2013 with $1B in sales in December alone showing growth continues to grow at an impressive rate. The company has now generated just over $20B in total revenue since establishing the App Store in 2008. This means growth is accelerating as almost half of all sales since the App Store was launched occurred in 2013.
Apple gets a 30% cut of these sales. It is high margin business (~70% to ~80%) which means the company is earning over $2B a year just on this part of its ecosystem. Given growth & profits, this would be a $30B to $50B standalone business by market capitalization. This might be a conservative estimate given Twitter (NYSE:TWTR) has a market capitalization of over $30B despite its recent decline with no profits on the horizon until FY2015 at the earliest.
Valuation:
The overall market is selling at ~15x forward earnings on an expected 4% rise in revenues for S&P 500 companies (Which would be double 2013's anemic 2% increase in sales). AAPL sells for just over 11x forward earnings on an 8% rise (double the expected increase for the market) in revenues expected in 2014.
This does not account for Apple's over $140B in net cash & marketable securities on its balance sheet. Removing those funds means AAPL is selling at an equivalent 8x forward earnings, just more than half the overall market multiple. The shares also yield 2.3% and the company is returning $8B to $10B a quarter to shareholders via dividends and stock repurchases.
With today's weaker than expected monthly jobs report, I am hoping we get a sell-off that brings Apple down to $525 a share where I would love to add to my holdings. BUY.
Disclosure: I am long AAPL. I wrote this article myself, and it expresses my own opinions. I am not receiving compensation for it (other than from Seeking Alpha). I have no business relationship with any company whose stock is mentioned in this article.