Political affiliation and Obamacare views aside, the government does a terrible job managing payments in large government run programs. The Government Accountability Office estimates the Medicare program alone spent $44 billion in improper payments in 2012. This is where HMS Holdings Corp. (NASDAQ:HMSY) steps in. HMS provides cost containment services to government and private healthcare payers, by ensuring healthcare claims are paid correctly, coordination of benefits are filed correctly, and by reviewing fraud, waste and abuse claims. Every year, HMS recovers more than $3.2 billion and saves billions more in prevention for clients. HMS's clients include Centers for Medicare and Medicaid - CMS, state Medicaid agencies, commercial health plans, Medicare Advantage, and group health lines of business. HMS revenue comes from contracts with clients, where they receive a percentage of the recovered money and from set fees for products and services. With the start of the Affordable Care Act, HMS sees huge opportunities for market growth.
Affordable Care Act - ACA
CMS has projected that Medicaid, CHIP and Medicare expenditures will increase from $1.1 trillion in 2012 to almost $2.0 trillion by 2021. At the end of 2012, Medicare programs covered 49.5 million people and spent roughly $591 billion and Medicaid/CHIP programs covered 62.1 million people and spent approximately $472 billion. As a result of the ACA, CMS projects that in 2018, Medicare will cover 59.3 million people and will spend $1.2 trillion and Medicaid/CHIP will cover 75.6 million people and spend $647 billion.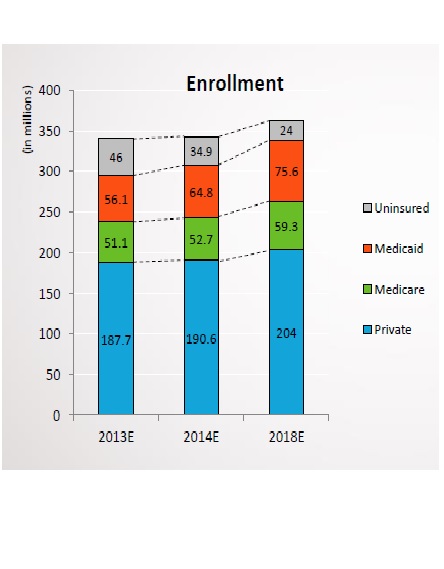 The Affordable Care Act will also increase pressure on states to cover more individuals. This expansion and increased pressure on states will make proper payments and coordination of benefits a priority and present a huge opportunity for HMS.
Revenue Growth
During 3Q2013, HMS established coordination of benefit programs with Arizona, Mississippi, and Maryland, as well as, extending its contract of coordination of benefits with Illinois, Kansas, New Jersey, Ohio, South Dakota, and Washington. The company also won the New Jersey Medicaid Recovery Audit Contractor - RAC procurement.
Medicaid expansion has begun in 25 states, with an estimated 9.2 million people entering the program by the end of 2014. So far, the majority of people enrolling through the state exchanges are entering Medicaid, and most of these people will likely become members of managed care plans, most of which are existing HMS clients. While HMS has established strong inroads with state agencies and Medicaid programs, the company views the commercial sector as its primary growth driver in 2014.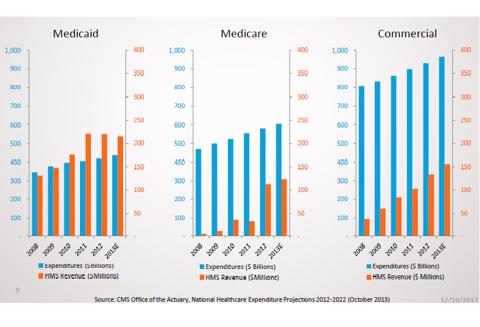 Click to enlarge
HMS has over 170 health plans under contract and expects commercial business to be up 25-30% in 2014. Enrollment in these commercial plans will steadily increase as a result of the ACA. The complexity of the new healthcare laws has caused mass confusion and HMS expects to benefit from this. Healthcare exchanges will need to verify people are enrolled correctly and are eligible for benefits. The company also expects to benefit from an increased need for Fraud, Waste and Abuse claims. Every year HMS reviews more than 8 billion claims for fraud, waste and abuse, and identifies more than $600 million in savings opportunities. The commercial sector currently accounts for roughly one-third of revenue, but with these growth opportunities, it expects commercial revenue to approach 50% of total business by 2015.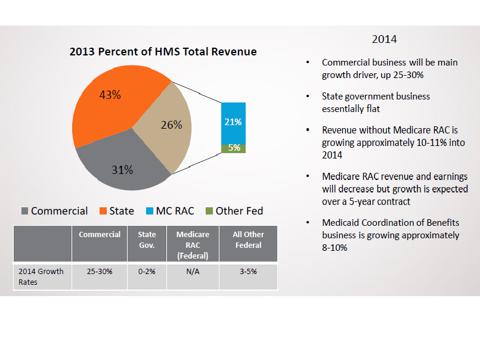 Click to enlarge
Medicare RAC
The 800lbs gorilla in the room for HMS is the Medicare RAC reprocurement. The 5 year contract HMS had with Medicare is up for renewal and the new contract will be announced in February. This contract alone is 20% of HMS's revenue. The company has had enormous success with its previous Medicare RAC and management has expressed optimism in this contract renewal. Overpayments collected totaled $2.3 billion in FY2012 and over $5 billion has been returned to the Medicare Trust Fund. If HMS is successful with the Medicare RAC procurement, the company expects revenue from Medicare to be flat to slightly negative in 2014, but revenue will steadily increase over the life of the 5 year contract.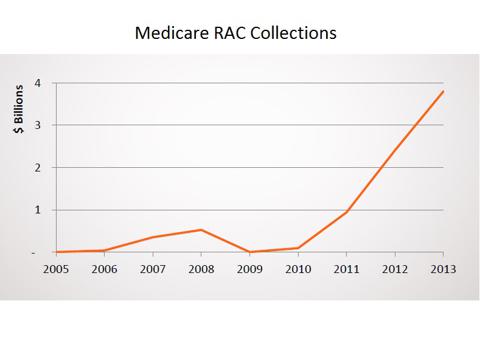 Click to enlarge
Analysis
| | | | |
| --- | --- | --- | --- |
|   | 3 months ended | 9 months ended |   |
|   | Sept. 30, 2013 (millions) | Sept. 30, 2013 (millions) | % Year-over-year |
| Revenue | $ 127.7 | $ 370.2 | 9% |
| Operating expenses | $ 106.4 | $ 313.2 | 13% |
| Operating income | $ 21.3 | $ 56.9 | -9% |
| Net income | $ 11.5 | $ 28.9 | -5% |
| EPS | $ 0.13 | $ 0.32 | -9% |
HMS is predicting 25-30% market growth in its commercial sector and 10-11% overall growth in 2014, excluding Medicare RAC. The company has been tightening its belt as well. Through 2013, $15 million in costs were saved by integrating and consolidating technology platforms, relieving maintenance costs and putting pressure on the IT organization. Further cost reductions are planned for 2014.
HMS sees 2014 as a year of transition, as healthcare companies and programs digest all of the changes being brought about by the Affordable Care Act. Ultimately, the ACA will benefit HMS as companies seek to ensure all the people who enrolled in healthcare exchanges are properly enrolled and are eligible for benefits. Also, whenever confusion is created in government run programs, fraud will run rampant. HMS has seen sales in their fraud, waste and abuse services increasing in their commercial market as companies brace for possible abuse of the system.
Conclusion
Potential investors should hold off until the Medicare RAC contract is announced in February. As someone who has work under a government outsourced contract, I know first-hand that nothing is guaranteed during a contract renewal period. If HMS is awarded the 5 year Medicare contract renewal, the company will see solid growth over the next several years as the ACA takes shape. Coordination of benefits, claim audits, eligibility verification and fraud pattern identification will be more important than ever as millions of people enroll in healthcare programs.
Disclosure: I have no positions in any stocks mentioned, and no plans to initiate any positions within the next 72 hours. I wrote this article myself, and it expresses my own opinions. I am not receiving compensation for it (other than from Seeking Alpha). I have no business relationship with any company whose stock is mentioned in this article.