As a follow-up to my last article on PIMCO's High Income Fund (NYSE:PHK) (article: Investigating PIMCO High Income Fund's Bond Portfolio Credit Quality), this article will cover another topic, the institutional ownership of the fund and why the owners are invested in PHK. Addressing which institutions are holding PHK in their portfolio is a very important topic of discussion because the fund trades at premium of over 45% and most people view this as a red flag when it comes to investment decisions. However, I have a different view. In theory, a closed-end fund is not supposed to trade too far from its net asset value (NAV), and the reason for that is simple: the NAV is supposed to be a representation of the fund's value, so when the trading price is trading at a substantially higher, or lower price, there will be many questions by the general investing universe. Now, if you are the type of investor who believes theories always stand true, how can you explain over ~30 closed-end funds trading over their NAVs by various amounts (some in the 30%+ premium range)? The reason is simple: theories are theories, and do not always reflect constantly evolving market conditions especially in today's highly yield competitive market environments. This article will focus on the institutional investors that have realized that PHK actually does hold high yield value and deserves to trade on a premium.
To reiterate, the most intriguing thing about PHK is its premium to NAV, which currently ranges between 45% and 52%. Most investors read any article covering PHK and automatically discard the highly yielding closed-end fund as an investment decision on the simple basis that: this is a rip off because the premium is outrageous (too high). Here's the thing, is a substantial premium on NAV that outrageous when your money is being managed by Nick Gross with a team of fixed income quantitative analysts that have access to every and any primary bond issuance on the market? I think paying the premium to get access to the best-in-class portfolio management is not a bad deal. I'm certain that most investors who currently hold and continue to hold PHK in the future see the silver-lining here. Top management doesn't come free and this premium isn't even driven by the portfolio managers, it's by the investors. On that note, this article will touch-up on who the top institutional investors actually are and what they are doing (buying or selling) with PHK. Let's leave the outrageous premium discussion for a later article that is in the works.
Before jumping into the Institutional owners of PHK, the funds (that have published publicly/online) that currently hold PHK in their funds include: Cohen & Steers Closed-End Opportunity Common Fund (NYSE:FOF), YieldShares High Income ETF (NYSEARCA:YYY), and SunAmerica Income Explorer A (MUTF:IEAAX). Overall, two of the funds have sold shares, but it's nothing substantial and looks more like booking year-end profits than position exits.
Now, for the Institutional Owners. The New Jersey Division of Pensions and Benefits, LPL Financial Corp, and Atherton Lane Advisers LLC each own over 1% of the total PHK shares outstanding, with NJ Division of Pensions and Benefits holding almost 2% of the total shares. Not only did these owners invest in PHK, but they got in at a premium (at what premium price and with how many block trades is not public information, but the date they did is, and at the time of acquisition, PHK was trading at a premium). For more information on a full listing on who the institutional owners are, view the chart below: Chart reference below: Concentrated Owners.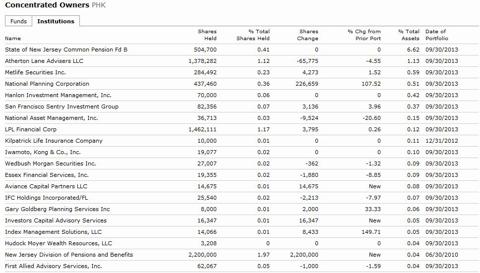 Click to enlarge
So, to take this a bit further, a very interesting finding is the direction the institutional owners are going: are they buying or selling more/less of PHK? Based on the top 20 Institutional Owners, five of the top 20 owners bought in on 9/30/2013, when PHK's trading price traded on a substantial premium (at current levels). The total number of shares acquired in September 2013 was 59,378 across the five owners (which is a substantial notional amount). Additionally, the total number of shares the top 20 owners acquired in September 2013 was 454,952. To put this into perspective from an ownership increase/decrease viewpoint, the top 20 owners increased positions/exposure to PHK by 45%, meaning they increased their holdings' assets in PHK by a substantial amount (this does not include new holders, since that would skew the calculation too high). Chart reference below: Owners Buying.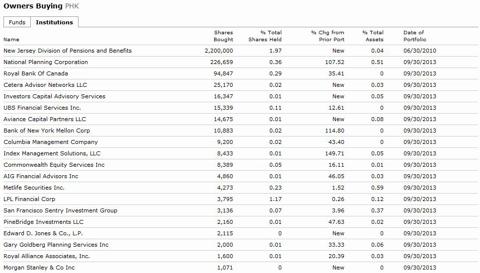 Click to enlarge
Conversely, during the same month, September 2013, the top 20 number of institutional sellers included an offloading of 406,552 shares. Putting this into perspective, the top 20 PHK sellers sold off an average of 24% of their positions of PHK shares. Including the full list of top 20 institutional owners selling PHK shares (including all owners listed in the chart below), sellers offloaded an average of 25% of their PHK positions (not too big of a difference there). So, that means there was a 20% difference in buying versus selling in the same month (September 2013) by institutional owners. I wanted to also note that just because there was more institutional buying than selling, does not mean the trading price would have been forced upwards since this analysis is focusing on what the top 20 institutional owners are doing, not the entire trading turnover of the closed-end fund. Chart reference below: Owners Selling.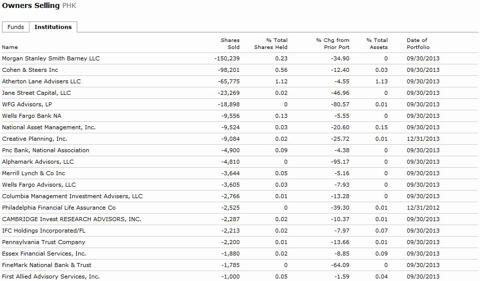 Click to enlarge
Furthermore, before all readers leverage this information and initiate an actionable investment decision, note that the above analysis is focusing on justifying what the top institutional owners are doing, and not what the macro-investor base is doing, since the picture might be different. Since PHK's price has been appreciating since September 2013, it should be pretty obvious that the macro-investor view is definitely driving the price up. Additionally, this analysis was completed using Morningstar (all charts) and Finviz data.
Betalyst View: I've owned and traded PHK shares for about five years now and I still accumulate more shares to hold for the long term to this day. The reality here is that there aren't that many closed-end funds that can yield the levels PHK distributes, which makes it very attractive. A high yield is exactly what I want, even if it comes with a very high premium.
Disclosure: I am long PHK. I wrote this article myself, and it expresses my own opinions. I am not receiving compensation for it (other than from Seeking Alpha). I have no business relationship with any company whose stock is mentioned in this article.