Adams Express (NYSE:ADX) is an unlevered, diversified large-cap equity closed-end fund, or CEF, currently trading at a 13% discount to net asset value. With AUM of around $1.4 billion and an expense ratio currently in the 60-70 basis point range, it is one of the most reasonably priced CEFs on the market. Let's take a closer look to see if this fund is the steal it appears to be.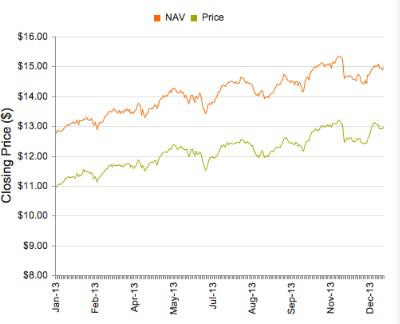 courtesy cefconnect.com
The Holdings
As of September 2013, Adams Express held 84 positions, diversified across the gamut of market sectors. In looking at the fund's top ten holdings, it would generally seem to mimic an S&P 500 index fund with the exception of a curious position in Petroleum & Resources Corp. (NYSE:PEO).
TEN LARGEST PORTFOLIO HOLDINGS (12/31/13)
| | | |
| --- | --- | --- |
|   | Market Value | % of Net Assets |
| Petroleum & Resources Corporation* (PEO) | $59,873,872 | 3.9% |
| Apple Inc. (NASDAQ:AAPL) | 55,157,113 | 3.9% |
| JPMorgan Chase & Co. (NYSE:JPM) | 35,088,000 | 2.5% |
| Pfizer Inc. (NYSE:PFE) | 32,274,831 | 2.5% |
| Gilead Sciences, Inc. (NASDAQ:GILD) | 31,112,100 | 2.2% |
| Citigroup Inc. (NYSE:C) | 30,744,900 | 2.1% |
| Wells Fargo & Co. (NYSE:WFC) | 30,418,000 | 2.1% |
| Chevron Corp. (NYSE:CVX) | 29,353,850 | 2.1% |
| Walt Disney Co. (NYSE:DIS) | 28,848,640 | 2.0% |
| Google Inc. (Class A) (NASDAQ:GOOG) | 28,578,105 | 2.0% |
What exactly is Petroleum and Resources, and why does Adams Express own it? PEO is another closed-end fund investing primarily in oil and chemical stocks, and also trades at a substantial discount to net asset value, currently 15%. It also happens to be managed by the same group that manages Adams Express. Here is a list of that fund's top 10 holdings.
PEO -- Ten Largest Equity Portfolio Holdings (9/30/13)
| | | |
| --- | --- | --- |
|   | Market Value | % of Net Assets |
| Exxon Mobil Corp. (NYSE:XOM) | $127,634,317 | 15.3 |
| Chevron Corp. | 100,845,000 | 12.1 |
| Schlumberger Ltd. (NYSE:SLB) | 55,225,000 | 6.6 |
| Occidental Petroleum Corp. (NYSE:OXY) | 37,883,700 | 4.5 |
| EOG Resources, Inc. (NYSE:EOG) | 29,624,000 | 3.6 |
| Anadarko Petroleum Corp. (NYSE:APC) | 27,897,000 | 3.3 |
| LyondellBasell Industries N.V. (Class A) (NYSE:LYB) | 25,264,350 | 3.0 |
| Halliburton Co. (NYSE:HAL) | 23,779,841 | 2.9 |
| Dow Chemical Co. (NYSE:DOW) | 21,024,000 | 2.5 |
| Noble Energy, Inc. (NYSE:NE) | 20,438,050 | 2.5 |
| Total | $469,615,258 | 56.3% |
As we can see, Exxon and Chevron compose over a quarter of PEO's portfolio, making this a very concentrated fund. But the big kick for Adams Express shareholders is that they are currently holding these assets at a 15% discount. Since ADX itself is trading at a 13% discount itself, shareholders essentially own the 4.4% PEO position at nearly a 30% discount. While the holding seems an obviously self serving move on behalf of this management group, the layered discount benefits ADX shareholders as well.
To further illustrate the beneficial nature of a CEF discount, if one buys into ADX today, they are essentially buying into Apple at $470 compared to a $540 market price, Wells Fargo at $39 instead of $45, and Pfizer for $26.75.
So, What's The Catch?
So far, Adams Express seems like somewhat of a no-brainer for someone looking for large-cap, index like exposure at a discount. But just like other CEFs, one must dig deeper to get the true picture. There are several reasons that the market has chosen to price the fund at such a deep discount to its assets:
1. Performance
Looking at the chart below we can see that ADX, on a NAV basis, has underperformed its peer category over all extended time periods. Consistent lackluster management is one reason that discounts tend to be applied to closed-end funds. Why bother owning a managed product when you can own an index with better performance and lower fees? In 2013, ADX came up short again, posting NAV total return of 29.7%, short of the S&P 500's 32.4% gain by 8.3 percent. Close, but no cigar.
2. Managed Distribution Policy
Over two years ago the fund instituted a policy, proudly stated on its main web site page, whereby it guarantees shareholders a 6% distribution through dividends, long-term capital gains, and if need be, return of capital. So outside of traditional dividends, which amounts to a roughly 1.5% real yield on its current portfolio, the fund is paying out at least 4.5% of its assets through gains and potentially return of capital. This makes the policy at best tax inefficient, and if there are no gains to distribute, destructive to NAV.
I would note that the discount has stayed relatively steady since the distribution policy change, but see it nonetheless as a net detraction.
3. Large Embedded Capital Gains
With any equity or bond fund, one runs the risk of buying into assets at a very low cost basis, thus owning the tax consequence even if not having seen the gain. For any investor considering purchase of any kind of fund in a non-qualified account, it is worth digging into the fund's financial statements to see where it stands with regard to realized and unrealized capital gains. Here is the latest ADX financial statement posted in a press release on January 9:
| | | |
| --- | --- | --- |
|   | 12/31/13 | 12/31/12 |
| Unrealized appreciation | $393,843,628 | $143,061,370 |
| Net investment income | $18,656,769 | $17,547,510 |
| Net realized gain | $57,371,366 | $47,997,411 |
|   |   |   |
| KEY RATIOS: |   |   |
| Net investment income to average net assets | 1.44% | 1.54% |
| Expense ratio (to average net assets) | 0.69% | 0.65% |
| Portfolio turnover | 55.9% | 27.4% |
| Net cash & short-term investments to net assets | 0.6% | 0.2% |
With a net realized gain of $57 million (see above), one could estimate, barring any tax loss selling pursuant this statement, that the fund would distribute roughly 61 cents of capital gain to investors in 2013 ($57 million gain divided by the fund's 94 million shares outstanding). Sure enough, on November 15, the fund had declared a long-term gain of .44 and a short-term gain of 16 cents, for a total of 60 cents.
More importantly at this point, we should take note of the nearly $400 million in unrealized appreciation, which means that better than over $4, or more than 25% ($400 million gain divided by 94 million shares), of the fund's net asset value is a gain. So even though you are buying the fund's holdings at a 13% discount, the current blended cost basis of the fund's holdings is 25% less, or roughly $11.25 a share. Current market is around $13/share.
While capital gains are certainly not a bad thing, the potential for being taxed on gains you haven't seen yourself is not a good thing. Thus, between the embedded gains and the managed distribution, this fund, for new money, would be ideal for a qualified account, NOT an unqualified one.
Final Analysis
Adams Express, at first glance, would appear to be a mediocre large-cap managed fund, that could be viewed favorably as an alternate, deeply discounted approach to play the S&P 500. Though you can buy your Apple's, Well's Fargo's, and Pfizer's currently at 87 cents on the dollar, and ADX's sister fund PEO at almost 70 cents on the dollar, you're also buying perennial, albeit not horrendously deep underperformance. The Adams Express package is also demonstrably tax inefficient, which should and will turn off many newer investors.
One of the value driven qualities of a closed-end fund selling at a discount is the potential for the discount to narrow, enabling what I like to term a "stealth" gain. Unless management is willing to step away from an index hugging approach and show relative outperformance, I wouldn't be optimistic that the double digit discount, which has held fairly steady for 20 years now, will ever considerably narrow. This management, like many other closed-end fund managers, seems keen on collecting its fee and not keen on taking demonstrable steps to narrow the discount.
Thus, I think the market, given the fairly uninspired nature of Adams Express, has it about right with the currently applied discount. However, given that I don't think the discount will widen much further and with the outside shot that it could narrow, I would not necessarily stand in the way of someone going to buy it here. I would, however, encourage them to put it in a qualified account.
Disclosure: I am long AAPL, CVX, XOM, JPM, GE, DIS. I wrote this article myself, and it expresses my own opinions. I am not receiving compensation for it (other than from Seeking Alpha). I have no business relationship with any company whose stock is mentioned in this article.
Additional disclosure: Disclaimer: The above should not be considered or construed as individualized or specific investment advice. Do your own research and consult a professional, if necessary, before making investment decisions.