Northern Tier Energy LP (NYSE: NTI) On November 6, 2013 I published an article here on SA named: Strong MLP - Price Down And Production Back Up. On that day the stock price was $22.96 and as of today, January 10, 2014 the stock price opened at $25.47, a 10.9% increase in the stock price in just 2 months.
Buy and hold NTI. The dividend is going to recover for the 4Q payout (Feb 14 payout) and you will be rewarded. The 1Q, 2013 dividend was $1.23 and 2Q was $0.68. Due to the fire the company only paid $0.31, and since the refinery was fully operational all of 4Q, we expect a dividend returning near $0.60 this quarter and increase slightly through 2014. We expect the quarterly dividends to continue to pay near a 10% annual return, and the stock price to appreciate this year 10 - 15% over the course of 2014.
Here are 6 reasons you really need to be in Northern Tier Energy LP. Location of the refinery to access an abundance of oil. The price of oil compared to Brent is, and will continue to be lower, providing the refinery a favorable market. Third, the new general partner (NYSE:WNR) is interested in high paying dividends. Fourth, the recovery after the fire. Fifth, the retail business opportunity to band NTI and WNR together. Sixth is a bonus for buy and hold investors. Enjoy the read.
The company states on its website that due to the "Refinery's strategic location allows it direct access, primarily via the Minnesota Pipeline, an abundant supply of advantageously priced crude oils. Many of these crude oils have historically priced at a discount to NYMEX WTI." That has been the case over the last 6 months and will continue as production continues to ramp up in the Bakkens. The market expects the over-production of oil in this region to depress prices of crude and allow PADD II to sell products just below Brent product prices, for ease in the markets and profitability.
Location of Refinery, Mississippi River Terminal, major pipelines and SA stores (pictures from NTI Presentation)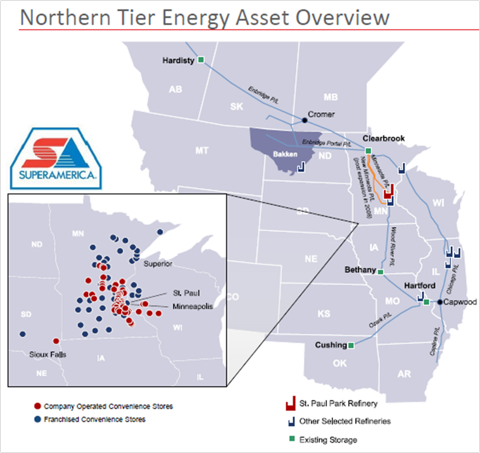 On NTI's website (as noted above) the assets of Northern Tier include the following:
 
St. Paul Park Refinery in St. Paul Park, Minnesota 89,500 barrels per day refining capacity.
Processes 100% cost-advantaged crude oil - 75% light, 25% heavy.
Pipeline access to Bakken and Canadian crude oil 17% interest in a 455,000 barrel per day crude oil pipeline.
Products terminals, storage tanks, rail facilities and Mississippi river dockage.
Retail assets which include the SuperAmerica retail chain of 163 company operated convenience stores and 74 franchised convenience stores.
On November 6, 2013 the price of Brent oil was priced at $105.64 per barrel and WTI at $93.72. The spread was $11.92. Today, January 10, 2014, the price of Brent is $106.39 and WTI is $91.66. The spread has maintained about $15 dollars over the last several months. This spread allows refineries to purchase crude at lower prices and market refined products at better prices, providing increased profits. This spread has allowed NTI to do very well in the fourth quarter.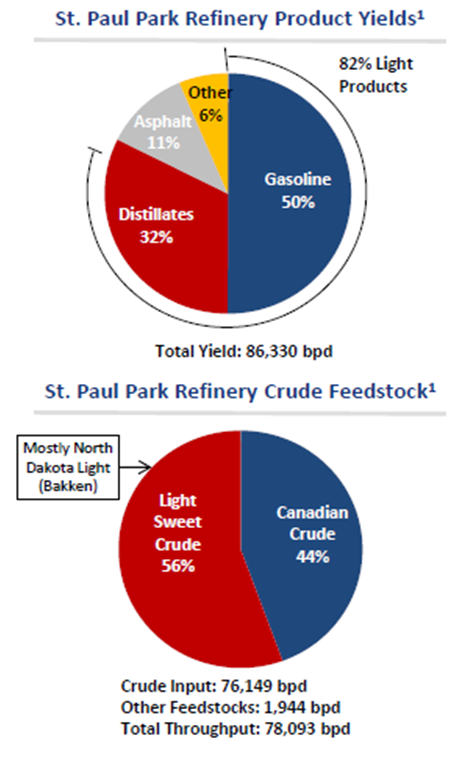 In another previous article on December 4, 2013 I reported that "Western Refining, Inc. announced that it has entered into a definitive agreement to acquire ACON Investments' ownership interests (General Partnership) in Northern Tier Energy LP for a total consideration of $775 million."
This purchase has placed WNR as a major stock holder, but will not interrupt the payment of dividends to the stock holders. WNR is heavily leveraged and needs the dividend to cover its positions in financial operations.
On October 21, NTI released an update to the fire that occurred on September 23, 2013. "All repairs related to the previously announced fire in late September have been completed and both crude towers are fully functional at this time. The cost of the repairs amounted to less than $3 million. Since October 14, the Company's Saint Paul Park Refinery has been operating at a crude oil charge of between 85,000 - 90,000 barrels per day (bpd), which is consistent with throughput constraints related to the planned Fluid Catalytic Cracker (FCC) turnaround currently being performed. Northern Tier Energy expects to complete the FCC turnaround by the end of October, at which point the company is expected to resume full operations.
NTI's (business statement) refining business primarily consists of an 89,500 barrels per calendar day (92,500 barrels per stream day) refinery located in St. Paul Park, Minnesota. The refinery's complexity allows it to process a variety of light, heavy, sweet and sour crudes into higher value refined products. The St. Paul Park Refinery is one of only two refineries in Minnesota and one of four refineries in the Upper Great Plains area within the PADD II region. The PADD II region covers Illinois, Indiana, Iowa, Kansas, Kentucky, Michigan, Minnesota, Missouri, Nebraska, North Dakota, South Dakota, Ohio, Oklahoma, Tennessee and Wisconsin. The refinery's strategic location allows it direct access, primarily via the Minnesota Pipeline, to what the company believes are abundant supplies of advantageously priced crude oils. Many of these crude oils have historically priced at a discount to NYMEX WTI. Further, over the past twelve months, NYMEX WTI has traded at an additional discount relative to waterborne crude oils priced at Brent Oil, which has contributed to strong refining margins at the St. Paul Park refinery.
Northern Tier Energy also owns various storage and transportation assets, including a light products terminal, a heavy products terminal, storage tanks, rail loading/unloading facilities and a Mississippi river dock. The refining business also includes a 17% interest in the Minnesota Pipe Line Company, which owns and operates the Minnesota Pipeline, a 455,000 bpd crude oil pipeline system that transports crude oil (primarily from Western Canada and North Dakota) for approximately 300 miles from the Enbridge pipeline hub at Clearbrook, Minnesota to the refinery. The Minnesota Pipeline has historically transported the majority of the crude oil used and processed in the refinery.
Retail Business
As of September 30, 2013, the retail business operated 163 convenience stores under the SuperAmerica brand and also supported 73 franchised convenience stores, which are also operated under the SuperAmerica brand. These convenience stores are located primarily in Minnesota and Wisconsin and sell various grades of gasoline and diesel products and immediately consumable items. The refinery supplies substantially all of the gasoline and diesel sold in the company-operated and franchised convenience stores. Northern Tier Energy also owns and operates SuperMom's Bakery, which prepares and distributes baked goods and other prepared food items for sale in the company-operated and franchised convenience stores and other third party locations.
Various Investment Strategies
I will comment on several different types of investment strategies that are popular for traders today. Option trading is prominent for many day traders who like to highlight puts and calls as a way to profit in the market. Some are very successful trade by trade. There are those who like to buy right before a dividend and sell just after, attempting to grab the money and get out before the stock drops. Again, some are successful in the short run. I have seen some buy after the share price drops (usually after a dividend is paid), then hold it to just before the ex-dividend date, to capture the run up on the stock price. All of these methods can be successful, but takes effort and timing in the market. Most investors want to find good investments and plant their money to grow.
I recommend you, as the investor, invest in dividend stocks that pay over 10% return. Here is a way that is already provided for you to prosper even more. If you automatically reinvest your dividends the stock price on the date of the dividend payout is usually lower than the ex-dividend date, and that allows you to purchase more shares for your dividend payout. Now that is a bonus your portfolio can appreciate. It combines the two methods of taking the dividends and buying more shares when the price is lower. Brilliant!
Visit our website at: tomdorseyenterprises.com
Disclosure: I am long NTI. I wrote this article myself, and it expresses my own opinions. I am not receiving compensation for it (other than from Seeking Alpha). I have no business relationship with any company whose stock is mentioned in this article.