Shares of 3D Systems (NYSE:DDD) have risen 161% in 2013, and the potential for a further increase in share price is still there. The latest move of the stock price was accompanied by a meaningful reduction in short interest, which has decreased by more than 10 million shares in less than two months. I believe that the short-squeeze is near its end, and that the share price will not rise as fast as it did in the last couple of months, but there are three main reasons I am still bullish on the prospects for 3D Systems, and the whole 3D printing group: growth acceleration, innovation and acquisitions.
1. Growth acceleration
The acceleration in revenue growth was in my opinion the main reason for the sharp rise in the share price. Revenue growth accelerated from 31% in Q1 2013 to 44.5% and 49.9% in Q2 and Q3, and the fourth quarter expectations are for a 53.4% increase in revenue. Strong growth in revenue is a result of stronger growth in the consumer segment (which was a cause of concern prior to the earnings announcement) and an aggressive acquisition policy. Another area of strength is the new metal printing segment, and management was very excited about the potential demand in this business segment. On the earnings side, the company is delivering and guiding lower, but for a good reason. It has increased spending in order to take advantage of rising demand and the overall interest in 3D printing.
However, the accelerated growth and a substantial increase in share price have brought the stock's valuation to nosebleed levels. 3D Systems' price to sales ratio is close to 21, as opposed to Stratasys' (NASDAQ:SSYS) P/S ratio of 15. With current consensus estimates and a same share price by the end of 2015, the P/S ratio of 3D Systems could go down to 12 in two years, which is still a quite high number. However, analysts are expecting 3D Systems' revenue to grow 29% in 2014 and 2015, and we could see revenue growth much higher as the technology continues to improve and demand increases. I believe that the first quarter results and FY2014 revenue guidance for both 3D Systems and Stratasys will be crucial for the 3D printing industry in the next couple of months. If they provide full-year revenue guidance at least 10% above analyst estimates, it might be sufficient for a further increase in share price.
2. Innovation
3D Systems has introduced numerous products and initiatives last year, and is expected to keep pushing out new products and services this year. The latest new products and services include:
- New iSense 3D scanner, which was displayed for the first time at the 2014 International CES in Las Vegas. iSense is the new consumer scanner for Apple's (NASDAQ:AAPL) iPad. iSense can be used on anything and the user doesn't need to stand still or place an object into a box as required with other 3D scanners.
- Third generation of its popular home 3D printer, Cube(R) 3, the first plug & play consumer 3D printer with a price tag under $1,000. The new Cube printer is faster with simultaneous multi-material and dual-color printing, has high-definition 75-micron layer thinness for finer-res prints and instant material loading that is easier than changing an ink cartridge.
- New CubePro 3D printer, "the only simultaneous triple-color, multi-materials, large capacity, prosumer printer available today". The new CubePro was displayed at CES in Las Vegas.
- New CubeJet 3D printer, priced under $5,000. CubeJet delivers full-color, high-resolution parts for a wide range of modeling and real-use products, and is designed for small businesses, entrepreneurs, hobbyists and educators.
- Cubify® 2.0, a comprehensive consumer destination for 3D printer enthusiasts. Cubify.com is a platform that enables hosting, publishing and production of large scale branded and licensed 3D printable content. Cubify should increase the adoption and demand for 3D printing in the consumer segment.
- 3D Systems announced a collaboration with Intel Corporation (NASDAQ:INTC) to mainstream the adoption of 3D scanning and 3D printing. Intel's 3D camera enables scanning capabilities for creating 3D models directly from a tablet or computer.
This is just a small part of the latest announcements that are aimed at increasing the adoption of 3D printing. New products and initiatives will certainly have a meaningful impact on the future revenue stream.
3. Acquisitions
3D Systems is the most aggressive company in the industry, with numerous acquisitions in the last couple of years. Last year's Phenix acquisition is important for the company, since it brought the expertise of Phenix in metals printing, which is an important potential market.
In December, 3D Systems acquired a portion of Xerox's Oregon product design, engineering and chemistry group and related assets for $32.5 million in cash. The agreement is designed to leverage both companies' 3D printing capabilities to accelerate growth and maintain leadership positions. 3D Systems and Xerox already have 15 years of collaboration, which produced 3D Systems' best selling ProJet series 3D printers.
3D Systems also made two smaller acquisitions in December and one in January. Figulo corporation and Village Plastics were acquired in December 2013, while Gentle Giant Studios was acquired in early January 2014. All three acquisitions are consumer-orientated.
While there are integration risks, 3D Systems has done a great job of integrating the acquired companies. Acquisitions are and will continue to be an important component of 3D Systems' future growth.
Risks
In my last article on 3D Systems, I wrote about the short-term concerns for the company. The main cause for concern was the parabolic move and high-volume selloff in November. The other concern is the decoupling of 3D Systems' and Stratasys' valuation, in terms of their respective P/S ratios. 3D Systems' share price remains extended at the time of writing, and it is trading at a 30% premium over Stratasys' P/S ratio. The market has ignored the valuation concerns, but it was certainly helped by a massive short-squeeze in the last two months.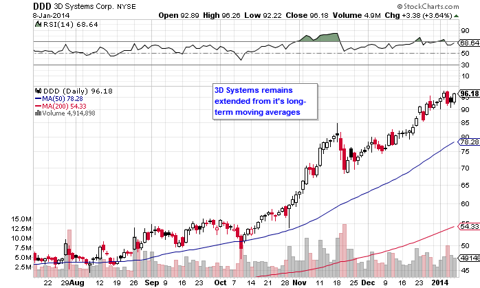 Source: Stockcharts.com
However, the main risk is the expected slowing down of revenue growth this year. The market is counting on continued strong growth, and guidance for 30% revenue growth in 2014 (which would correspond to current consensus estimates) would be a huge disappointment.
Conclusion
3D Systems had a great year in 2013, and the company stands to benefit in 2014. Accelerated revenue growth, new products and services and future acquisitions are the fuel that might keep the share price rising this year. Fourth quarter earnings and FY2014 guidance will be crucial for the company and the 3D printing group in the next couple of months, and will determine the price direction for the rest of the year, notwithstanding a negative macro event.
Disclosure: I have no positions in any stocks mentioned, and no plans to initiate any positions within the next 72 hours. I wrote this article myself, and it expresses my own opinions. I am not receiving compensation for it (other than from Seeking Alpha). I have no business relationship with any company whose stock is mentioned in this article.