Tonix Pharmaceuticals (NASDAQ:TNXP) has more than tripled its price since November 21. The company rallied from about $4.22 to trade at $14.43 as of January 8. Since November, speculative trading has abounded in the stock which has pushed its 14 week RSI to a record 80 along with record trading volume. I believe the key driving factor for the stock's upswing was an article published by Seeking Alpha on December 3. Why? Because volume exploded on the 4th, 5th, and 9th especially. Those three days represent the there largest trading days for TNXP in its history. And what was number 4? December 2, when the article initially became available to SA Pro subscribers. 24 hours later it became available to the public and price and volume skyrocketed. It fits the pattern.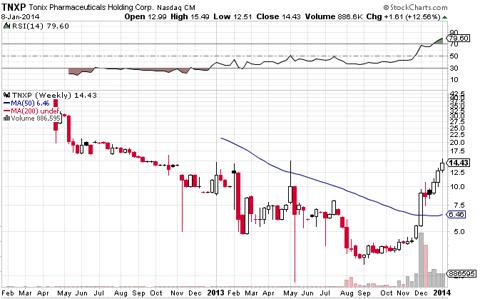 It is clear that Seeking Alpha's pro subscribers fueled this stock's initial upsurge. The next day trading volume was 1.5M plus shares, or about 50% of the float, compared to a three-month average of 177K shares. Couple this with a record 14 week RSI and it all suggests that Tonix is short term over-bought. Note that this average figure includes the recent unusual volumes, which means the difference is even higher. This can only mean one thing. There will be a pullback. Some investors will seek to cash out some of their profits, while others will look to pick a short term top and establish short positions.
Let me be clear that despite short term overbought conditions, Tonix is by no means overvalued fundamentally. Despite this spectacular rise, Tonix's market cap remains a paltry $70M. It is in fact still undervalued as illustrated in the article that catalyzed the recent rise. However, that value is only realizable upon the approval of the TNX-102 SL. This is the company's best product to trigger a sustainable rally that will lead to a fair valuation. However, before that, I expect a short-term decline from the current price level, which should open up a better entry opportunity for those who do not already own the stock.
TNX-102 Approval Is Highly Likely
Tonix is developing a sublingual formulation of cyclobenzaprine for the treatment of fibromyalgia syndrome. "Sublingual" is where the SL comes from in the drug's name, and simply means that it is administered underneath the tongue and dissolves there, the advantage being very low dose and rapid absorption by the body. TNX-102 SL has already gone through clinical trials for Phase 2a and is currently recruiting participants for Phase 2b/3 trials. Fibromyalgia or FM is a very nagging disorder and is characterized by tender joints, widespread muscular pain, uncomfortable sleep, anxiety, memory issues and chronic fatigue. Over the years, FM treatment has been applied by taking a combination of several drugs including Savella, Lyrica and Cymbalta, as well as off-label generic drugs. The most common characteristic amongst FM patients is sleeping disorder. However, in many cases, people with sleeping disorders have often been misdiagnosed to be suffering from FM, which means not every sleeping disorder is associated with fibromyalgia.
An effective treatment has been a mirage for many as some keep on switching medication to find the best fit. Others have even ended up becoming addicts of the various medications they take for treatment. The problem with fibromyalgia is that while quite common (between 2% and 5% of the population by common estimates), there is no definitive diagnosis method for it, as it is a psychological disease that simply manifests itself as pain and nobody knows exactly why. There is no pathogen, no recognized cause, no clear internal bodily disorder. It just happens.
What FM patients need is something to relax them physically and psychologically at bedtime, something fast acting but at a very low dose to prevent addiction. This is the genius of Tonix's move to develop TNX-102 SL as fibromyalgia Intervention Therapy. It took a compound already approved and reformulated it in a way that could significantly help a very large patient population. This is the primary reason that TNX-102 approval for FM is highly likely.
Another reason is the endpoints with regard to the clinical trial set up. The Phase 2b trial compares 60 FM patients on TNX-102 SL with another 60 FM patients on Placebo for a period of 12 weeks. For approval, TNX-102 SL needs to show improved results with regard to pain compared to Placebo, in addition to safety. Tonix expects to complete the study by the end of the year.
The drug is considered significantly safer compared to previous cyclobenzaprine drugs especially considering the fact that it indicated no serious adverse effects during the phase 2a trials. This lays the foundation for the drug as it steps in for phase 2b and phase 3 trials.
Additionally, the trial itself is wisely set up. The 12-week trial period allows for a more conclusive study, which should give better results. Longer study period enhances the chances of good results, because recovery comes with time. The Phase 2a trial was conducted for eight weeks only. Furthermore, the sample is reasonably larger than in Phase 2a. The company is using 60 patients on each drug, compared to the six used in Phase 2a.
Third, TNX-102 capsules (not SL), formally known as very low dose (VLD) cyclobenzaprine, have already shown great promise as a treatment for FM. The drug needed formulation technology for bedtime use. The sublingual administration of it allows for the drug to be taken up fast by the body just before bedtime, precisely when FM patients need the most efficacy. This means that TNX-102 SL meets the sleeping requirements for the treatment of FM, a factor that has been the biggest hurdle for previous FM therapies. It is not easy in oral pill form to get a precise dosage absorbed by the body at the exact time needed to help an FM patient go to bed peacefully.
All in all, it is widely known that cyclobenzaprine is effective as a relaxant. All Tonix is doing is reformulating it to be absorbed optimally at the exact right time. With these factors in consideration, the chances of TNX-102 SL being approved by the FDA for FM are highly likely.
Psychological Diseases and Valuation
The fibromyalgia market is estimated to be $1.8B by 2015, but the exact valuation in relation to Tonix is uncertain because FM is such a "wishy-washy" disease to use a colloquialism. Medications that treat it are used as antidepressants and muscle relaxants in general, and the FM market includes psychologists, psychiatrists, exercise classes, behavioral therapists and other treatments having nothing to do with pharmaceuticals. To take one snapshot, Amrix sales, one of the more popular FM prescriptions by Teva (NYSE:TEVA), came in at $109M before generics entered the market. If TNX-102 also gets approved for PTSD, then the government will get involved in treating war veterans. With psychological diseases like these, if one gets approved, others will likely follow as they are all similar diseases with grayish definitions, snowballing the valuation of Tonix into something truly large and out of small cap range.
This is why Tonix is still fundamentally undervalued. If TNX-102 does get approved for FM, it will only be the beginning.
Wait For A Pullback Or Not, Either Way You Win In The End
Tonix has more than tripled in value since November. However, this does not mean that the stock has reached its potential. In fact, it is still way off the mark. The company could start generating hundreds of millions in revenues once TNX-102 SL begins retailing in the market. It could also get acquired before approval, just as Amrix was acquired from private hands by Cephalin, which was later acquired by Teva in 2011. With this in mind, its stock price should assume another upward trend once approval is reached, or probably a few months beforehand.

However, before that, the stock faces a possible short-term decline as traders, rather than investors, begin to lock in profits. Total trading volume since December 2 when SA Pro subscribers were first alerted to this stock has been 10.3M. That's 3.2x the float in one month. This means there is a lot of short term trading going on rather than long term investing. Some of those traders are going to cash out soon, causing a drop in price.
Even with a highly likely approval, there is always the possibility that things do not go as planned, and as such, some investors would be coy to be too bullish on the stock. I am not picking a blind side on Seeking Alpha pro subscribers. Actually, I think they were brilliant on their execution as the stock rallied on unusually high volume, but markets never go straight up for long.
According to research, about 10M Americans suffer from FM disorder each year. If Tonix can get TNX-102 SL to global markets, which I believe it will, then the addressable market becomes even larger, offering enormous opportunity for the company and TNX-102 SL could become a true blockbuster. This means that regardless of whether you wait for the pullback or not if you don't want to try and time it, you could end up winning big in the end anyway.
Conclusion
Tonix Pharmaceuticals is trading very close to its 52 week high. Be careful. Investors are short nearly 300k shares as of December 13, which compares to just 40k short in the previous month. (Those 40k got squeezed badly.) This is a clear indication of how investors react after a stock trades on unusually high volume.
Many investors are asking when the pullback will come. Nobody knows, but the 14-week RSI can't stay overbought forever. It could be a short dramatic pullback, or it could be a slow drawdown over several months until TNX-102 SL approval becomes imminent. Personally, I believe the former is more likely. Tonix is still trading at record volumes, with an average of nearly 20% of the floated shares traded on a daily basis. The bottom line is, the short term traders are still there, but the long-term opportunity is worth taking even at the current price level, but scale in slowly and carefully.
Disclosure: I have no positions in any stocks mentioned, and no plans to initiate any positions within the next 72 hours. I wrote this article myself, and it expresses my own opinions. I am not receiving compensation for it (other than from Seeking Alpha). I have no business relationship with any company whose stock is mentioned in this article.