I wrote an article just days ago stating part of my case for being bullish on Alcoa (NYSE:AA) into earnings. Between then and yesterday, I had opened up a starter long position in the company. And, after analyzing earnings yesterday, it's a position that I intend on adding to.
Alcoa opened this morning below the $10 mark on what the market is viewing as lackluster earnings. I'm viewing it as an opportunity to add.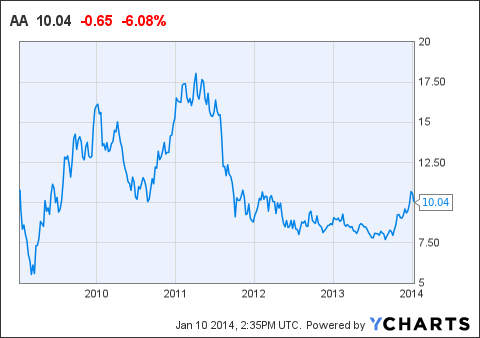 AA data by YCharts
As I noted in my previous article, Alcoa investors will likely want to forget about 2013. Even though the stock was up 16% over 2013, it was generally regarded as a lackluster year for the company (and other mining stocks) due to plunging aluminum prices. The stock has ended the year with a little positive momentum, and was up 30% over the last three months heading into yesterday's earnings report.
Alcoa posted earnings after the bell on Thursday. They announced an EPS of $0.04 excluding items, off of analyst estimates of $0.06/share. Revenue beat, coming in at $5.59 billion vs. $5.34 billion in estimates. Year over year, however, revenue was still off from $5.90 billion.
Additionally, earnings came on the heels of the announcement Thursday morning that Alcoa had settled the Alba matter with the SEC:
Alcoa Inc. today announced the resolution of the investigations by the U.S. Department of Justice (DOJ) and U.S. Securities and Exchange Commission (SEC) regarding certain legacy alumina contracts with Aluminium Bahrain B.S.C. (Alba).

The settlement with the DOJ was reached with Alcoa World Alumina LLC (AWA). AWA is a company within Alcoa World Alumina and Chemicals (AWAC), the unincorporated bauxite mining and alumina refining venture between Alcoa Inc. and Alumina Limited.

As part of the DOJ resolution, subject to final court approval later today, AWA will pay a total of $223 million, including a fine of $209 million payable in five equal installments over four years. The first installment of $41.8 million, plus a one-time administrative forfeiture of $14 million, will be paid in the first quarter of 2014, and the remaining installments of $41.8 million each will be paid in the first quarters of 2015-2018. The $223 million amount is within the range previously disclosed by Alcoa Inc. During the second quarter of 2013, Alcoa recorded a $103 million charge ($62 million after non-controlling interest) for the DOJ investigation.
Alcoa called the issue a legacy issue, and reminded readers that no one at the company knowingly engaged in any wrongful conduct. Either way, it wasn't a great headline to the start the day.
However, earnings were then posted after the bell and the stock responded by selling off nearly 5%. Appearing on CNBC at some point after earnings were released, CEO Klaus Kleinfeld urged investors to look below the headline numbers and pick out the positives. I did just that - and here are three reasons why I'm buying on the Alcoa dip and will continue to be a long-term investor:
1. Aluminum Pricing Will Rebound
All of the negatives of the earnings report aside, Alcoa is only in the position it's in due to the downward pressure on aluminum pricing.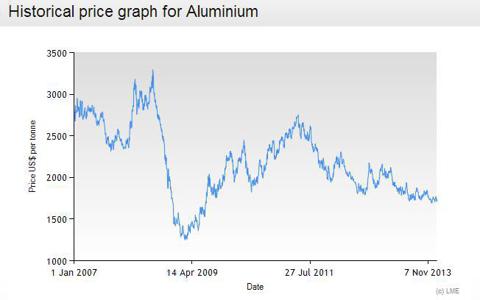 It is only a matter of time before aluminum prices once again begin to inch upward, which will carry with it a macro market positive catalyst for Alcoa across the board.
2. Aerospace & Automotive
Alcoa is expected to benefit from a stronger position in the Chinese aerospace industry in 2014, as a result of a partnership it participated in at the beginning of the year.
Additionally, recent news that Ford (NYSE:F) had brought Alcoa aluminum to the 2013 Detroit Auto show gave the stock a small boost to end the year as well. From Autoblog.com:
According to a report in Bloomberg, the 2015 Ford F-150 will indeed be showing up at the Detroit Auto Show next month. It will bring attitude with it, not only in the form of sheet metal inspired by the Atlas concept(pictured) that appeared at the 2013 Detroit show but also in the Alcoa military blast shields among the display being used to showcase the ruggedness of aluminum.
Dan Strack has a vision of what this could mean in the long-term for aluminum use in vehicles - and ultimately for Alcoa:
When the Detroit auto show kicks off on January 18, 2014, all eyes will be on the new Ford F-150. The new F-150 will be sporting a new aluminum intensive design, which is intended to cut close to 700 lbs off the previous steel based design. To accomplish this design, Ford enlisted the help of aluminum giant Alcoa. While Jaguar, Audi and Range Rover have all made aluminum an integral part of their designs, Ford's F-150 is the world's top selling truck and represents a huge opportunity for Alcoa. If Ford is successful in selling the new F-150 design, aluminum could soon be standard in all U.S. auto manufacturing designs.
3. Dividends
Some stocks I feel guilty about dollar cost averaging on dips. It's a feeling that I never seem to get with dividend stocks, for some reason.
Although Alcoa doesn't pay nearly as much as "reliable" dividend payers - at 1.2% - if you're a long-term focused investor like I am, the dividends simply become a bonus. Continuing to add on the dips and rack up the dividends quarter over quarter is a strategy I love. Long term, this company isn't going anywhere.
Conclusion
If the company can get its EPS back inline in 2014, it should bring down the P/E and make the company more attractive to "fundamental" investors that are looking at the company. If you're looking at Alcoa for the short-term, it could be easy to be deterred from an investment by yesterday's results.
If you dig behind the numbers and look at the potential catalysts for 2014 - growth in China, potential U.S. automotive opportunity and aluminum prices rebounding - coupled with Alcoa's paltry, yet not irrelevant dividend - Alcoa remains a safe long-term investment. I'll add here.
Best of luck to all investors.
Disclosure: I am long AA, . I wrote this article myself, and it expresses my own opinions. I am not receiving compensation for it (other than from Seeking Alpha). I have no business relationship with any company whose stock is mentioned in this article.