I am not changing my position in my previous dual OS topic article. I still believe that a dual-booting hybrid Windows (NASDAQ:MSFT) 8/ Android (NASDAQ:GOOG) computer is best done in slate form. I am also reiterating my opinion that the use of cheaper 22nm Bay Trail-T CPU gives Intel (NASDAQ:INTC) a better chance to sell more hybrid WinDroid tablets.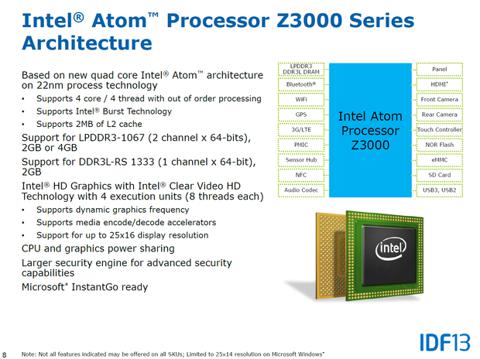 Click to enlarge
The regular buyer doesn't really notice that a Bay Trail-T (Intel Atom Z370) tablet performs below a Haswell Core i7 machine in serious computing tasks. All they want is a tablet that's good enough for web browsing, playing games, reading ebooks, and watching movies on the go.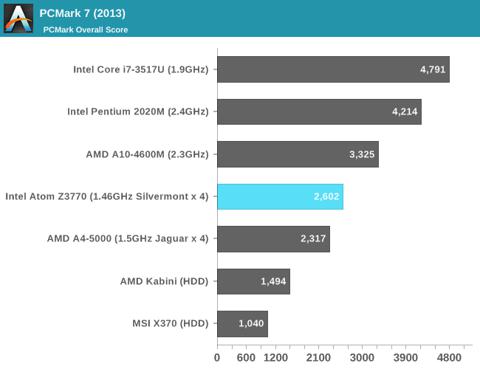 Click to enlarge
On the other hand, Intel and Asus have convinced me that a Core i7 2-in-1 notebook is also a great way to implement the concept of hybrid dual OS WinDroid computing. The Asus Transformer Book Duet TD300 can instantly switch between Android OS 4.2 Jelly Bean and Windows 8.1. It only takes a push of a button to switch between the two operating systems. The one-touch switch OS button works in tablet or notebook form. The seamless transformation can be more appreciated by watching this hands-on video found on the Verge site.
Instant Switching Between OS
Intel and Asus' dual OS implementation is much better because both Windows 8 and Android OS run natively and independent of each other. Asus is promoting the Transformer Book Duet as a 4-in-1 device: it can function as a tablet running Windows 8 or Android OS; or as a full Android or Windows 8 laptop when attached to the keyboard dock.
The touchscreen display can be detached quickly by pushing a button. The switching between Android and Windows 8 also takes only 3-4 seconds. The large Full HD resolution 13.3-inch screen is obviously geared towards serious productivity utilization rather than plain web browsing or gaming.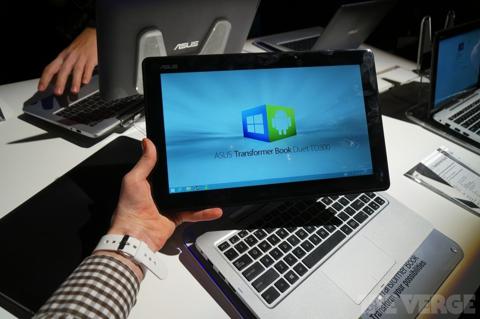 Click to enlarge
I do not like how Advanced Micro Devices (NYSE:AMD) is implementing the dual OS concept. No matter how good AMD's APUs are: BlueStacks is still a software emulation of the Android OS. Virtual simulation or software emulation cannot beat full native hardware execution. This is just my opinion based on my experience using BlueStack. I am not claiming AMD's method of dual OS implementation is wrong. AMD bulls have really made this Intel rival achieve a great stock market run in 2013.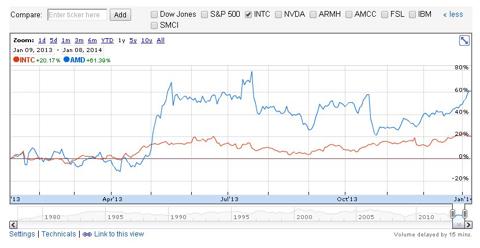 Click to enlarge
This market aberration is why I made good money with AMD last year. Intel had the better financial performance and profitability but AMD received more loving from the market players.
Here's the AMD vs. Intel By-The-Numbers-Comparison-Chart. The market gamblers are more speculative than drunken Russian poker players.

Click to enlarge
The Transformer Duet Sings Enterprise Quality
The decision of Asus to use Haswell Core i3 to Core i5 processors for the Duet line of hybrid WindRoid notebooks makes them more expensive than the best-selling $349 Windows 8-only Transformer T100. The basic Asus Duet will cost $599 for a Core i3 model and $699 for a quad-core Core i5. A Core i7 version is also due for commercial release but there's no exact price tag for it yet. The Duet will be available in the U.S. by late March.
The basic configuration of the Transformer Duet includes 64GB of SSD storage, 4GB of RAM, a microSD slot for additional 64GB of storage. The bundled keyboard dock comes with an extra 1TB storage, USB 3.0 and 2.0 ports, and Ethernet and HDMI ports. The keyboard uses the chiclet layout for easy typing.
Battery performance will be the main bashing point for Intel haters. There's no official rating yet for the Duet's energy efficiency. I believe the 4th generation of Haswell Core mobile chips are now down to 4.5 to 6W SDP (Scenario Design Power) rating.
The Transformer duet will also come with free Microsoft Office Home edition. This fact already makes it more appealing than the rumored iPad Pro that Apple (NASDAQ:AAPL) plans to release later this year. Enterprise users will stick to Windows 8 laptops because they need offline Microsoft Office functionality. I, myself, cannot live without a full installation of Microsoft Office and Adobe CC suite.
The Core processors also leverage the power of Intel's new embedded RealSense 3D camera. 3D scanning is easy to do with this new camera but manipulation of 3D models benefits from more powerful CPUs. Intel also gets a higher mark-up from selling the more expensive Core processors to Asus.
Gartner says tablet/notebook sales will top 500 million units this 2014. Intel and its partners for dual OS tablets and 2-in-1 notebooks will probably account for at least 10% of that. Asus is not the only one who unveiled a dual OS hybrid at CES 2014. Indian handset maker, Micromax also revealed their latest consumer WinDroid product, the LapTab.
I'm projecting at least 5 million dual OS tablets and hybrid notebooks will be sold globally this year. This estimate includes AMD-equipped dual OS tablets too.
Conclusion:
Intel and Asus deliver a better execution of the dual OS WinDroid concept. The Transformer Book Duet TD300 is aimed at high-end consumers and enterprise users. Corporate professionals can now enjoy both Windows 8 and Android OS functionalities in one device.
Consumers also benefit from the savings of buying just one device for the Windows and Android computing needs. While I'm strongly espousing cheaper WinDroid hybrids from Intel, I also appreciate the need for Core i7-level hybrids. There's a lot of work that requires powerful processors. I sometime do HD video editing as a side business. I use Photoshop CC daily at the office too.
When the workload is really heavy, I am required to help the junior artists layout large-format billboard posters. I don't think I can do a multi-layer 24 feet x 36 feet PSD poster design with Bay Trail-T.
Intel's open support for WinDroid may not sit well with Microsoft, but as an INTC holder, I'm all for it. I do wish for a P/E of 18 like what Qualcomm (NASDAQ:QCOM) investors are enjoying.
I hope that the June 16 ER delivers some sweet numbers to help INTC edge up a little. The holiday season sales at Amazon showed two Intel-equipped notebooks were in the top 3 bestsellers.
I'm more optimistic than Yahoo Finance analysts. The chart below is YF's estimates. I hope Intel doesn't disappoint next week.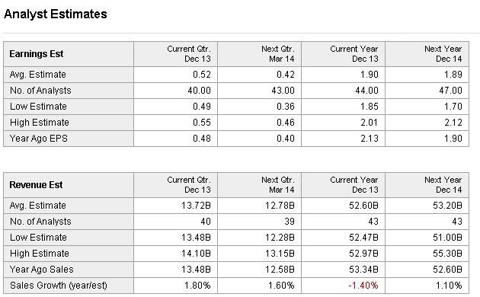 Click to enlarge
Disclosure: I am long INTC, . I wrote this article myself, and it expresses my own opinions. I am not receiving compensation for it (other than from Seeking Alpha). I have no business relationship with any company whose stock is mentioned in this article.