The December Jobs report was delivered prior to trading Friday. The report saw the lowest amount of job creation in three years. It is hard to sugar coat these dismal results. This could well be the beginning of yet another false start to economic recovery, which has happened all too often over the past five years.
The report showed that 74,000 new jobs were created in the month while 347,000 individuals dropped out of the workforce. The labor participation rate now stands at 62.8%, the lowest since the middle of the Carter administration. Trying to find some bright side to these disappointing results leads me to some high-yield plays.
High-yield sectors like real estate investment trusts (REITs) have underperformed the market since the Federal Reserve started to talk about the 'taper' in May. 10-year treasury yields have gone from ~1.6% to 3% over the past seven months. The 3% level has proven to provide stubborn resistance and with this poor jobs report, rates should drop further. I think this will raise the attractiveness of the REIT sector. Here are two attractive high-yield plays that I bought this morning on today's poor job results. Both REITs were upgraded by Jefferies this week as well.
Medical Properties Trust (NYSE:MPW) - This unique REIT focuses almost exclusively on investing in hospitals leased under long-term net leases. MPW sells for ~$12.50 but Jefferies just put a $14 a share price target on the shares noting "the stock's valuation at 11.5x FFO and 6.7% implied cap rate makes MPW a compelling risk/reward proposition.
The REIT sold for almost $18 a share before 'taper' talk started to impact the entire REIT sector. This seems reasonable MPW could recapture a decent portion of that decline if interest rates pull back as the result of poor job gains.
The shares yield almost seven percent (6.8%) at current levels. I would expect the REIT to increase payouts in coming years as FFO (Funds from Operations) is tracking to a 10% gain in FY2013 and a similar gain is projected in FY2014 on an over 20% revenue increase over the next twelve months.
HCP, Inc. (NYSE:HCP) is a REIT that primarily invests in properties serving the healthcare industry including sectors of healthcare such as senior housing, life science, medical office, hospital and skilled nursing. The entity also invests in mezzanine loans and other debt instruments. Jefferies moved from a "Hold" to a "Buy" on HCP the other day. It has a $41 a share price target on the REIT.
This price target might be conservative if this is indeed an 'economic false start' and interest rates fall from their recent 3% level. HCP sold for more than $54 a share prior to the 'taper' triggered stampede out of the REIT sector.
HCP does appear to be forming a bottom (see chart) over the last month as the yield on the 10-year treasury has been unable to breach the 3% level on a sustainable basis. The shares offer a solid yield of almost 6% (5.8%). In its last reported quarter adjusted FFO was up 14% Y/Y. The company has slightly beat bottom line consensus for six straight quarters.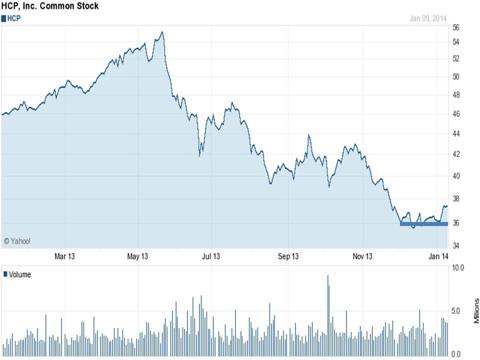 Disclosure: I am long HCP, MPW. I wrote this article myself, and it expresses my own opinions. I am not receiving compensation for it (other than from Seeking Alpha). I have no business relationship with any company whose stock is mentioned in this article.