By David Russell
Longtop Financial Technologies (NYSE:LFT) has been trying to rally after a steep correction, but bearish traders have other ideas.
optionMONSTER's Depth Charge tracking system detected heavy buying of the April 40 puts, which traded 2,672 times against open interest of just 2 contracts. Most of the transactions priced for $4.60 to $5.10.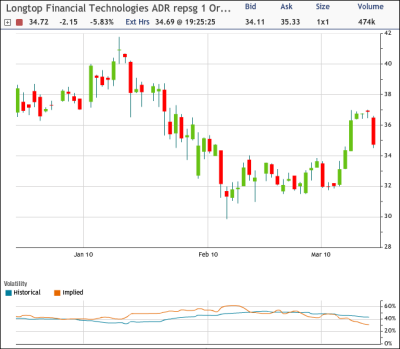 LFT fell 5.83 percent to $34.72 yesterday, after having gained 13 percent in the previous month. The stock fell from above $40 early in the year to about $31 in early February. The company, which makes software for Chinese financials, then started rallying after a strong earnings report on Feb. 10.
It's noteworthy that the put buyers used in-the-money contracts, which are more sensitive to small declines in the share price and less prone to lose value to time decay. The choice reflects a limited amount of bearishness rather than an expectation for a major correction.
The broader story on LFT appears to be bullish. The shares held support last month at the same $30 level that had offered resistance between June and October. And, while they trade at a relatively expensive 21 times forward earnings, they have a price-earnings-growth ratio of about 1. Some fundamental analysts would consider that a fair valuation for a fast-growing company.
Overall options volume in LFT was six times greater than average yesterday, and puts accounted for 88 percent of the activity.
Disclosure: No positions