Investors in retail have to be banging their heads against the wall these days, especially with the latest quarterly reports that key names in the industry have released recently. There are no trends in the industry to speak of, and those trends that do appear to exist seem to reverse course quickly but only momentarily. Sure there have been outliers, but across the board there is a Dr. Jekyll and Mr. Hyde complex among the retailers.
Chart of the Day:
It is hard to get excited about the steadily decreasing unemployment rate, because as today's numbers demonstrated it does appear to be a numbers game. A falling unemployment rate due to people being forced out of the data collection is no better than a rising unemployment rate. Another important fact investors need to watch is that while now at 6.7% unemployment, we are dangerously close to the Fed's 6.5% unemployment rate which is being used for the tapering data.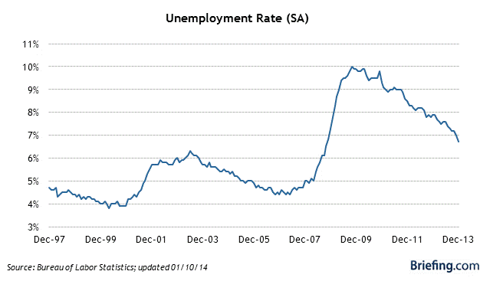 Source: Briefing
We have economic news today and it is as follows:
Nonfarm Payrolls (8:30 a.m. EST): Est: 197k Act: 74k
Nonfarm Private Payrolls (8:30 a.m. EST): Est: 198k Act: 87k
Unemployment Rate (8:30 a.m. EST): Est: 7.0% Act: 6.7%
Hourly Earnings (8:30 a.m. EST): Est: 0.2% Act: 0.1%
Average Workweek (8:30 a.m. EST): Est: 34.5 Act: 34.4
Wholesale Inventories (10:00 a.m. EST): Est: 0.2% Act: 0.5%
Asian markets finished mixed today:
All Ordinaries -- down 0.23%
Shanghai Composite -- down 0.71%
Nikkei 225 -- up 0.20%
NZSE 50 -- up 1.03%
Seoul Composite -- down 0.39%
In Europe, markets are trading higher this morning:
CAC 40 -- up 0.72%
DAX -- up 0.74%
FTSE 100 -- up 0.89%
OSE -- up 0.53%
Target Missing The Mark, Sears Too
As if the news could not get any worse for Target (NYSE:TGT) shareholders, it just did. Many expected shoppers to stay away from the stores during the holiday shopping season after the large data breach was disclosed, so the fact that Target warned on their latest quarter should be no surprise. The EPS cut was $0.30/share with guidance now in a range of $1.20-1.30/share. Yes that is bad, but even more troubling is that Target also released more information regarding the data breach and stated that they still think only 40 million credit and debit card accounts were stolen but more importantly it now appears that up to 70 million individuals may be affected due to a database being breached with names, addresses, email addresses and phone numbers also being stolen. This hack now has the potential to affect nearly 1 in 4 Americans, and that is a very big deal. Target did reiterate that consumers would not be held liable for any costs associated with stolen cards.
it has been a rough few months for Target shareholders, but Goldman Sachs did come out and upgrade the stock today so the worst may be behind us.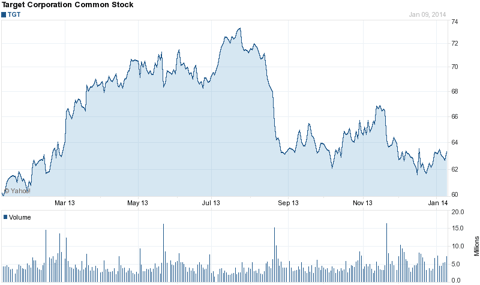 Source: Yahoo Finance
Sears Holdings (NASDAQ:SHLD) is also disappointing investors as sales fell 7% at the retailer during the holiday season. This should be no surprise to investors as the roll-up of Sears Holdings was always to profit off of the real estate while winding the retail operations down. Very little investment has been done at the company's stores and it is taking a larger and larger toll each holiday season it seems. Eddie Lambert has made some great calls in years past, but right now Sears is looking like a very large mistake.
Can Anyone Figure Out Teen & Casual Retail?
It would appear not. The teen market has been a consistent underperformer, yet it has consistently had these underperformers within the sector have strong quarters leaving many investors frustrated. The one truly consistent performer, Gap (NYSE:GPS), is not focused upon the teen market but does enjoy sales to that demographic through its Old Navy and Gap brands; both of which have outperformed its Banana Republic stores that focus more on the young professional and adult markets. Although sales rose only 1%, as the company reported yesterday, Gap did state that they would deliver earnings in the high end of their previous guidance, which caused investors to cheer.
This was in stark contrast to the results posted by American Eagle Outfitters (NYSE:AEO) yesterday, which showed sales down 7%. American Eagle also reported that they expected their EPS to come in at the low end of the $0.26-0.30/share range they previously guided towards after the disappointing sales. The sales decline was attributed to the company's competitors offering larger discounts and pulling traffic away, something that pushed margins for the entire industry lower. But it was not all bad news for those who have consistently underperformed as Abercrombie & Fitch (NYSE:ANF) showed us.
It remains to be seen whether this latest quarter from Abercrombie is yet another head fake or not, but recent history indicates that one should be cautious.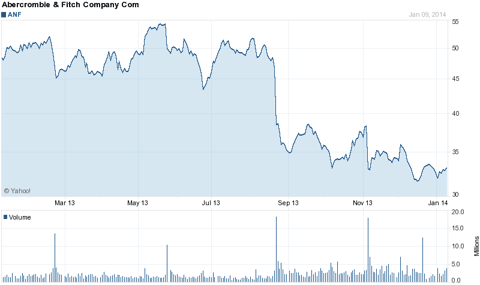 Source: Yahoo Finance
In fact investors are actually really excited about this latest news from Abercrombie & Fitch which saw the company raise its EPS guidance from $1.40-1.50/share to $1.55-1.65/share. This new guidance also comes in well above the analyst consensus which was $1.47/share and this has caused some to come out and increase their numbers and ratings with more to follow in the coming days.
Trying to figure out the tastes of the consumer right now is quite difficult, but many can agree that today's consumer is less interested in apparel and instead interested in technology and big ticket items. So long as that trend is in place, it is our belief that it trumps any individual turnarounds within the sector. In simple terms, the economy must get a lot healthier in order to see all of the retail names do well, and based off of today's employment figures it is quite obvious that the economy has a ways to go.
Disclosure: I have no positions in any stocks mentioned, and no plans to initiate any positions within the next 72 hours. I wrote this article myself, and it expresses my own opinions. I am not receiving compensation for it (other than from Seeking Alpha). I have no business relationship with any company whose stock is mentioned in this article.