Yelp (NYSE:YELP) was one of the exciting names to hit the street during the beginning of the "social media" boom. Names like Facebook (NASDAQ:FB), Angie's List (NASDAQ:ANGI), Zynga (NASDAQ:ZNGA), Pandora (NYSE:P), LinkedIn (NYSE:LNKD), and Twitter (NYSE:TWTR) all followed suit. Most of these companies are ridiculously overvalued - and are companies that I've argued are the most susceptible to macro market pullbacks should the major markets retreat.
Don't get me wrong, either - Yelp has been a cash machine for investors since its IPO. It's currently up over 250% in the last twelve months alone, and admittedly, I got stomped out the first time I tried to short Yelp in the 40's. But now, I'm back and I've got vengeance on my mind.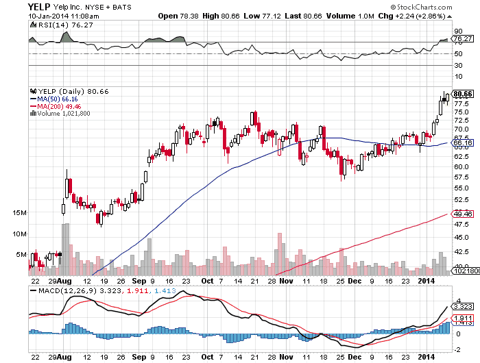 Actually, I've got fundamentals on my mind. Let's just forget for the moment that Yelp is a $5 billion customer review website that has never made money. And, let's forget that current valuation pins onto the company that it must continue to grow at current rates for the next 12-14 years. Let's just take a quick fundamental look at five fundamental reasons to short Yelp.
1. Yelp Has a Forward P/E of 294
Nuff said.
No, but seriously, Yelp is part of a fraternity of social media stocks that have enormously inflated P/E ratios, despite either not being profitable or having lofty growth goals that need to be met over the coming years.
"The best minds of my generation are thinking about how to make people click ads. That sucks."

-Jeff Hammerbacher, former Facebook Employee
There's been some arguments for the fact that the social media bubble is deflating, based on venture capitalists investing less in these companies of recent. With the addition of Twitter, the social media bubble is still very much in play, and Yelp is heading it up.
2. Yelp's Outstanding Shares are Growing Consistently
Yelp's outstanding share count now sits at over 66 million, due to compensation in shares which insiders usually dump on the open market as soon as they receive it. At today's market cap of $5.28 billion with a price of $79.89 - if Yelp continues to grow its outstanding shares at this rate, the same market cap would command a price of $75.33 just one year from now. That type of dilution clipping the share prices takes its toll after a few quarters. And, by no means does Yelp deserve to command a $5 billion market cap in the first place.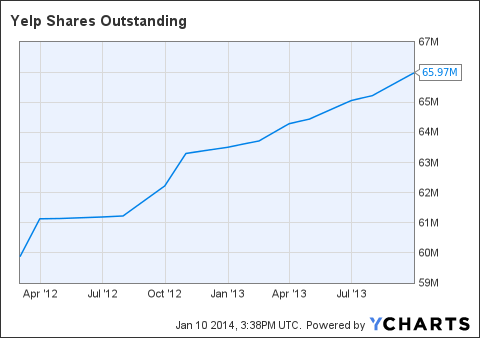 YELP Shares Outstanding data by YCharts
3. Google Reviews is Likely to Outdo Yelp Eventually
The same that Apple is going to outdo Pandora is the same way that Google is going to outdo Yelp. It's just a matter of time.
A large portion of the long case is that a company like Google could eventually make a bid for Yelp - but the question would be, why? With Google Reviews already in place and already the first thing that a potential user sees when Googling places like restaurants, why wouldn't Google just capitalize on the infrastructure they already have in place?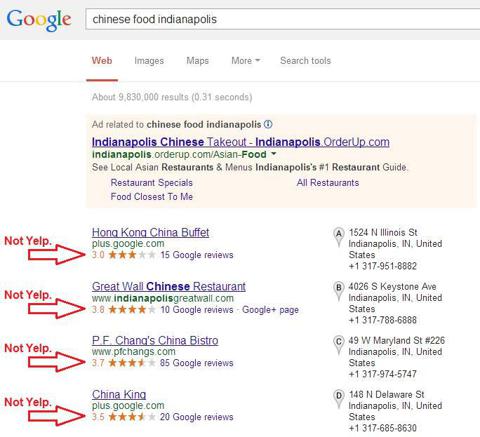 What would be the point of buying out such a demonstrably overvalued company?
4. Yelp's Price to Book Value Is Through the Roof
Again, yet another fundamental indicator that screams overvalued. Yelp is trading at 28 times what it's worth on paper. That would be like the stock for a dollar menu fries at McDonald's trading on an exchange for $28 - it just doesn't make sense.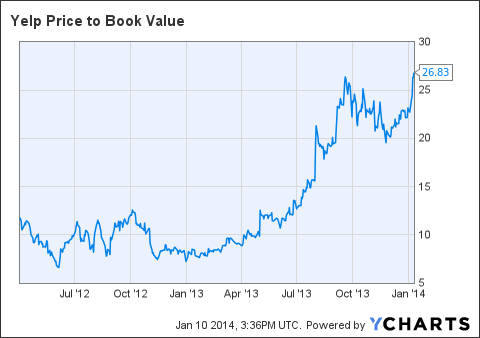 YELP Price to Book Value data by YCharts
Conclusion
However, with Yelp the one caveat remains in whether or not the market can stay irrational longer than you can stay solvent. With a momentum stock like Yelp that moves without rhyme or reason, one has to be extremely cautious and diligent when entering a short position. You could do well to insure a short on the equity with some calls, or simply to have a stop-loss in place. This is a stock that has traded 20% in a day on news of shares being unlocked.
As always, I wish all investors the best of luck going forward.
Disclosure: I am short YELP, . I wrote this article myself, and it expresses my own opinions. I am not receiving compensation for it (other than from Seeking Alpha). I have no business relationship with any company whose stock is mentioned in this article.