The U.S. Bankruptcy Court for the Southern District of New York has issued an unfavourable ruling against Anadarko Petroleum Corporation (NYSE:APC) regarding Tronox Inc (NYSE:TROX) litigation, and the company has to pay a penalty within the range of $5.15 billion to $14.12 billion. The exact amount will be decided in future legal proceedings.
The penalty is related to Anadarko's Kerr-McGee unit, which the company acquired in June 2006 for about $18 billion including debt. In 2005, Kerr-McGee transferred its oil and gas exploration assets to another corporate entity, which Anadarko acquired. The rest of Kerr-McGee businesses was renamed as Tronox.
Kerg-McGee was liable for cleaning 2,000 US sites, contaminated over the last 80 years from the company's chemical and radioactive businesses. In 2009, Tronox filed for bankruptcy protection, because it became insolvent due to this large environmental liability. Later, the U.S. government and the Tronox bankruptcy estate sued Anadarko, for Kerr-McGee spliting its business in 2005 with the intention of not paying cleaning cost. However, Anadarko disagreed with the ruling, and will file an appeal to higher courts against the ruling.
As a final result is expected to take longer, uncertainty will continue over how much penalty Anadarko will have to pay. Below are three scenarios to find out the per-share impact on the company's cash flow.
These are the potential liabilities per share that investors might have to bear:
| | | | |
| --- | --- | --- | --- |
| Penalty | Total Outstanding Shares | Pre-tax liability per share | Post tax (@35% tax) liability per share |
| $5.15 billion | 503.27 million | $10.23 | $6.65 |
| $9 billion (analysts' estimation) | | $17.88 | $11.22 |
| $14.12 billion | | $28.06 | $18.24 |
It is still not clear whether Anadarko can claim a tax deduction on this payment. Some analysts believe it can, but others do not and that the real picture will be out only in future proceedings.
Source of funds for these potential liabilities:
Minimum Liability ($5.2 billion) - Anadarko has cash holdings of more than $7 billion, so it has funds if the court asks it to pay within a range of $5 billion to $7 billion.
Higher than $7 billion - If Anadarko has to pay a penalty of more than $7 billion, the company can use its undrawn secured revolving credit facility of $5 billion. However, it may lead to some interest burden, but the company at least has the option to use it in an adverse situation. Nonetheless, by taking excess debt, the company's rating can be downgraded; analysts thus predict that it may sell some of its low cash-generating assets. Anadarko has assets worth $18 billion in countries such as Mozambique and Brazil. These asset sell-offs will provide liquidity for a potentially adverse litigation judgment.
Considering all factors, the company still looks in a comfortable position. The final decision has not yet come, and the company has stated that it has evidence to support its position. Therefore, I expect that at least Anadarko will be able to minimize the damage, and its liquidity position will be less affected. However, the company has enough resources to clear maximum liability as well.
Why you should hold this stock
The Tronox ruling has led to uncertainty around Anadarko's stock, which is affecting the price. After the ruling on Dec. 12, 2013, the stock price has been range-bound between $78 to $80.
Even if it sells some of its assets to pay the penalty, Anadarko's operations will not be affected, so it is still a good stock to hold in your portfolio. From 2007 to 2012, the company's sales volume has grown at CAGR of 6%, and it is expecting a similar trend this year as well, as it will not sell high-yielding assets. For example, two of its major assets are the Eagle Ford shale basin and Colorado's Wattenberg field. In the Eagle Ford shale basin the company has net acreage of about 200,000 and last year's sales volume was around 48,000 barrels of oil equivalent, or BOE, per day. In the Wattenberg field, Anadarko holds net resources of 1 billion to 1.5 billion BOE with net acreage of 350,000.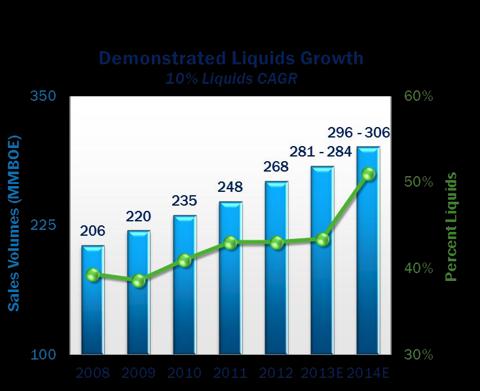 Source: Company's presentation
Analysts have estimated per-share net asset value of the company to be between $125 to $151. Even if I consider NAV of $125 per share, at its current price the stock is trading about 37% below this level. Once the uncertainty ends over how much penalty the company has to pay, stock price is expected to rise.
Conclusion
Anadarko's overall outlook is positive as it has a net asset value per share higher than its current stock price. The only concern for the company is the Tronox litigation, which is expected to take a long time to resolve. Until further development on this issue, I recommend investors hold their position.
Disclosure: I have no positions in any stocks mentioned, and no plans to initiate any positions within the next 72 hours. I wrote this article myself, and it expresses my own opinions. I am not receiving compensation for it (other than from Seeking Alpha). I have no business relationship with any company whose stock is mentioned in this article.