Screening for insider buying I recently came across First Citizens Banc Corp (NASDAQ:FCZA). In this case there are a few things that make the insider buying an especially attractive signal:
First Citizens Banc Corp is a very small company.
A range of insiders is buying
Insiders are substantially increasing holdings
Insiders are buying after a negative trend
First Citizen is a tiny company it has a market cap of just $51 million and Enterprise value amounts to $90 million.
I've learned from reading Peter Lynch that a range of insiders buying is a stronger signal than any individual board member or CEO buying.
It makes intuitive sense that when insiders are substantially increasing their stock ownership it is a stronger signal than if they are exercising periodically awarded options.
Insiders often buy when the market is cheering them along, just like other investors. Insiders that buy when the stock price of their company is getting hammered in a bull market show courage. I view this as a more positive sign than average insider buying.
Insider ownership
Although insider buying is up in a big way recently, insiders do not own a significant part of the company. According to Morningstar insider ownership data, insider increased ownership by 500% TTM but still only own 1.75% of outstanding stock. This corresponds to a market value of ~$800.000 and unfortunately that is not even double the CEO's salary alone. This insider ownership profile is not favorable in my opinion.
Outside investors
Notably one of the fund that holds a large position in First Citizen Bank Corp is the Schneider Small Cap Value Fund. A deep value investment fund with a average annual total return of 15.35% beating the Russel 2000 value index by 5% per year.
Valuation
First Citizen Bancorp is attractive on a range of valuation metrics and it pays a nice dividend yield:
| | |
| --- | --- |
|   | First Citizen Bancorp |
| Price/Earnings | 8,6 |
| Price/Book | 0,6 |
| Price/Sales | 1 |
| Price/Cash Flow | 4,6 |
| Dividend Yield | 2,3 |
A substantial dividend yield is something I like in my investments. It sets a minimum bar for management. Almost universally management teams dislike to announce dividend cuts. When valuing banks on simple valuation metrics price/book value is probably the most telling. The industry average is over double that of First Citizen Bancorp. Few investors trust book value of financial institutions after the 2008 financial crisis but that's why insider buying is a great sign in this case, with the caveat that it would be much better if insider holdings were larger compared to their salaries.
If you compare the development of First Citizens Banc total return to that of the S&P regional banking ETF it clearly shows how a big gap developed halfway through 2013. No wonder the bank is so attractive based on relative valuation.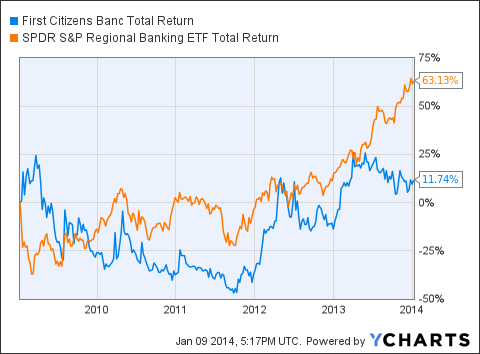 FCZA Total Return Price data by YCharts
Conclusion
Although insider buying alone isn't enough to base an investment decision on, I think this is a clear case where the profile of insider buying is sending a strong buy signal. One other drawback of investing into First Citizens that investors need to be aware of is that the stock isn't very liquid, it is after all a tiny company.
Disclosure: I have no positions in any stocks mentioned, and no plans to initiate any positions within the next 72 hours. I wrote this article myself, and it expresses my own opinions. I am not receiving compensation for it (other than from Seeking Alpha). I have no business relationship with any company whose stock is mentioned in this article.