Shares of Alcoa (NYSE:AA) are trading lower by about 5% after reporting quarterly results Thursday after the bell (press release available here). Alcoa reported a solid $5.6 billion in revenue, but EPS of $0.04 was a clear disappointment to investors. Analysts had been predicting $0.06, but there had been speculation that Alcoa could report upwards of $0.10, making the reported figure especially disappointing. Combined with a $384 million payment to settle a violation of the Foreign Corrupt Practices Act, these numbers sent some investors to the exits. However, I believe this sell-off provides investors with an excellent opportunity to get into Alcoa at a very attractive price.
While investors like to focus on earnings, I believe the focus should be more on cash flow and free cash flow. CEO Klaus Kleinfeld has worked tirelessly to increase cash flow and make the business less cash intensive, and we are seeing some major achievements on this front. For the seventeenth year, days working capital has declined and now stands at a paltry 20 days. These efforts have cut Alcoa's working capital needs by $240 million.
In the most recent quarter, Alcoa also generated a robust $498 million in free cash flow or $0.47 per share. Operating cash flow of $920 million was up $214 million sequentially. Thanks to these efforts, Alcoa has $1.4 billion in cash, which is up $400 million from a quarter ago. Importantly, I expect cash flow to continue to be robust in 2014 thanks to a strong performance in Alcoa's value-add units like Engineered Products and Solutions, which reported a record fourth quarter of $168 million in after-tax operating income. Global rolled products had disappointing income of $21 million, though with robust aerospace demand and stronger pricing, I expect significant improvement in 2014.
The primary drag on Alcoa is from its primary metal units, which has been hurt by weak aluminum pricing. EBITDA per metric ton declined significantly year over year to $87 from $214 last year. Alcoa is shifting away from this unit and focusing on its value-add segments that maintain better pricing power. However, if aluminum prices improve in 2014 as I expect they will, this unit will cease to drag on Alcoa's results.
Alcoa remains a balance sheet and cash story. Kleinfeld has focused on trimming expenses and growing cash flow while preserving the balance sheet. Over the past year, Alcoa has shed $500 million in debt, and total debt stands at a very manageable $8.26 billion. Netting out its $1.4 billion in cash, Alcoa has a sound debt to equity ratio of 0.5x. Even with challenging pricing, operating cash flow grew 5.4% to $1.578 billion while the company cut cap-ex by $70 million. With a 6.9x operating cash flow multiple, Alcoa has a very reasonable valuation.
Looking into 2014, I am looking for a 10-15% improvement in operating cash flow and another sequential decline in cap-ex by about $70-$150 million. As a consequence, I anticipate operating cash flow of about $1.725-$1.9 billion and free cash flow of over $700 million. I reach this figures because I think Alcoa's forecast for aluminum demand of 7% growth is accurate or slightly pessimistic. I expect this demand to translate into solid pricing at its value-add and commodity units after years of weak aluminum pricing. Thanks to major cost cuts, Alcoa's profitability can improve dramatically as prices rebound.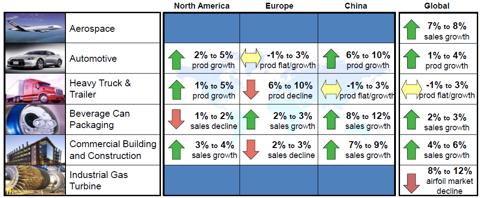 If we examine these segments, I think Alcoa is very reasonably predicting its end markets. I do think the company is being a bit optimistic on beverage can packaging because I expect the U.S. to be towards the -2% and Europe closer to the flat-line as the developed world continues to shun soda. I am looking for global volumes closer to flat. However, I do think there is room for upside in other markets. With parts of Europe recovering, notably the U.K., I think European construction will be closer to the flat-line.
However, the biggest opportunity for Alcoa going forward is in aerospace and autos. Aerospace will grow by at least 7% this year thanks to Boeing's (NYSE:BA) $500+ billion backlog of 787's and 777's. Importantly, this is not a one year phenomenon, and aerospace demand will remain robust for years. With its backlog, Boeing will be running at capacity for at least 5 years even if it does not generate another net new order. Obviously, the company will continue to generate some new orders, meaning Boeing will be operating at or near capacity for 7-10 years, barring a major recession that causes tons of cancellations, which I do not foresee with airlines turning record profits. Alcoa will be a long term beneficiary from commercial plane demand.
The U.S. auto market remains strong, running near a 16 million vehicle pace. Even with strong sales, the American fleet remains historically old, which will keep demand running high for some time. While 2014 should be a challenging year in the European market, I expect improvement in 2015 as the economy improves and capacity is right-sized. Further, aluminum is increasingly important in autos with Ford (NYSE:F) set to launch an all-aluminum F-Series, which will provide some additional marginal demand. The auto sector is another major tailwind for Alcoa.
After cutting cost and languishing amid weak spot prices, Alcoa is poised to benefit from two major growth markets: aerospace and auto. These markets will drive higher operating and free cash flow for several years. At 6x 2014 operating cash flow and with the potential for over $1 billion in 2015 free cash flow, I think Alcoa is cheap at $10. I would be willing to pay upwards of 8x 2014 cash flow or $13. The market was wrong to sell Alcoa on its report as there are finally structural end-market tailwinds. Buy Alcoa now and profit from major bull markets in autos and aerospace.
Disclosure: I am long F, . I wrote this article myself, and it expresses my own opinions. I am not receiving compensation for it (other than from Seeking Alpha). I have no business relationship with any company whose stock is mentioned in this article.
Additional disclosure: I also may initiate a long in Alcoa (AA) over the next 72 hours.