The combination of 3D printing projected to grow annually at 20% and the substantial stock gains in 3D Systems (NYSE:DDD) should already concern longs. The sector is undoubtedly hot and growing sharply, but new investors are paying up front for years of 30% growth long into the future.
3D Systems is a leading provider of 3D printers, print materials, and on-demand customer parts for professionals and consumers. The company has a market value approaching $10 billion, but revenue is only set to reach $515 million in 2013. Even more concerning is the stock price sitting near $100 and earnings per share likely to not even reach a $1. The stock has even gained so much in the last few months that the chart below even shows it out of touch with fellow competitor Stratasys (NASDAQ:SSYS).
New Report Suggests Steady Growth
The key takeaway from a new industry report is that the 3D printing sector is likely to continue growing at a 20% annual growth rate. Industry experts Wholers and Associates continuously list the growth rate closer to the mid-20% range, but the importance is the rate of change in the forecast. In the table below, Freedonia continues to forecast roughly the same growth through 2017 that occurred in the previous six years.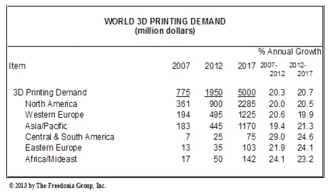 Scary Chart
With the 3D printing industry growing roughly at the same rate with no change in expectations, than the stocks in the industry should contain some level of consistent valuation multiples. In essence, the stock should gain relatively at the same rate as the industry give or take a few points depending on market share gains. In the case of 3D Systems, the company itself lists 30% organic growth in the latest quarter while analysts forecast 29% revenue growth for 2014.
Those numbers are both solid and suggestive of a stock that would gain roughly 30% in a given year and not the 800% gains over the last two years. Well that's where the market has gotten carried away. The below chart highlights the scary and somewhat parabolic move in the enterprise valuation multiple of revenues. In a normal stock, the blue multiple on the chart would mostly trade sideways with a possible shift upwards from a multiple of 3x to 6x, but it should never go parabolic and increase from nearly 5x at the start of 2012 to reach 20x currently. This type of chart is a clear sign that investors are overpaying for current growth and in fact paying for years of growth to come.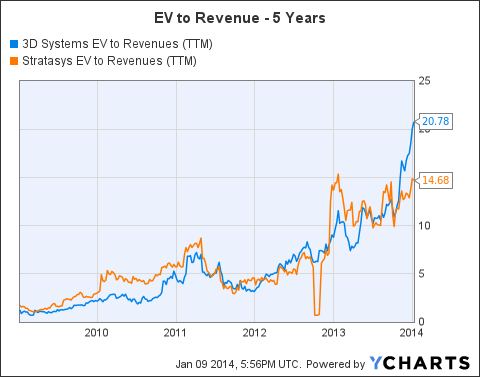 DDD EV to Revenues (TTM) data by YCharts
Investors need to remember that this chart highlights the excessive gains in the stock. Considering it factors in the revenue growth into the multiple, it shows a stock out of touch with reality. Do investors really expect the EV to reach a 25 or 30 multiple of revenue?
Conclusion
The parabolic nature of the chart should scare investors. 3D Systems needs three years of 30% revenue growth and zero stock gains in order to get the EV multiple of revenue back down to a still elevated 10x. Even more concerning for 3D Systems investors is that the ratio is now so far ahead of primary competitor Stratasys. If anything, Stratasys is the better value now, though the likely outcome is 3D Systems coming back to Earth with Stratasys remaining grounded at these levels.
The 3D printing industry remains in a fantastic bull mode, but investments typically don't end well at these lofty multiple.
Disclosure: I have no positions in any stocks mentioned, and no plans to initiate any positions within the next 72 hours. I wrote this article myself, and it expresses my own opinions. I am not receiving compensation for it (other than from Seeking Alpha). I have no business relationship with any company whose stock is mentioned in this article.
Additional disclosure: The information contained herein is for informational purposes only. Nothing in this article should be taken as a solicitation to purchase or sell securities. Before buying or selling any stock you should do your own research and reach your own conclusion or consult a financial advisor. Investing includes risks, including loss of principal.