Although there have been numerous articles and probably even more interviews with the talking heads on TV proclaiming that dividend investing is dead, we continue to get numerous questions from readers regarding dividends from commodity companies. Some of them pertain to how safe a company's dividend is or which dividend is a better buy. Since those questions continue to pile up we decided to address them today and do a quick rundown of some of the most popular ones and those which grabbed our attention.
Chart of the Day:
Oil prices had been trending lower in recent sessions, but they found support around the $91.50/barrel level and have since been moving higher, as this five day chart shows. As we said yesterday, we continue to watch the price action here closely.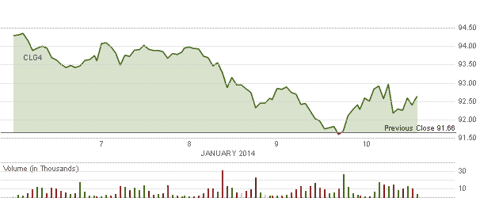 Click to enlarge
Source: CNBC
Commodity prices this morning are as follows:
Gold: $1,244.30/ounce, up by $14.90/ounce
Silver: $20.15/ounce, up by $0.467/ounce
Oil: $92.60/barrel, up by $0.94/barrel
RBOB Gas: $2.6613/gallon, up by $0.0187/gallon
Natural Gas: $4.084/MMbtu, up by $0.079/MMbtu
Copper: $3.342/pound, up by $0.043/pound
Platinum: $1,433.00/ounce, up by $13.10/ounce
Chesapeake or Devon?
One of the questions we have received numerous times, although worded differently and sometimes addressing more than just the yield, is which energy company out of Devon Energy (NYSE:DVN) and Chesapeake Energy (NYSE:CHK) is more attractive.
A quick overview shows that Devon pays a 1.40% yield while Chesapeake yields 1.30%. The initial argument given by many would be that Devon is the better pick for a dividend investor as it is safer and offers better upside. Looking at various metrics and the balance sheets of both companies that argument makes sense, plenty of sense. We would tend to agree if the person asking the question was simply seeking income because Devon does appear to be the safer pick and is in a much better position to raise its dividend in the years ahead.
Just looking at dividends the choice is obviously Devon, but if looking at total return we think that Chesapeake continues its outperformance and is the clear winner.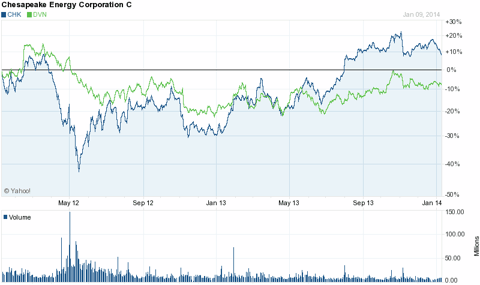 Click to enlarge
Source: Yahoo Finance
But it is not always that simple. Our pick, assuming that the person asking the question was seeking a mix of income and capital gains, would be Chesapeake Energy. The dividend may not appear to be as safe, but the company maintained it and continued to pay shareholders during a terrible cash crunch that forced the shares down into the low double digits. The company continues to develop its landholdings and the reinvention of the company to a liquids play from a dry natural gas play is really working.
So our answer is really two answers, and it absolutely depends upon which type of investor you are. For those seeking income, Devon is the name to play, however if one is seeking the best total return then we have to side with Chesapeake as they continue to increase production and cut costs.
Where Does Freeport's Dividend Go From Here?
Freeport-McMoRan (NYSE:FCX) has been a favorite of ours in the materials and E&P sectors. The company greatly expanded the balance sheet in order to close the two oil and natural gas acquisitions this past year and that has worried some. We have maintained our opinion that the company will be able to ride its oil, natural gas and copper production higher even as gold languishes. Investors have begun to believe this too as copper demand and prices have risen in recent months. Freeport-McMoRan has stated that they want to cut their debt load considerably and will explore selling some assets in order to pay down debt and better manage cash flow.
It seems that most of the fear here is that the gold production is going to hurt the company and create a lot of red ink. Nothing to be worried about in our opinion as this is a diversified name now. Instead, we would focus on the repayment of that debt and the cash flow that will free up in order to repurchase shares and increase the company's already healthy 3.50% dividend. The yield may decrease as the stock price increases at a faster rate than the increases to the dividend but we think the dollar amount of the dividend shall rise from here, more so if the company sells off non-producing assets.
After Their Respective Runs, Exxon Or BP?
We have received this question numerous times posed in a total return format. BP (NYSE:BP) obviously pays the larger dividend, but ExxonMobil (NYSE:XOM) has done well over the years in returning cash to shareholders. Our call on Exxon was due to its low price and the fact that the dividend was about 3% which simply highlighted the value proposition at the time.
Look for BP to outperform ExxonMobil as ExxonMobil consolidates its recent gains.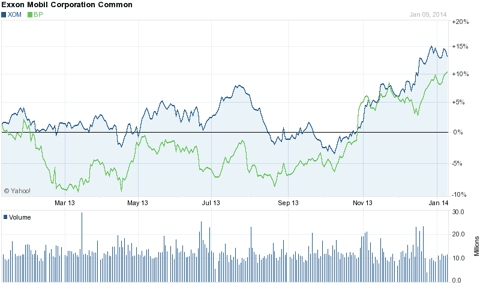 Click to enlarge
Source: Yahoo Finance
Similarly, we were attracted to BP due to its high dividend and the fact that shares had moved little due to the overhand of the Gulf of Mexico fiasco. Our view was that the dividend provided cover in the short-term and that the company would be able to continue to sell off assets in order to pay for their transformation and any new litigation costs.
After the recent increase in both companies' stock prices we think both names have further to go but are inclined to think that BP is the better play moving forward. Natural gas is going to be a bit of a drag on ExxonMobil shares, even with their shift towards liquids production in their shale plays and BP has the potential to move higher with a litigation win. Also in BP's favor is that much of the value in ExxonMobil shares was realized when it was revealed that Warren Buffett had purchased Exxon shares recently. We continue to like both names, but looking back at our original analysis and the price action we are inclined to think that BP has the most upside left.
Disclosure: I have no positions in any stocks mentioned, and no plans to initiate any positions within the next 72 hours. I wrote this article myself, and it expresses my own opinions. I am not receiving compensation for it (other than from Seeking Alpha). I have no business relationship with any company whose stock is mentioned in this article.