Editors' Note: This article covers a stock trading at less than $1 per share and/or with less than a $100 million market cap. Please be aware of the risks associated with these stocks.
By Dee GIll
Power company TECO Energy (NYSE:TE) doesn't want to run coal mines any more, considering the high cost of regulation and the real question of whether coal will ever be a welcome fuel again. But the company also doesn't want to sell a big chunk of its business at the bottom of a market. So it's holding on to coal for now, in hopes that some sea change in coming years will make these assets more attractive to buyers.
This, in a nutshell, describes both the risk and the opportunity for investors who latch on to TECO's enticing dividend yield. Coal holdings help depress TECO's share price.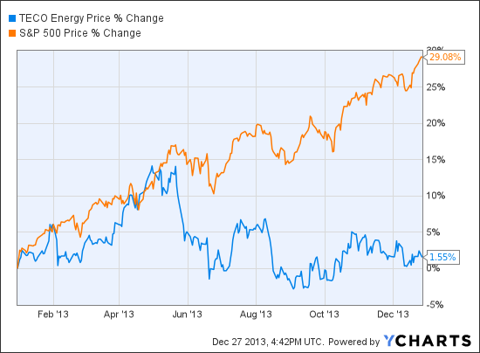 If TECO is wrong about a better coal market ahead - if the company gets stuck with coal in a continuing anti-coal environment - its share price surely could fall. Shares of coal companies with less diversified holdings, like Peabody Energy (BTU), Arch Coal (ACI), James River Coal (JRCC) and Alpha Natural Resources (ANR), suffered huge losses this year.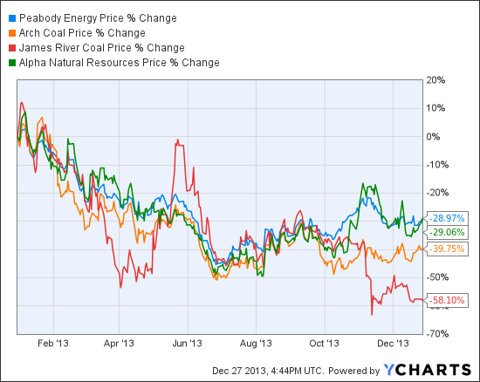 That chart reflects the lack of optimism in the market for coal's prospects. YCharts explained some of the regulatory issues facing coal companies and the risk in buying coal shares.
But if TECO sells out of coal, its shares and its dividend become a much more predictable and marketable investment. TECO escaped such losses because non-coal operations typically produce about 80% of its earnings. TECO owns regulated gas utility People's Gas in Florida, and a recent acquisition of New Mexico Gas will increase gas customers by about 50%. It also owns Tampa Electric, which just won a rate case that locks in higher-than-average returns on equity for several years.
Some investors believe recovering factories in Europe will push coal prices higher next year, which perhaps would give TECO the kind of demand it needs to solicit a good price for its coal operations. A rise in natural gas prices could do the same, sparking demand for coal as a cheaper alternative. The Henry Hub Natural Gas Spot Price chart is the metric to watch.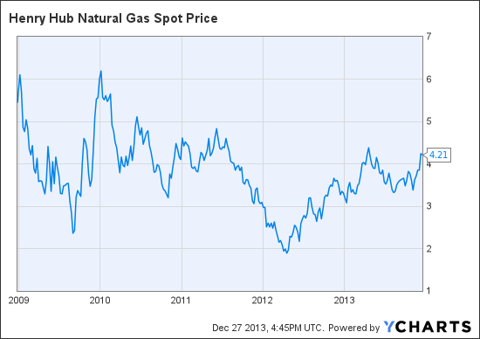 Henry Hub Natural Gas Spot Price data by YCharts
TECO gets a Three-Rolaids rating on the YCharts Dividend Stress-o-meter, a bogus device that uses serious fundamentals analysis to measure risk in big dividend stocks. Most stocks with large dividend yields create the need for at least a little antacid, because high yields often come from troubled or slowing businesses. One-Rolaid investments are most likely to create only a low level of stress. Two-Rolaids investments have a higher potential for causing moderate anxiety. Three-Rolaids investments, like TECO, are most likely to create serious heartburn.

Disclosure: None.