Equity and most commodity markets started the week off on a slightly softer footing, with risk sensitive FX such as AUD/USD and AUD/JPY a little lower. The wire commentary has attributed this in part to fears of the impact a potential tightening of policy in China would have. But US stocks erased losses in the final hour as financial shares reversed declines, while consumer companies rallied on an analyst upgrade of Wal-Mart (NYSE:WMT) and PepsiCo's (NYSE:PEP) plan to return more money to investors. AIG (NYSE:AIG) erased a 2.7% slide after investor Bruce Berkowitz said he bought a stake in the bailed-out insurer. The big loser yesterday was Boston Scientific (NYSE:BSX) which traded down 15%+ as it halted sales of a defibrillator due to a regulatory filing error.
Earlier the market had focused on the worrying renewed weakness in the US National Association of Home Builders (NAHB) index of builder confidence, which fell to 15 from 17 (readings below 50 signal that most respondents view conditions as poor). The index of current single-family home sales declined to 15 from 17, while index of buyer traffic fell to 10 from 12 to stand at its lowest level in a year. The renewed softness of the NAHB index would seem to confirm the signal from US homebuilding stocks that the US housing market is currently going through a renewed rough patch. The renewed weakness in the US housing market indicates that the rebound in consumption may be at risk once the current boost from the fiscal stimulus measures starts to fade. In my view this only reinforces the importance of US labour market indicators over coming months, as it makes it even more imperative to see a solid pickup in employment outcomes (and hence household incomes) to sustain the recent improvement in consumption.
The highlight of today will almost certainly be the US Federal Reserve's one-day FOMC meeting, a report of which will be released tonight at 6.15 GMT. I do not expect any substantial changes to the statement at this point. Monetary policymakers have cited "low rates of resource utilization" along with muted inflation pressures as a justification for "exceptionally low levels of the federal funds rate for an extended period." The "extended period" phraseology has appeared continuously in the official FOMC meeting statements since March of last year. While I believe the Fed will remove this language at some point in the first half of 2010, I do not expect it just yet since the labour market data have not strengthened sufficiently. Watch out also for dissenters of the "extended period" lingo.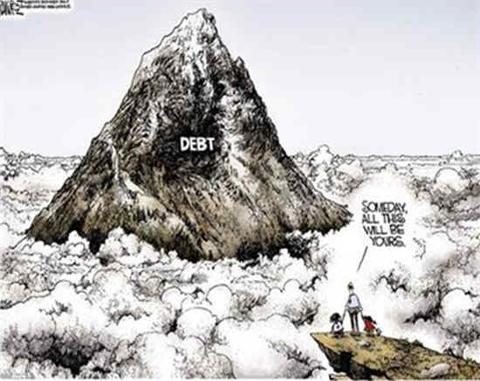 Click to enlarge
Today's Market Moving Stories
German investor confidence dropped less than expected this month as the ZEW Center for European Economic Research in Mannheim said its index of investor and analyst expectations slipped to 44.5 from 45.1 in February. Economists had expected it to fall to 43.5. The report aims to predict developments six months ahead.
US Senator Christopher Dodd unveiled legislation that empowers regulators to break up large financial firms, ban proprietary trading and oversee hedge funds and derivatives, aiming to enact the most sweeping rules overhaul since the 1930s. Dodd would let the Federal Reserve force firms to divest holdings if they pose a "grave threat" to the economy, make hedge funds overseeing more than $100 million register with regulators and require central clearing for derivatives. "Companies simply shouldn't be that big or that complex," Dodd, a Connecticut Democrat who leads the Senate Banking Committee, said. "And we will discourage that through the new capital requirements and other strong supervisory protections." Expect a frenzy of lobbying for the banks to attempt to further dilute as even in this mildly watered down form it bad news for equity holders in large financials.
Overdue US credit card bills fell in January for the second straight month as top issuers JPMorgan Chase (NYSE:JPM) and Bank of America (NYSE:BAC) posted declines, Moody's said. Loans up to 180 days late, a signal of future write-offs, dropped to 5.97% last month from 6.09% in December. Write-offs of loans deemed uncollectible surged to 11.15%, from 10.32%.
Chinese Commerce Ministry spokesman Yao Jian told a news conference that "if the exchange rate issue is politicized, then in coping with the global financial crisis this will be of no help in coordination between the parties involved." Yao added that "the [Chinese] trade surplus is not caused by the CNY exchange rate. The trade surplus is an outcome and phenomenon of globalisation. It will exist for a time."
Japanese Finance minister Naoto Kan stated that stable currencies are necessary and that the government will act if they are "abnormal," Kan also said that "currently there are about JPY 100trn worth of foreign reserves, and I think we should look into whether that amount is appropriate… It's a fact that the reserves are yielding some levels of investment gains, so in some respects, we are managing to capitalize on them."
The Telegraph writes that "early drafts of the European Commission's assessment of the UK's public finances show that Brussels will urge the Treasury to put together more ambitious debt reduction plans." The report will also urge the Treasury to publish "the detailed departmental spending limits underlying the overall expenditure projections" for the coming years.
Banks have increased their appetite to lend to UK's commercial property sector but they are constrained by the lack of good quality buildings they can invest in, real estate advisor Savills said. The company said that 21 lenders are willing to provide more than £30 million for a transaction of UK commercial property but that scarcity of good quality lending opportunities is holding back lenders from realising their ambitions.
Euro auto sales rose 3% in February a sharp drop in trend from the previous three months as German sales fell 30% in the month with France (+18%), Spain (+47%), Italy (+20%) and the UK (+26%) compensating. Sales in France and Italy remain at very elevated levels on an historic basis. Unsurprisingly, therefore, Renault (OTC:RNSDF) (+2.3% in market share terms), Peugeot (OTCPK:PEUGF) (+1.9% share) and Fiat (FIATY.PK) (+0.2% share) were the main beneficiaries, whilst VW (OTCPK:VLKAF) (-1.1% share) and Daimler (DAI) (-0.3% share) were the main losers in terms of market share this month.
Qatar's oil minister does not expect OPEC to make any fundamental change in output at its next meeting tomorrow. "I think the decision would be to extend OPEC's current decision, and a decision on close monitoring of the oil market would be taken." Oil prices between $70 and $80 a barrel are "almost perfect" and may promote investment to increase energy supplies to meet global demand, Saudi Arabia's Oil Minister Ali al-Naimi said. "This kind of a price will help the decision to invest and keep the world supplied with the energy they need for their growth."
Bleak Outlook From IMF On US Debt
The IMF just issued a report laying out different scenarios for US debt. At first view, the fiscal outlook the IMF lays out for the USA is bleak: "Adjusted to reflect the IMF staff's economic projections, the FY 2011 budget proposal would push federal debt held by the public to about 105% of GDP by 2020." Yet: "Aging and health related spending are not the key drivers of this debt build-up…Under the IMF staff's current economic projections, a primary fiscal adjustment of about 3.5% of GDP would be needed to achieve a debt level of about 70% of GDP in 2020." Thus: "With nondefense discretionary expenditures near historical lows and significant cuts in mandatory spending programs hard to achieve in the near term, most of the burden would need to fall on revenues," especially given that "there are no well-understood and easy solutions to the problem of curbing health care costs – the most important factor in long run fiscal spending." The IMF pleads for strong leadership now, before population aging aggravates an already difficult challenge.
A Possible Attack On Iran Coming Soon
Lots of chatter today of a possible US attack on the horizon on the back of an article: "Is The US Preparing For The Total Destruction Of Iran" in The Herald and a number of others including Zerohedge's "Final destination Iran."
Hundreds of powerful US "bunker-buster" bombs are being shipped from California to the British island of Diego Garcia in the Indian Ocean in preparation for a possible attack on Iran, the Sunday Herald revealed. According to a cargo manifest from the US navy, this included 387 "Blu" bombs used for blasting hardened or underground structures. Experts say that they are being put in place for an assault on Iran's controversial nuclear facilities. There has long been speculation that the US military is preparing for such an attack, should diplomacy fail to persuade Iran not to make nuclear weapons. Although Diego Garcia is part of the British Indian Ocean Territory, it is used by the US as a military base under an agreement made in 1971.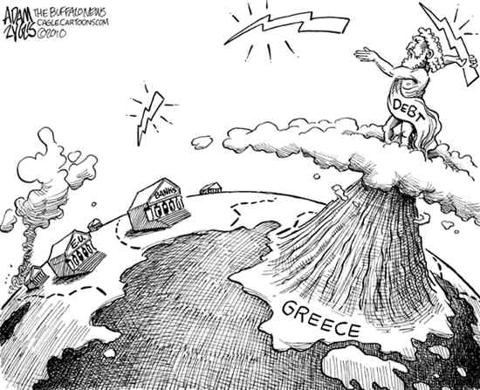 Click to enlarge
The Latest in the Greek Saga
The preparatory deal is done – or is it? Different news organizations have different takes on what happens this morning. Some report that there is an agreement in principle (but then, we have had an agreement in principle since Feb. 11). What is new is that any aid to Greece will not come in the form of loan guarantees, as has frequently been reported, but in the form of straight loans.
Der Spiegel has a different take. It writes that it looks a deal, but it is not. The agreement does not say anything more concrete than the European Council's statement on February 11. All the technical details have yet to be agreed on. Der Spiegel says this is not really a deal, but a failure to agree a deal, dressed up as a deal. The article makes the point that continued procrastination is not going to make the situation any easier.
Company News
This year will be "pivotal" for investment banks amid expected declines in underlying revenues and regulatory changes in the industry, Morgan Stanley said. The brokerage raised its share price estimates for Barclays (NYSE:BCS), BNP Paribas (OTCQX:BNPQY), Deutsche Bank (NYSE:DB), UBS (NYSE:UBS) and Credit Suisse (NYSE:CS), saying "capital providers are likely to take a greater share of industry profits."
Reports in the Daily Mail suggest that Vodafone (NASDAQ:VOD) might sell its stake in Verizon (NYSE:VZ) Wireless with Verizon's stake in Vodafone Italy being part of the consideration. This is a perennial rumour – the main barrier to which apart from agreeing on a price is Verizon raising the necessary cash. In the event of a deal, which I think is unlikely at this point, Vodafone would likely return proceeds to shareholders with little upside for credit investors.
Motorola (MOT) announced yesterday that they would split their phone handset business from their infrastructure business heralding potentially the last significant stage in consolidation in the phone equipment business. The clear intention is for the Motorola network equipment business to either be acquired of from a joint venture with another major operator. There are four major suppliers globally.
Daimler and Renault are discussing acquiring mutual equity stakes as part of a possible alliance that would go beyond their current talks on small cars, according to two people briefed on the matter. If the talks are successful, the German and French carmakers would take stakes in each other as part of a longer-term framework for co-operation. The talks appear to have been long-running.
Intel (NASDAQ:INTC) said it already has shipped more than 100,000 units of its Xeon 5600, a server chip that officially goes on sale today.
Royal Bank of Scotland (NYSE:RBS) may buy back at least £10bn of its debt in a balance sheet restructuring plan to boost its capital strength. The details of the plan are still being decided on and the bank is expected to announce the program within two weeks. RBS would buy back the debt at a premium to current prices.
And Finally… Boyfriend With Health Benefits

Disclosures: None