Introduction From the Canadian Oil Sands (OTCQX:COSWF) website:
Canadian Oil Sands is a pure investment opportunity in light, sweet crude oil. Through our 36.74 per cent interest in the Syncrude project, we offer a solid, robust production stream of fully upgraded crude oil, exposure to future crude oil prices, potential growth through high-quality oil sands leases and an attractive dividend.
Investment thesis: I believe the Canadian Oil Sands' (from here on COS or the company) stock is an excellent long opportunity, of the kind that is difficult to find in today's frothy market, for the following reasons:
1. Cash flow is about to free up. Capital projects are ahead of schedule and nearing completion. Capex should drop off in 2015, freeing up cash flow for dividends, debt repayment and acquisitions.

Presented graphically, projected CAPEX looks like this: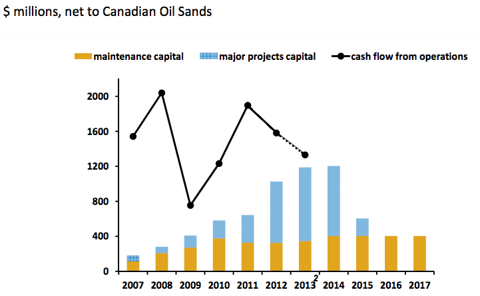 Free cash flow is represented by the space under the black line (cash flow from operations) but above the line connecting the maintenance capital + major projects capital columns. Once the major CAPEX is done, the columns will get much shorter and the space between the black line and the column tops will get much wider.
2. Syncrude trades at prices similar to WTI/Brent. Syncrude does not suffer from a heavy discount that plagues Western Canadian oil or bitumen. Again, from the recent company presentation: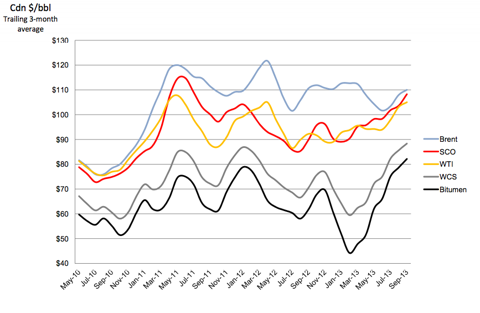 3. No exploration risk and long life of reserves. The Syncrude project has about 40 years worth of proved plus probable reserves, for which it does not have to search. With contingent resources, that figure is closer to 90 years. This reserve life calculation assumes current production rate (the Syncrude project is guiding 95-110 million barrels per year for 2014). From the recent company presentation: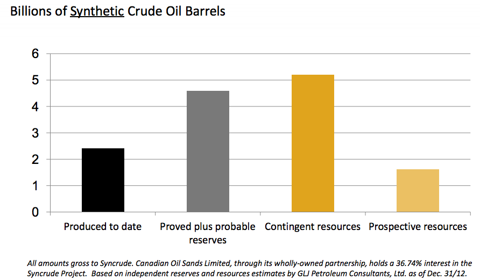 4. Juicy dividend yield. The company currently yields about 7%. Once the CAPEX is done in 2015, the dividend should become sustainable, with a possibility of increase. From COSWF 2014 guidance document:
The above is on the annual basis. If we subtract projected maintenance capital of about $400 million CAD per year, free cash flow per share will be about $1.56 CAD per year. The dividend is $0.35 CAD per quarter = $1.40 CAD per year. The dividend will be covered, with a payout ratio of about 90%. This is fairly high; however, should cash from operations return to 2011-2012 levels, the dividend coverage will improve.
5. Private market value implies significant upside. In 2010, China Petrochemical, the Beijing-based company known as Sinopec Group, bought about 9 percent of oil-sands producer Syncrude through its unit Sinopec International Petroleum Exploration & Production Co. They paid $4.65 billion USD to ConocoPhillips (NYSE:COP) for their stake. Given that COS owns 36.74% of the Syncrude project, its private market value could be reasonably assessed at about $19 billion USD. The current enterprise value of COS is about 9.4 billion USD, which implies approximately 50% upside.
6. Capable operator in Exxon Mobil (NYSE:XOM). During the 2013 Suncor (NYSE:SU) (one of the Syncrude co-owners) investor day, CEO Steve Williams had the following to say (emphasis mine):
So the question was, can you comment on your expectations for Syncrude reliability improvements over the coming few years, what is the main focus for improving this project?

I mean the first thing I would say is oil sands are one of the core scales that we have in the company, since we've become owners, we've been working very closely with the only other owners of backed project, all of us are satisfied with the rate of progress in terms of the reliability and asset performance over the last few years.

The operator in Exxon is a very capable operator. In fact they wrote the original book on operational excellence and how to execute it. There are some specific issues around oil sand which mean you have to take a global model and flex it in order to be able to get the rates improvements that Mark's been getting up there.

So, we're working very closely, we're working very closely with Exxon, very closely with Imperial to make sure we pool our knowledge and that the reliability of that asset comes up. I'm very encouraged by what I'm seeing, I think we're working on all the right basic underlying issues in it and I think we will start to see that asset performance improve and of course what the [indiscernible] offset is until that happens will not grow that and I think as we start to operate it well than the opportunities for further development may start to appear.
I think that if anyone in the world can make the Syncrude project run smoothly, the current team can.
7. Minimal geopolitical risk. Canada is not a dictatorship like Venezuela, is not war-prone like Iraq and has strong property rights, unlike Russia. Also, Canada is under implied protection from the US. Syncrude project is a very safe asset to own.
8. Cheap operating cash flow. Inexpensive relative to free cash flow when excluding non-maintenance capital. The current TSE:COS trading price of about $20 CAD is just under 13 times projected 2014 free cash flow per share of $1.56 CAD (having excluded non-maintenance capital). One can buy COSWF while being aware that these are less liquid - consider using limit orders.
9. Underfollowed by the investment community. If Seeking Alpha is any indication... The following companies had articles written about them on Seeking Alpha:
| | |
| --- | --- |
| Company name | # SA articles 10/1/2013 - 1/1/2014 |
| Exxon Mobil | 50 |
| ConocoPhillips | 25 |
| Suncor | 9 |
| COS | 2 |
Canadian Oil Sands appears at least somewhat underfollowed compared to some of its peers. Sometimes, being ignored prevents the price from running up. Should investor awareness increase, the price may follow.
10. New CEO. Mr. Ryan Kubik just succeeded Marcel Coutu as CEO. This is a bit speculative, but something tells me he is going to take his first CEO job quite seriously and do the best he can. What can the new CEO do besides operational excellence?
1. Build or buy a refinery.
2. Announce a Normal Course Issuer Bid and buy back some shares.
3. Increase dividend.
4. Buy more assets.
Of course, nothing is ever perfect and there is some risk:
The company is heavily levered to crude oil prices. This means upside from rising oil price but also downside should the price fall.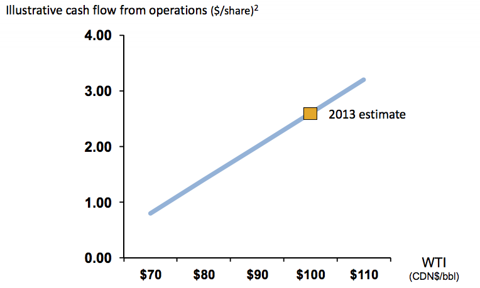 Still, it appears that as long as crude oil stays above $85-90 CAD per barrel, the dividend should be safe.
What can an investor do to mitigate the risk? One can buy a refinery, such as Phillips 66 (NYSE:PSX).
Conclusion: I believe COSWF represents an attractive investment opportunity for those willing to wait for the CAPEX to taper off and get paid to hang in there.
Disclosure: I am long COSWF. I wrote this article myself, and it expresses my own opinions. I am not receiving compensation for it (other than from Seeking Alpha). I have no business relationship with any company whose stock is mentioned in this article.