St. Patrick's day celebrations have already been in full swing in Ireland, leading up to the big day this Wednesday. The Irish would never let any economic difficulty get in the way of a good party, but this time they are badly in need of something to celebrate.
Ireland has been among the nations hardest hit by the global recession. The Economic and Social Research Institute forecast a 14% fall in GDP from peak to trough. Unemployment has risen from 4% to 13% and retail sales fell by 15%.
Ireland was badly hit in the financial crisis because the economy had become overweight in real estate and construction. Home building had reached 13% of national output, a higher proportion even than Spain. Home prices rose 400% from 1995 to 2007. Consumption spending fed off home values, competitiveness fell and the trade deficit started growing. When the bust came, Ireland not only experienced a collapse in real estate but also a banking crisis and all that goes with it.
The OECD has recently reported that they see the long term impact on Ireland's economy as possibly the worst in the world.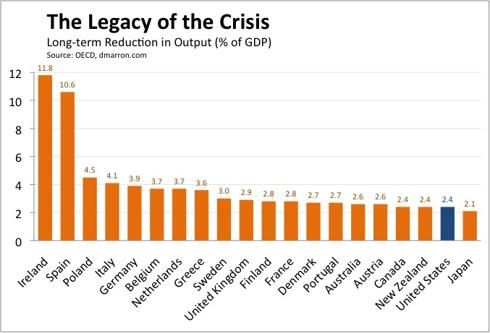 Click to enlarge
(Click to enlarge)
The OECD identifies long term falls in output due to increased cost of capital and reductions in employment. In Ireland's case, the huge loss of output is largely due to a reduction work force. The construction boom in the country drew foreign workers in large numbers. Many of these workers have since left, and the declining tax base has exposed a structural budget deficit.
For many commentators, Ireland's predicament has put them in the same category as the PIGS: Portugal, Ireland, Greece and Spain. Falling tax revenues have meant that the government had no other option than to implement savage spending cuts. Membership of the euro means that currency devaluation can not be used to improve competitiveness. The PIIGS face a crisis similar to that faced by countries on the gold standard during the Great Depression.
In my view, while Ireland's problems are severe, they are in a better place than that of the PIGS. What sets them apart is their capacity to respond to the crisis.
While Greece has been paralyzed by strikes and demonstrations, Ireland has been able progress with the business of internal devaluation. Although there have been some strikes, the government has succeeded with instituting nominal wage cuts for public sector workers of up to 10%, as well as passed cuts in welfare and other entitlements. Meanwhile, anecdotal evidence suggests that wage cuts of 10-15% are common for private sector workers. This actions helps Ireland to get in front of its EU competitors in the race to improve competitiveness.
Ireland is also able to fall back on its traditional strength. Before it got into trouble with real estate, Ireland built its economy on foreign direct investment (FDI) and its associated exports. FDI came mainly from the US. The list of US businesses invested in Ireland reads like a who's who of high tech, software and growth companies.
The good news is that FDI shows signs of revival. According to the UN Conference on Trade and Development, after collapsing to a net outflow of $20 billion in 2008, foreign investment into Ireland amounted to $14 billion in 2009. This was achieved against a background of continuing global decline. Worldwide, FDI fell by 39% in 2009 and Ireland was one of only six countries that achieved any increase in FDI at all.
The reason that Ireland attracts strong inward investment includes high educational standards, the use of the English language, tax incentives and strong ties to the US. The adoption of the euro has also proved very important for the country. Unlike the other PIGS, the euro is central to the business model of Ireland. Multinational companies use Ireland as a way into the European continent. That means that, while other PIGS may end up leaving the eurozone, Ireland will not.
No one can doubt the enormous challenges facing Ireland, but equally if there is a sustained global recovery, there can be no doubting the boost that Ireland will get. As with other exporters, like Vietnam, it is geared towards global recovery. Its exposure to increasing global investment and its high ratio of exports to GDP, mean that it will be sensitive to global growth.
This could be good news for the Irish stock market. As a whole, the market now trades at about 30% of the value reached in 2007. In comparison, the S&P 500 recovered to nearly 75% of its pre crash level. It will be a long time before the Irish market recovers to its 2007 levels, but it does seem that there is potential value there.
One way in is to buy the New Ireland Fund (NYSE:IRL), which holds a portfolio that includes most of the large capitalization Irish stocks. This fund trades at under 20% of pre crash levels. For those that believe in buying low, this may be the way to do it.
I will watch the Irish market, and as a first step I have bought two oil stocks. Surprisingly, for a country with little oil, the Irish market has provided me with two of my most successful oil investments. I have recently re-established stakes in both.
Dragon Oil (OTCPK:DRAGF), which is one of the stocks owned by IRL, operates from offshore Turkmenistan, in the Caspian Sea, where it has proved and probable oil reserves of 645 million barrels and 3.2 trillion cuft of gas. The market valuation does not reflect the long term opportunity, particularly given the strong cash generation and $1 billion in cash on the balance sheet.
Tullow Oil (TUWLY.PK) could almost be used to define the term "luck of the Irish." In 2004 it drilled 27 wells in the Lake Albert region of Uganda and found oil in 26. The good run hasn't stopped since. In 2009, it achieved an 87% exploration success rate. The group now has a portfolio with a total resource potential of 2.8bn boe.
My recent strategy has been to scale down my holding of highly valued, emerging market stocks and to increase my holding of better value stocks that are exposed to emerging market growth. These two stocks fit in to that plan.
For Ireland, more generally, I will wait and see. If the world economy recovers strongly, Ireland will reflect that growth. That, in itself, is reason enough to wish them good fortune, so on Wednesday, I will be raising a glass of green beer and wishing good luck to Ireland.
Disclosure: Author long Dragon Oil, Tullow Oil and S&P 500