Cape Bancorp, Inc. (NASDAQ:CBNJ) is the holding company for Cape Bank. It is headquartered in Cape May, New Jersey, and has 15 branches in the surrounding area of Cape May and Atlantic County, New Jersey. These branches are in key Atlantic Ocean resort areas such as Cape May, Atlantic City, Somers Point, Wildwood and Ocean City. The company also has commercial loan offices in Atlantic City, Cape May, Mount Laurel and Radnor, PA.

Cape Bancorp, Inc. is currently selling around $10.30 per share. It pays $0.24 per share dividend, which offers a 2.4% return at the current price. This represents a 44% payout ratio on its current earnings. The current book value of the bank is $12.10 per share, which means that the bank is selling at a 16% discount to book. There is one concern and that is the company's price earnings ratio. At 25, it is much higher than many other banks. This concern is mitigated by growing profits and the possibility of growing profitability as interest rates rise.
The company recently announced that the board of directors has authorized a third stock repurchase program of up to 5% of its outstanding common shares. The board authorized this third stock buyback since the two other buybacks have been completed in the past 2 years and the company still has additional capital. In other news, Cape Bancorp was issued a strong buy by Zacks on January 6. The Street Ratings also rate CBNJ a buy with a target price of $11.83. S&P does not rate the company and Ford Equity Research has a hold on the company. Barron's also noted in December that CBNJ looks downright cheap even in the current banking environment.
Two directors of the company have purchased 85,700 shares of the company through November and December of last year. The majority of these shares were purchased by Patriot Financial Partners, which has a director, James J. Lynch, who has been on the board of CBNJ since 2009. Mr. Lynch is the founder and managing partner of Patriot Financial Partners and has over 40 years experience in the banking sector. According to Patriot, it purchases shares in community banks, thrifts and financial service companies in the US and is only interested in companies that have strong management teams with successful track records. The firm aims to provide a superior risk-adjusted return through control and non-control investments.
Below you can view last year's stock chart from Interactive Brokers.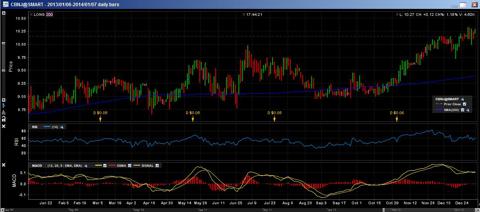 While there has been some price appreciation in CBNJ's stock recently, it is reasonable to expect another 10% -15% increase in the stock price considering the company's discount to book. The attention and advice that CBNJ is getting from Patriot Financial Partners should enhance profitability and visibility. These factors along with independent rating companies touting the company as a buy should propel the stock price to book value if not more.
There also is the possibility of a takeover by another bank. In that case, one could expect a 25% - 35% increase in the valuation of the stock. CBNJ has offices in prime resort locations that would enhance the geographic position of many regional banks. Patriot Financial Partners has connections with other banks that might be interested in these locations and would benefit from a takeover since it owns about 10% of the stock.
In the meantime, while one waits for price appreciation to occur, one collects a 2.4% dividend. While this is not the best paying bank stock, the very real possibility of capital gains in the future may make this investment a medium-term winner. On the other hand, if one were an owner of this stock and noticed sales of shares by Patriot Financial Partners, it would be an adverse signal. Recent activity has shown increases in share ownership by Patriot, however if that were to reverse, it would indicate that something has gone wrong and it would be time to sell and get out.
Disclosure: I am long CBNJ. I wrote this article myself, and it expresses my own opinions. I am not receiving compensation for it (other than from Seeking Alpha). I have no business relationship with any company whose stock is mentioned in this article.