Gold dipped to $1,101.15/oz in early US trading before recovering to close with a gain of 0.37% despite continuing dollar strength. It rose in Asian trading and has range traded from $1,109/oz to $1,113.50/oz so far in European trading this morning. Gold is currently trading at $1,114.00/oz and in euro and GBP terms, gold is trading at €813/oz and £739/oz respectively.
Gold may challenge resistance at $1,119/oz and above. Technical support is at $1,100/oz, and recent action is leading to increasing confidence that gold will remain above the psychological level of $1,000/oz for the foreseeable future.
Asian equity markets were mixed, but Europe has gotten off to a positive start. Markets await the FOMC's statement later today, which should provide more definite direction. Debate is heating up within the Federal Reserve over how and when to signal that the days of record-low interest rates are numbered. Federal Reserve Chairman Ben Bernanke and his colleagues may soon communicate subtly that higher rates are coming once the economic recovery is on a firmer footing. There is a growing realization that Fed policymakers will soon need to start increasing rates in order to head off inflation and protect the value of the dollar and the country's credit rating.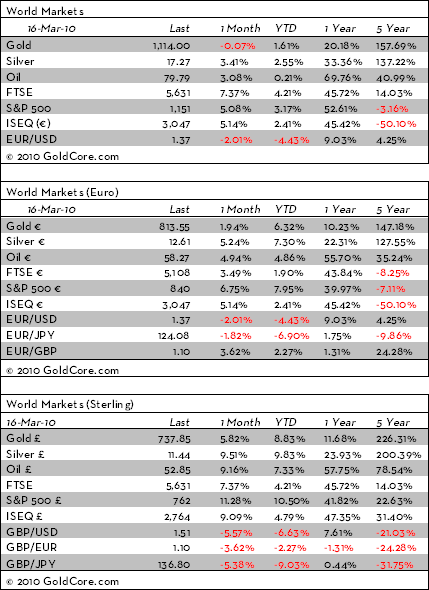 In the short term, an increase in interest rates could be negative for gold. But in the medium to long term, rising interest rates are likely to be as positive for gold as they were in the 1970s. When interest rates return to more normal levels (above 5%), then gold will be vulnerable to a correction as savers and bondholders become enticed by higher yields.
We are a long way from there yet, and gold is likely to be correlated with rising interest rates and will only fall towards the end of the interest rate hiking cycle. It is worth remembering that the 1970s gold bull market only ended with interest rates close to 20%. Also, rising interest rates are not positive for equities, property or volatility, and further falls in these asset classes could lead to further safe haven demand for gold.
Silver has range traded from $17.14/oz to $17.28/oz this morning in Asia. Silver is currently trading at $17.27/oz, €12.61/oz and £11.46/oz.
Platinum Group Metals: Platinum is trading at $1,626/oz and palladium is currently trading at $465/oz. Rhodium is at $2,535/oz.
Disclosure: No positions