By David J. Phillips
Almost four years after President Obama signed legislation creating a framework for FDA approval of less expensive, follow-on biologics, called biosimilars, manufacturers like Teva Pharmaceuticals (NYSE:TEVA), Mylan (NASDAQ:MYL), and Sandoz, the generic division of Swiss drug maker Novartis AG (NYSE:NVS), are having no more success in accessing U.S. markets for recombinant proteins and monoclonal antibodies (MAb) than they did in prior years.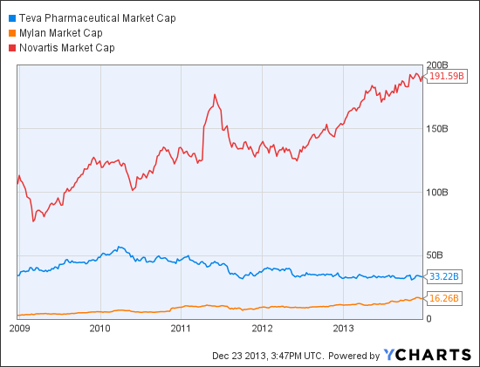 TEVA Market Cap data by YCharts
Though less-expensive biosimilars are being rolled out in Europe and elsewhere around the globe, regulatory hurdles coupled with legislative and judicial setbacks encountered this year in the U.S. will limit generic competition - good news for companies with expiring patents on multibillion drugs, such as Johnson & Johnson (NYSE:JNJ), Amgen (NASDAQ:AMGN), Roche (OTCQX:RHHBY) and AbbVie (NYSE:ABBV).
In recent weeks, YCharts has reported on the competitive positions of major biologic drugs, which are big sellers and tend to underpin the stock prices of their manufacturers: J&J's Remicade; J&J's future prospects after competition is unleashed against the drug and others; and the multi-billion-dollar rheumatoid arthritis drug market generally.
On November 30, 2011, Pfizer (NYSE:PFE) lost patent protection in the U.S. for Lipitor (atorvastatin), a lipid-lowering drug that was generating more than $8 billion in annual U.S. sales. Data from analytics firm, IMS Health, showed that the branded drug's share of the "statin" class fell in just one week from 20.9% to 9.7% due to generic intrusion. Unlike atorvastatin and other small-molecule drugs, however, companies are finding that biological entities are more than simple duplication of straightforward chemical processes.
Recombinant proteins, like Amgen's red and white cell boosters Aranesp (darbepoetin alfa) and Neulasta (pegfilgrastim), are chemically engineered by manipulating molecules of biological (living) origin; monoclonal antibodies, such as AbbVie's best-selling, tumor necrosis factor (TNF) inhibiting anti-inflammatory Humira (adalimumab), are made by immune cells that are clones of a unique parent cell (again, of living origin).
In addressing the approval pathway for biologics, draft guidance issued by the FDA has recognized that similarity and comparability are two distinct concepts. Whereas, atorvastatin contains zero amino acids, the immunoglobin-G (IgG) antibody contains about 1,300 amino acids. Additionally, biologics are manufactured in complex processes from living organisms.
A small-molecule generic is deemed interchangeable (substitutable) and similar to a branded, small-molecule drug if it demonstrates bioequivalence: time to reach analogous concentration in the bloodstream. Manufacturers are not required to replicate the extensive clinical trials that have already been used in the development of the original therapy, saving millions in R&D costs. Compare the R&D of generic houses Mylan and Activis (ACT) to that of biotech giants Amgen and Gilead Sciences (NYSEARCA:GLD):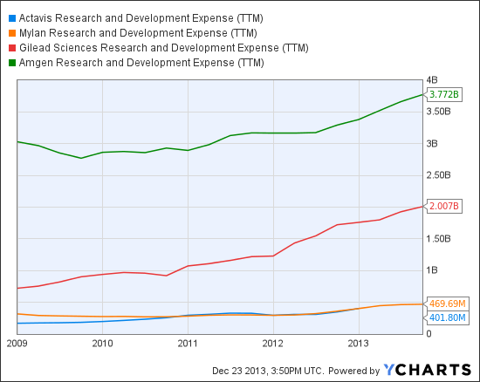 ACT Research and Development Expense (TTM) data by YCharts
U.S. health regulators intend to use a "risk-based, totality-of-the-evidence" approach to evaluate all available data and information submitted in the approval process for proposed biosimilars (on a case-by-case basis). For a follow-on biologic to be deemed "biosimilar" or to achieve "biosimilarity," data must be produced to show that the biological product (a) is "highly similar" to the reference product "notwithstanding minor differences in clinically active components"; and (b) exhibits "no clinically meaningful differences" relative to the reference product in terms of safety, purity, and potency.
Unlike small molecule drugs, a biosimilar is considered to have a new "active ingredient" compared to the reference product. Consequently, the pathway for biosimilar approval requires comparative clinical trials to show biosimilarity.
Further, the FDA will only grant interchangeability if the would-be biosimilar demonstrates the "same" clinical results (non-inferior) and safety "in any given patient" as the reference product - resulting in trials that can cost upward of $250 million.
The complex manufacturing processes (sites which also require FDA inspection) and high cost of clinical trials have proven to be significant barriers to entry. Hospira (NYSE:HSP) and Teva halted late-stage development of follow-on versions of Roche AG's monoclonal antibody Rituxan (rituximab) -- $3.1 billion in domestic sales, trailing 12-months - due to rising R&D costs.
Similar to strategies used to delay entry of small-molecule patent challenges, biotechs are employing the judiciary system to block early market entry of biosimilar competitors too. In a preemptory move last month, Amgen thwarted an attempt by Novartis' Sandoz division to invalidate the former's U.S. patents - that had extended market exclusivity out to 2028 -- on its TNF inhibitor Enbrel (etanercept), a $4.3 billion (trailing 12-month U.S. sales) treatment for rheumatoid arthritis and other autoimmune diseases.
Amgen and Roche are also lobbying state legislatures to pass bills that would restrict the ability of pharmacists and managed-care organizations to substitute generic versions of follow-on biosimilars for branded products, arguing such statutes are necessary for safety reasons. Though California Governor Jerry Brown vetoed such a bill in October, the tactical battle for delay continues in other states.
Notwithstanding regulatory, judiciary and legislative hurdles, the pathway to commercial success is fraught with execution risks, too. On November 11, Israeli-based Teva launched one of the first generic incursions onto American pharmacy shelves: Granix (tbo-filgrastim), a therapy for chemotherapy-induced neutropenia, which will compete with Amgen's white-blood cell booster Neupogen (trailing 12-month sales of $732 million in the U.S.). Despite this success in getting to market, however, immunogenicity concerns and the building of brand awareness will likely lead to further delays in physicians' uptake too.
David J. Phillips, a contributing editor at YCharts, is a former equity analyst. His journalism has appeared in Bloomberg BusinessWeek, Forbes, and Kiplinger's Personal Finance. From 2008 to 2011, David was a reporter for CBS News Interactive.
Disclosure: None