Many of the small capitalization stocks I picked last year performed well, as did the overall market. In this article, I am going to review my picks and explain why I think the risk/reward is fairly balanced in all but one.
| | |
| --- | --- |
| | Return From Original Recommendation* |
| Chembio (NASDAQ:CEMI) | -26% |
| Digirad (NASDAQ:DRAD) | 85% |
| Enzo Biochem (NYSE:ENZ) | 44% |
| Heska (NASDAQ:HSKA) | 30% |
| LipoScience (NASDAQ:LPDX) | 22% |
| MGC Diagnostics (NASDAQ:MGCD) | 47% |
| Trinity Biotech (NASDAQ:TRIB) | 60% |
*As of close 1/9/2014
Chembio
Chembio is the one small cap stock pick I had last year that did not post a positive return and that I believe remains significantly undervalued. Chembio is a company that manufactures and sells point of care diagnostic tests for infectious diseases. As you can see from the chart below, the company has grown its sales significantly and consistently since 2007. As you'll be able to see in the chart of the stock, it has not performed as well, especially over the past year.
Chembio is currently in a unique spot. While it is experiencing record sales and has a robust pipeline that could increase its top line exponentially, large customer concentration and uncertainty of the stickiness of those customers has largely been the culprit for the stocks underperformance in 2013.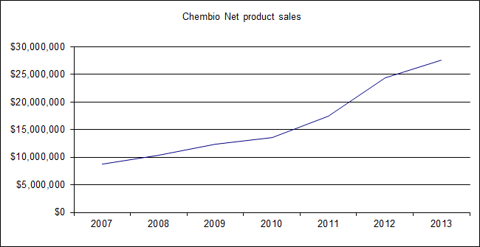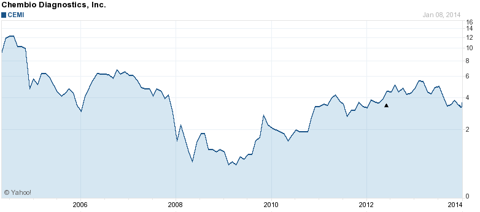 2014 should provide a host of catalysts for the company that could send the shares higher. The most important of them will be receipt of a CLIA waiver for the company's FDA approved oral fluid HIV 1/2 test. There is currently only one company that has a similar product (Orasure, OSUR). The market for this product is at least $35 million and could be more depending on how the company markets its product.
Additionally, in the second quarter of 2013, the company struck an important deal with Labtest, the largest domestically owned diagnostic company in Brazil. The deal specifies that Chembio will provide the technology to make the company's tests and Labtest will manufacture and market the tests in Brazil. Importantly, the agreement enables Labtest to manufacture tests for the company to sell in other countries. This is important for the company to enable it to be more price competitive in markets where cost is more of an issue than in the U.S.
The main headwind for the company, namely, large customer concentration, should create a tailwind in 2014. Alere (NYSE:ALR) and Fiocruz will make up approximately 33% and 18% of the company's sales in 2013, respectively. In the second half of 2013, Alere announced that they had a competing product approved by the FDA, however, the company is waiting on CLIA waiver in order for it to be used at the point of care. It is not clear whether Alere will continue distributing Chembio's product or if Chembio will have to distribute it with other partners. Chembio will be developing a direct U.S. sales presence for its oral product, so it would not be a complete disaster if they had to start selling this other product through a new channel. Additionally, the company's gross margin on the product will improve dramatically if they sell it in-house, as they will not have to share sales with Alere on the test. Fiocruz is a public health institution in Brazil. From 2008-2010, Chembio signed five agreements with Fiocruz to sell its test in Brazil. Orders have been volatile, which has spooked investors. If the company's partnership with Labtest is successful, it should provide investors some comfort that demand for its product in Brazil is at least stable, if not growing.
In addition to these catalysts, the company's valuation is reasonable among growing medtech names. Currently, the company's EV/sales is under 1.0x, compared to 5x for the average growing med-tech name. It's enterprise value/cash flow is a bit more expensive at 20x, however, their profitability has been held back by a significant amount of R&D spending in recent years to develop proprietary technology. While we expect the company will continue to invest in R&D, in the next two years, it should decline somewhat from its recent elevated level. If the company is able to accelerate sales while R&D, the company's largest operating expense, is flat to down, it should lead to significant profit gains, which should send the stock higher.
| | | |
| --- | --- | --- |
| Comparable Med-Tech Names | EV/Sales* | EV/Free Cash Flow** |
| Alere | 2.14x | 32.0x |
| Atricure (NASDAQ:ATRC) | 4.6x | NM |
| Dexcom (NASDAQ:DXCM) | 17.4x | NM |
| Meridian Bioscience (NASDAQ:VIVO) | 5.6x | 25.0x |
| NxStage Medical (NASDAQ:NXTM) | 2.2x | NM |
| Orasure | 3.2x | NM |
| Insulet (NASDAQ:PODD) | 8.4x | NM |
| Trinity Biotech | 6.0x | 32.5x |
| Wright Medical (NASDAQ:WMGI) | 5.4x | NM |
*TTM Sales **TTM Net Income + D&A - Capex
Digirad
Digirad is a provider of in office imaging solutions. When I wrote on Digirad in February of last year (stock at $1.90), the company was sitting on $1.40 per share in cash. The company also manufactures its own imaging products. Declining reimbursement and a challenging competitive landscape lead to a five year free-fall in its sales (starting in 2008) and a decline in operating profits, eventually leading to losses. So what made me step in and recommend this name?
First, in a turnaround situation, it's always important that a company be well capitalized and Digirad was. Additionally, there were multiple activist funds interested in effecting change at the company. Activist funds can often help stabilize a company that is in the middle of a challenging period, as they are often willing to make the tough decisions that company management will not. Finally, if the business was lead to stability, I saw some base level of value in the business that was not currently priced into the stock at $1.90 per share.
Almost a year later, the stock is up 85% and it looks like investors are giving the company credit for its turnaround efforts. Management has focused the company's efforts on efficiently growing its service business, while it sold a non-core (money draining) part of the product business. Operating expenses should be down nearly 25% in 2013 over 2012 and the company's service based sales have increased sequentially for three quarters.
However, even with all of these positive factors, I am left neutral on shares at the moment. I give management due credit for turning the business around, but it still faces significant challenges. First, reimbursement in this environment is still an active issue. Also, while profitability in the product side of the business has improved, at a revenue run rate of $12 million, it is difficult to say whether the company can gain the critical mass necessary to make this a consistently profitable part of the business while innovating.
Pros: Over $100 million in NOL's, Still has $1.40 per share in cash, The business is now profitable
Cons: Reimbursement environment is challendi, Growth is anemic, Little room left for increased efficiencies
At its current valuation Digirad is trading for 0.8x EV/Sales and approximately 10x my 2014 estimate EV/Free Cash Flow ($0.24 per share). If growth picks up at the company, the valuation should move up. But in my opinion, with the rapid increase in share price, this has moved from a deep value story to a show me story.
Enzo Biochem
I originally wrote about Enzo in the summer of 2012 as a favorable pick, on the basis that the sum of the parts was worth more than the whole. Enzo is a life sciences company that runs a clinical lab in the New York metro area, sells life sciences products around the world, develops innovative therapeutics and spends tirelessly defending its patent portfolio. Since writing the article, the company landed a major victory in court for a $62 million judgment (including interest). Also since then, sales declined and have recently turned back up. While declining sales at the lab were largely due to declining reimbursement and the delayed release of high value tests, sales on the product side faltered as a result of budget issues in Europe and the company's own efforts to reduce the size of its catalog in order to increase margins. Finally, licensing revenue from Qiagen (NASDAQ:QGEN), based on one of the company's patents, has been declining for a number of years, as Qiagen's primary test that uses this patent has been declining in popularity. Despite this largely mixed bag of developments, the stock is up over 40%.
Looking forward, I continue to look for sales at the company's lab to continue to increase. Also, I will be looking for innovation out of the product side of the company's business. If both of these events happen, it should lead to the eventual profitability of the company, which would be a significant catalyst for shares. Additionally, even though the company has a $62 total judgment against Life Technologies (NASDAQ:LIFE), it has not yet collected this judgment. We're unsure whether the company will wait out any appeals that LIFE will surely file, or if the companies will settle on a somewhat lesser amount to avoid any further legal fees. The company has two more court dates in March and May of this year with different litigants. Any awards from these cases could send the stock significantly higher.
With the stock hovering below $3, I think the stock is around fair value. The lab, with between $55-$60 million in sales should be worth at least $60 million. The products business, meanwhile, should be worth at least $25 million. Qiagen royalties, while difficult to predict, should have a value of at least $10 million, as the agreement runs through 2018. Finally, I add in about $50 million for the judgment against LIFE, assuming it will be settled. That brings the sum-of-the-parts value of the company to approximately $145 million or $3.45.
I am still optimistic about Enzo, but I think at its current valuation, investors need to better weigh the risks and reward involved in investing with the company. First, Enzo's major lab peers have all issued negative warnings about their businesses, primarily related to negative reimbursement. Second, the product business is still not growing. Finally, the cash is not in the bank yet for the company's judgment, which in my view, makes up a significant portion of the valuation.
There could be positive surprises for the company, which is why Enzo is still one of my top picks. First, if the company decided to break up the company, its possible that the lab could fetch significantly more than the $60 million I priced in above. While there are not many solid comparable transactions of late, in the article I initially wrote on Enzo, I listed over a dozen transactions with a minimum 1.7x takeout multiple of sales. Also, while management has discussed its Ampiprobe technology, which the company claims can save labs money in running tests, it has not been detailed about the commercialization route for it. If management were to detail a plan on this, investors might get behind the name in a bigger way. Finally, if any of the remaining lawsuits go in the company's favor, it could add to the company's value.
In summary, I still recommend investors buy shares of Enzo, however, after a 44% rally, the risk/reward is more balanced than it was and should be factored into any investment decision.
Heska
Heska is one of only a handful of publicly traded companies that focus on veterinary diagnostics, a growing area within the veterinary space. While the company is a small fish in a large pond, it does offer niche products that are appealing to many veterinarians. It primarily sells instruments for point of care testing, test kits, imaging equipment and software and vaccines and other medicines. The company has generally grown its sales respectably over the past fifteen years, minus a few hiccups with key relationships in 2009. The company is back on the path to growth, though not in a notable way yet. At the end of 2012, the company experienced a surge in sales as it shipped stocking orders to a major supplier. Since then, however, sales have been volatile as the company is settling into this new relationship. The company took steps in the middle of 2013 to right-size its workforce after making an acquisition. It also has been selling its instruments as rentals versus ownership, which management thinks will make the sale easier. While its too early to tell whether this effort will bear fruit, the company sounded optimistic about it on its last earnings call.
Since I recommended the stock in June of last year, it is up approximately 30%. I think the increase has less to do with the fundamentals turning around and more to do with picking the right spot for the stock. Even after the run-up, the stock still trades at only 0.7x EV/sales, reflecting its often volatile results.
I still like Heska on the basis that it participates in appealing an appealing market and offers a variety of products, some which compete on price and others which compete on function. There have been new members added to the management team with the purchase the company made earlier in the year. This may help the company find a stable path to growth, which would surely lift the price of shares. But with shares up significantly off their lows and results still not consistently bearing out, investors should now tread a little more carefully when investing in this name.
LipoScience
LipoScience is a diagnostic company that attains most of its revenue from one cardiac test, the Lipoprofile. After five years of continuous growth, the company hit a snag in 2013 as it attempted to commercialize an instrument that runs the same test it was selling out of its own lab. This is not a common strategy in the lab industry as the two sales channels are completely different and require different salespeople, increasing costs significantly. In the summer of 2013, the company cut its losses in a sense and hired a new interim CEO who is focused on getting the company back on a growth trajectory and reducing unnecessary expenses. While these efforts have yet to bear out, I noted in the article that while revenue has declined somewhat, the company is growing the number of tests ordered. At the time of the article, the company was trading at 0.35x EV/Sales, which I noted was unreasonably low. After increasing 20% in the past six weeks, it now trades at 0.7x EV/sales: still cheap, but a big jump up. I still like the story based on a favorable valuation and the useful function of their test, however, investors should be braced for company guidance when results are released this quarter. It's impossible to say where that guidance will fall, but it could have a dramatic effect on the stock one way or the other. Additionally, a new quarter of results will give investors an opportunity to see how effective the interim CEO has been at securing acceptable reimbursement from those providers that don't currently reimburse for the test and at stabilizing costs.
MGC Diagnostics
MGC Diagnostics provides diagnostic products to test pulmonary and respiratory functions. Over the course of its history, the company's results have been volatile as prior management tried to address varied markets and did not seem particularly focused on profitability. However, as I wrote in an article in the summer of last year, the company, armed with new management and a focused approach to the market, as well as an outlined plan to profitability, was about to change for the better. Over the past six months, management has executed on its plan, which has rewarded shareholders with a 47% gain. However, while we still own some shares, we think shares are close to fair value at their current level. If we use the company's latest profitable quarter on an annualized basis, shares trade at an Enterprise Value/Net Income of 16x; not awfully expensive, but the stock has clearly left value territory and is now attaining a growth multiple. In order to be able to maintain and/or expand that multiple, management will have to continue to execute, which we are hopeful for, but will wait to see. If management is able to continue to grow sales and profitability, we would be buyers of the stock again.
Trinity Biotech
Trinity Biotech is a diversified diagnostic company that offers point of care and clinical diagnostic solutions, as well as life sciences supplies. Shares are up nearly 50% since I recommended them in the summer of 2013. The company has continued to execute on its strategy of penetrating its current markets deeper while executing on the development of its product pipeline. Additionally, the company announced two acquisitions within the diagnostic space. We still like the company and it remains one of our top holdings, however, I want to caution investors a bit, as shares are now fetching 6x sales, making it the most expensive name in our portfolio. The reason we are still invested in the company is because the pipeline of products the company is developing address markets worth over a billion dollars. If the company is successful in bringing these products through approval and to market, it could mean significantly higher sales and earnings at the company, which would naturally be positive for shares.
Conclusion
For now, the markets are still going up, however, multiples have increased singificantly over the past 12 months. I know better than to try and call a market top, but I do know if I make a high percentage return on any investment in a relatively short period of time, it makes sense to take some off the table and rethink the investment thesis.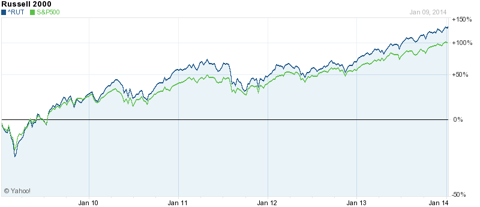 Disclosure: I am long CEMI, ENZ, MGCD, TRIB, NXTM, LPDX, HSKA, . I wrote this article myself, and it expresses my own opinions. I am not receiving compensation for it (other than from Seeking Alpha). I have no business relationship with any company whose stock is mentioned in this article.
Additional disclosure: Short DXCM, PODD & WMGI