The market in which Chipotle Mexican Grill (NYSE:CMG) operates didn't exist 20 years ago. To give it a name, it is what we call "fast casual", a category that defines the line between fast food service and fine dining. At present, this is the fastest growing niche in the restaurant industry. The company's motive to shift towards non GMO products allows the potential to charge higher prices. To compute a future return, we can expect a rise 3-5% in the prices of the company's products.
During its last quarter the company saw results that should make investors happy. Chipotle's average restaurant sale (sales for restaurants operational for 12 full months) was $2.14. On a quarterly level, this figure improved 6.2% from last year's level. The increase was driven by a higher number of customers. The company has also been growing its number of restaurants. Chipotle opened 37 new restaurants in 3Q13 and plans to raise this number to a target of 180-195 in 2014. A higher number of visits, higher prices along with an increasing number of restaurants means that we can expect the rising revenue trend to continue.
With regards to costs, Chipotle experienced inflationary pressures that led to cost increases for the quarter. In absolute terms costs increased by more than 20% to $277 million while as a percentage of revenue it remained stable at 33.6% increasing by just 100 bps from last year's level. Therefore, the company's costs didn't prove to be a material threat to profitability.
Chipotle saw its other costs remain relatively stable with some elements (labour, administrative) declining quarter over quarter. Stable costs and rising revenue resulted in a diluted EPS increase of more than 17% to $2.66 this quarter.
Rising Revenue Explained through Historical Data'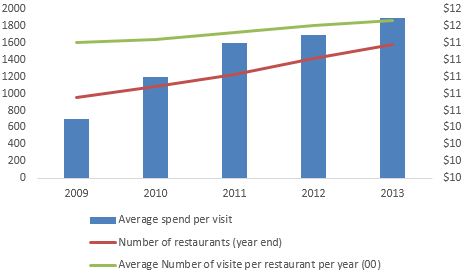 Source: Trefis
The revenue trend for the company I talked about earlier can be seen in the historical data (see graph above). The company has seen all of the elements that could potentially result in higher revenues increase over the past 5 years. The number of restaurants has risen at a CAGR of nearly 13%, amount spent per visit rose by 2.7% and number of visits per restaurant rose by 3.8%. The modest rate of growth allows the company more leverage to sustain its growth. Chipotle now brands its meats as Responsibly Raised ™ which means that no hormones or additives are used as opposed to other rivals in the industry.
The changing line of products and the re-branding of its restaurants' image as a more natural and healthier alternative means that Chipotle will easily be able to sustain modest growth.
Catering Could Become a Major Source of Revenue
The testing attempt that Chipotle initiated last year to provide catering service promises to be more successful as it spreads further across the US. During the last quarter, catering sales accounted for 1% of the company's revenues. However, what makes me believe in its future success is the fact that catering is usually considered a premium price product that demands revenues of around $20-$30 per customer. Chipotle charges its customers $8-$14 which is 60% less than conventional catering charges. This gives the company a price advantage and a way to capture this market.
Secondly, no such service is provided by McDonald's or any other rival on such a large scale. I don't think that any rivals that offer unhealthy fast food or "junk food" could potentially attract any catering opportunities. Chipotle's edge comes from its promise to deliver organic and hormone-free food to consumers.
International Market is still Untapped
More than 99% of Chipotle's restaurants are in the US. The rest lie abroad and are concentrated mainly in Canada and the UK where the company owns only 6 restaurants in both countries. Chipotle's presence in France and Germany is very small with only a single restaurant in each country. Mexican-style brands such as Taco Bell have seen great popularity in the UK and other countries abroad. Similarly, a chain that offers healthier food could gain a greater market share thanks to the increasing awareness of consumers with regards to organic and healthier food options.
Also, countries such as France where green food or fresh produce is significantly favoured by the citizens offer another a great niche market for Chipotle to tap into. These untapped resources mean that the company has a lot of growth opportunities abroad if it sees saturation in its home market of the US.
Risks for Chipotle
Although some rivals have entered into catering as well only a few (Qdoba, Potbelly) really pose a threat in terms of offering lower prices and accepting large orders. Chipotle's advantage seems to stay in its Non-GMO and Mexican-style cuisine offerings. Conclusively, I don't think they pose a material threat to the company or its market share.
On a wider note, higher prices for menu items means the company cannot capture the market share of the fast food giants. And looking at the company's strategy, it doesn't seem interested in acquiring it either. That leaves it with a smaller market and tough competition from rivals who are also trying to become dominant players.
Conclusion
The company's reserves are enough to back its expansion plans. By the end of the last year's third quarter Chipotle had $836 million in cash reserves. The company's operating cash has grown at a CAGR of 20.5% between 2008 and 2012. Its free cash flow per share is at nearly 50%. That leaves enough money to continue opening new restaurants, continue its buyback and regularly maintain current restaurants.
The share price has grown by more than 75% year to date and stands at $527 today. The risks are small given the fact that customers opt to pay a premium for healthier foods. The continuing expansions and new services leave me confident in Chipotle's ability to sustain returns for shareholders in the future. Therefore, I recommend buying this stock.
Disclosure: I have no positions in any stocks mentioned, and no plans to initiate any positions within the next 72 hours. I wrote this article myself, and it expresses my own opinions. I am not receiving compensation for it (other than from Seeking Alpha). I have no business relationship with any company whose stock is mentioned in this article.