I recently put out two articles, "4 Stocks to Double in 2014" and "4 Stocks to Double in 2014 Part II" where I listed a total of 8 stocks that could double in 2014. Today with the holidays over and all the major Wall Street players back at their desks, I wanted to provide a quick update on how the stocks are faring.

Brocade Communications (NASDAQ:BRCD) - Technically, the stock broke out, but I am waiting for pullbacks to accumulate more. Earnings are a month away and I believe we may see a pause here till then. I'm using the 50 day moving average as my buy point to add shares. Brocade still has very strong management and assets in a strong sector.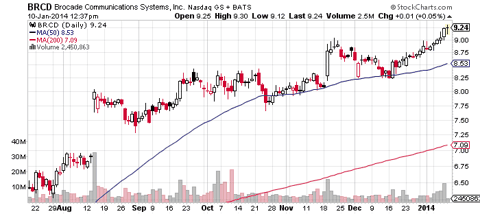 Radware Ltd (NASDAQ:RDWR) - Yesterday, Radware's competitor Riverbed Technology was bought out by private equity firm Elliot Management. On Monday Radware pre-announced positive numbers and increased its fourth quarter earnings and revenue forecasts. The Radware thesis is still in place and I believe it can easily double, buy any weakness.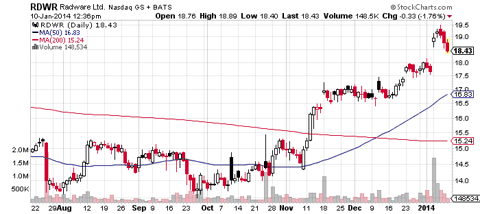 AudioCodes (NASDAQ:AUDC) - Buy - will be a $14 stock. The long term chart has a strong inverse head and shoulders pattern and a long term cup and handle pattern. Expect strong quarterly results, a strong outlook and strong conferences.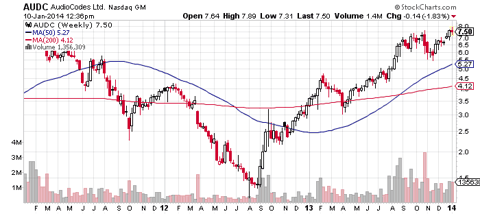 MoSys Inc (NASDAQ:MOSY) - Continue to accumulate; MoSys has high barriers to entry and it is aggressively pushing its technology to the limit with 3 generations of its bandwidth engine family of chips. MoSys looks to be setting up technically to break out. It will be attending the 16th Annual Needham Growth Conference, January 14 - 16 and news from here could be the break out event.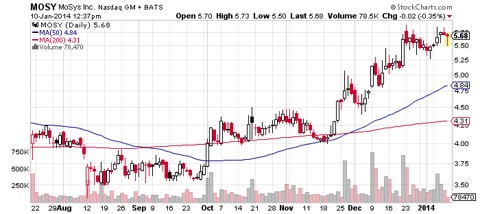 RF Micro Devices (RFMD) - Today, Blackrock Inc. filed a Schedule 13G revealing that they've purchased 28.8 million shares or 10.2% of the outstanding shares. I believe that this is a huge vote of confidence and I'm aggressively accumulating it as it has pulled back 10% since I placed it on stocks to double list.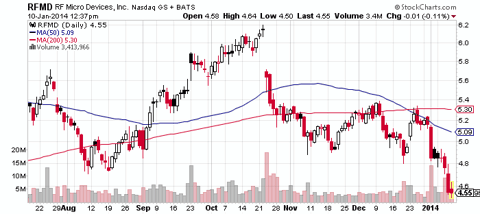 Perion Networks (NASDAQ:PERI) - Perion completed the acquisition of ClientConnect from Conduit. Management is on the road talking about the integration. Any positive news on the integration process could send the stock higher. Perion has a low valuation, but this could increase as it could become be one of the dominant search players out there. Buy on any pullbacks.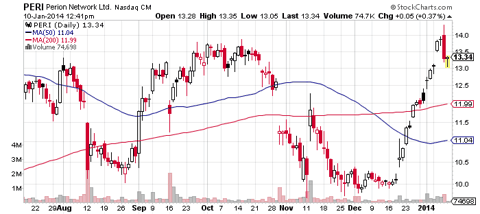 China TechFaith Wireless (NASDAQ:CNTF) - Rumors of a number of buildings being completed which will produce lease payments have been circulating. On Wednesday, China lifted its 14 year ban on foreign video game consoles, this could be very positive for China TechFaith as it claims to own the patents on motion gaming consoles in China.
(CNTF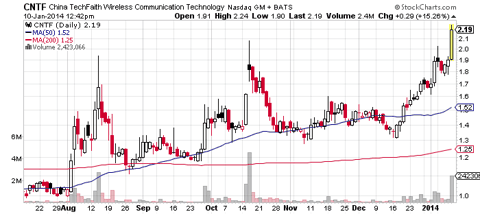 Acura Pharmaceuticals (NASDAQ:ACUR) - Acura recently raised $10 million. This $10m will strengthen its balance sheet and give it more leeway to find partnerships and to solidify its relationships with pharmacies carrying its Nexafed product. Acura Pharmaceuticals is the most speculative stock on the list, but it offers the most upside from here on a risk/reward basis.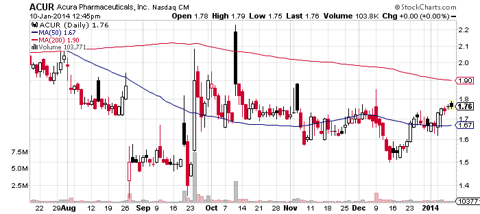 Disclosure: I am long BRCD, RDWR, AUDC, MOSY, RFMD, PERI, CNTF, ACUR, . I wrote this article myself, and it expresses my own opinions. I am not receiving compensation for it. I have no business relationship with any company whose stock is mentioned in this article.