Global economic growth is expected to continue its rise throughout 2014 - up from 2.5% in 2013 to 3.3% for 2014. In the US, GDP is expected to increase from 1.8% last year to 2.5% this year, while the Eurozone should pull out of its -0.4% contraction to gain 0.8%. China has the largest growth forecast overall for 2014, rising from 7.8% to 8.1%, although Japan is set to maintain GDP growth at 1.8%, the same as last year.
Where developed markets posted exceptional gains last year - the S&P 500 was up over 29% and the European Stoxx 600 cleared 17% - the emerging markets fell flat. The iShares MSCI Emerging Markets ETF (NYSEARCA:EEM) dropped -3.6% and billions of dollars flowed out of emerging markets amidst the backdrop of a weak commodities market and central bank stimulus propping up developed countries. The big question is whether 2014 will be a repeat performance for emerging markets.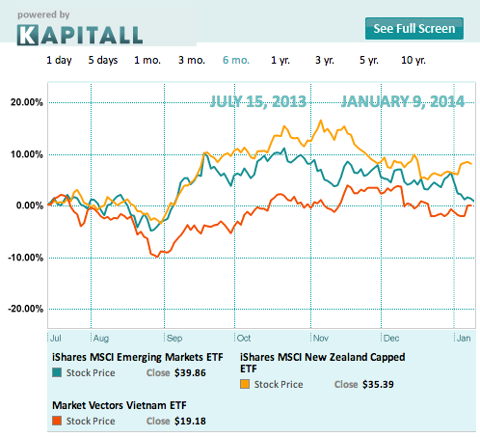 (Click to enlarge. Sourced from Zacks Investment Research.)
The end of central bank stimulus has begun, which is a sign of improving fundamentals in the economies of developed markets, but it creates a problem for emerging markets. Investors are less likely to take risks in less developing economies if opportunities present themselves in less risky, larger, established markets. Adding to the situation is the relative strength of the US dollar. Unless the dollar falls, foreign exchange risk will further exacerbate the problem with investing overseas whether it be an emerging market or developed economy.
In developed markets like the United States and Europe, growth comes gradually and can be predicted fairly accurately. It's uncommon for a developed nation to surprise investors with higher than expected growth forecasts - it takes a perfect storm of economic events to consider it a boom. This year, an overlooked developed economy has all the right ingredients and could be one of the biggest surprises of 2014.
Not all emerging markets are created equal either. Take India for example. It may be classified as one of the BRIC economies, but it struggled mightily in 2013 and faces continued pressure from a political front as well as a stubbornly high inflation rate at 7.5%. There's one country lying in the midst of several struggling nations that's poised for exceptional growth this year, despite the headwinds in emerging markets.
New Zealand
New Zealand is a developed nation that captured investors' attention early this year with forecasted economic growth of 3.4%, considerably higher than its average growth rate of 2.5%. Low interest rates have created a housing boom which is helped by an increase in immigration to the island. Construction spending is the primary supporter of the economy right now after a major earthquake decimated the Canterbury region in 2011.
The additional investment is expected to keep the economy afloat well into 2017. Finally, dairy prices are on the rise thanks to Chinese demand. Dairy exports out of New Zealand account for a third of the world's trade. These factors are also contributing to a rise in the New Zealand dollar attracting more investment into the region.
Investors interested in taking advantage of the new booming economy should consider iShares MSCI New Zealand Capped ETF (NYSEARCA:ENZL). As a testament to the region's growth, this ETF gained over 90% last year and could continue on the same path this year. Almost 95% of the fund's holdings are located in New Zealand with 1.73% in the United States and the remaining 3.28% spread over other developed countries.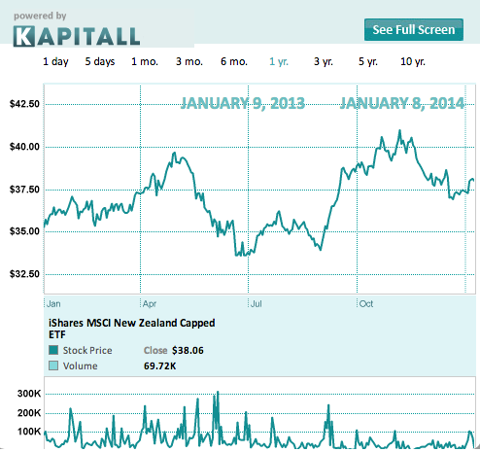 (Click to enlarge. Sourced from Zacks Investment Research.)
Vietnam
Standing out in a struggling Southeast Asia, Vietnam is enjoying stable growth of 5.5%. Last year, foreign direct investment hit $9.6 billion within the first 10 months while 70% of it went to the manufacturing sector. Inflation has steadily declined and now sits at 6%, but continues to drop thanks to a stable job market and competitive labor costs. By 2015, GDP growth could be as high as 6.5%.
Market Vectors Vietnam ETF (NYSEARCA:VNM) is the best way for investors to get exposure to the region. Almost 72% of the fund's holdings are Vietnamese with the rest being spread between the United Kingdom, Thailand, Malaysia, and India. The fund performed relatively flat for 2013, but could be a value buy right now for investors who are looking to jump into an unpopular region of the world before Vietnam's growth becomes too high for Wall Street to ignore.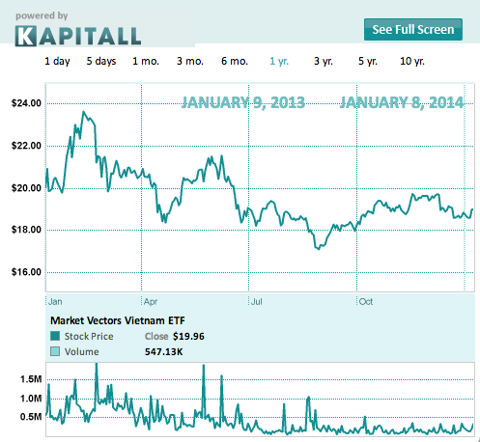 (Click to enlarge. Sourced from Zacks Investment Research.)
Disclosure: I have no positions in any stocks mentioned, and no plans to initiate any positions within the next 72 hours.
Business relationship disclosure: Kapitall is a team of analysts. This article was written by Daniel Cross, one of our writers. We did not receive compensation for this article (other than from Seeking Alpha), and we have no business relationship with any company whose stock is mentioned in this article.