One of the most controversial topics in all of investing is how to handle positions that have moved against you. Some investors are strict believers that any position showing a loss indicates your initial theory was incorrect and therefore, after a predetermined drop (most use a 10 to 15% loss as their trigger point), the position should be sold. Others take the opposite view and argue that if they liked a stock when the price was 15% higher, they should love it now, and are compelled to buy more shares.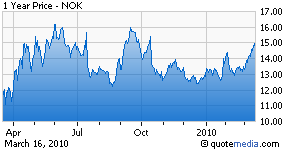 I land somewhere in the middle. When we determine the value of any stock, it is an inherently imprecise process. We may do mountains of research and number-crunching to derive a fair value target, but it is only that-a target. As new information becomes available, we must continually reassess our initial theory and determine whether the stock is one to hold.
As our views evolve, we watch the market. If positions continue losing money, perhaps a message is being sent that requires our attention. In order to balance the need to revisit ideas while also looking to buy inexpensive shares, I have a formal process in place for reviewing my analysis when a stock moves against me. After my review, I either increase my holding or eliminate the position. By following such a dictum, I am taking a proactive stance to properly position the portfolio in EPIC Insights.
The importance of this process is highlighted by a current portfolio position- Nokia (NYSE:NOK). NOK is the largest cell phone maker in the world with current market share near 36%. It also provides equipment, solutions, and services for communications networks. While other phone makers have focused upon set product niches (e.g., Research in Motion's emphasis on smart phones) or relied upon one-off products to drive growth (e.g., Motorola (MOT) hit a home run with the Razr, but has not had success since then), NOK has a diversified product base that is sold throughout the world. The end result is a steady, dominant market share with less reliance upon hot products and certain segments of the world economy to drive growth.
Over the past two years, NOK's stock has been decimated. Since peaking above $40 in December 2007, NOK has fallen to the current price of $15.08 (a 62% drop). Despite very high levels of return on equity and market share, NOK has lagged both its peer group and the S&P 500. While the analyst community attributes the drop to shrinking margins one day and concerns over market share the next, we now find ourselves looking at a company that is cheaper than it has been in years, offers a safe, high-dividend yield, and provides tremendous upside.
From a valuation perspective, NOK trades at a 14 P/E multiple (vs. a five-year average P/E of 16.6) and pays a 3.8% dividend. Using historical measures, the shares should be trading in the mid $30s. Applying a conservative earnings yield methodology that assumes a 2% drop in operating margins, declining market share, and a 3% terminal growth rate, I derive a fair value estimate of $22. With the stock trading at a 32% discount to fair value, we are being offered a global leader in a key industry at valuation levels that have not been witnessed in years. We also gain the benefit of a high-dividend payment while we wait for the markets to recognize fair value.
My history with NOK is well-documented. I initially purchased NOK shares in November 2008 and then averaged into a losing investment in September 2009. As the shares sank toward $12, I conducted an interview with Seeking Alpha in which I highlighted the attributes of NOK and named it my highest conviction holding. In short, I believed in my research, maintained my conviction, and did not allow the market to push me from a position just because the price moved against me.
We are now seeing the benefits of such an approach. As NOK continues rallying (it is 17% higher year-to-date), those who bought the shares have been rewarded. All the while, we have also received dividend income as we've awaited the move higher. At times the markets may indicate problems exist and a stock price is heading lower. However, lower prices alone are not a reason to jettison a position. If you conduct thorough research, believe in your conclusions, and purchase the shares at a cheap enough level, the odds of success are in your favor.